Our version of Harry Potter's Pumpkin Juice is like all the flavors of autumn in one glass. Smooth pumpkin flavor with a touch of spice. No wonder the Wizarding World loves this drink!
Harry Potter's Pumpkin Juice
I tried Pumpkin Juice for the first time during a visit to the The Wizarding World of Harry Potter at Universal Studios in Orlando. I knew at first drink that this was something I had to recreate at home! This Pumpkin Juice recipe tastes exactly like the one I tasted at the park! Slightly spicy with a hint of sweetness and a smooth pumpkin flavor makes it ideal for fall! I love it cold over ice, but it's delicious heated up and served in a cozy mug. This would be so fun to serve at fall and Halloween parties, and would be a delightful addition to your Thanksgiving spread as well!great to go with your Thanksgiving dinner as well. Scroll to the bottom of the post for the recipe. It's so delicious!
Get Away Today
If you want to try a Pumpkin Juice at Universal Studios we highly recommend you use GET AWAY TODAY! They always have the best deals on places to stay and tickets to your favorite destinations.
The Wizarding World of Harry Potter
I thought it would be fun to share some pictures from our trip for all you Harry Potter lovers out there. We had such a fun day at Universal Studios. By far my favorite part was The Wizarding World of Harry Potter. I'm a huge fan of the books- you could find me at the midnight releases when a new book came out and then you wouldn't see me again for a few days until I finished reading it. I loved the movies too, and being in Harry Potter World felt like walking right into the story. You absolutely HAVE TO GET the park-to-park passes if you go. The Wizarding World of Harry Potter London/Diagon Alley are in one park and the Wizarding World of Harry Potter Hogwarts/Hogsmeade are in the other park. And you can ride the Hogwarts Express between the two places (it actually looks like you are traveling from London to Hogwarts) if you have the park hopper.
This is the front of the Gringotts Bank Ride – so fun!

At Ollivanders you can really have a wand choose you!

Weasleys Wizarding Wheezes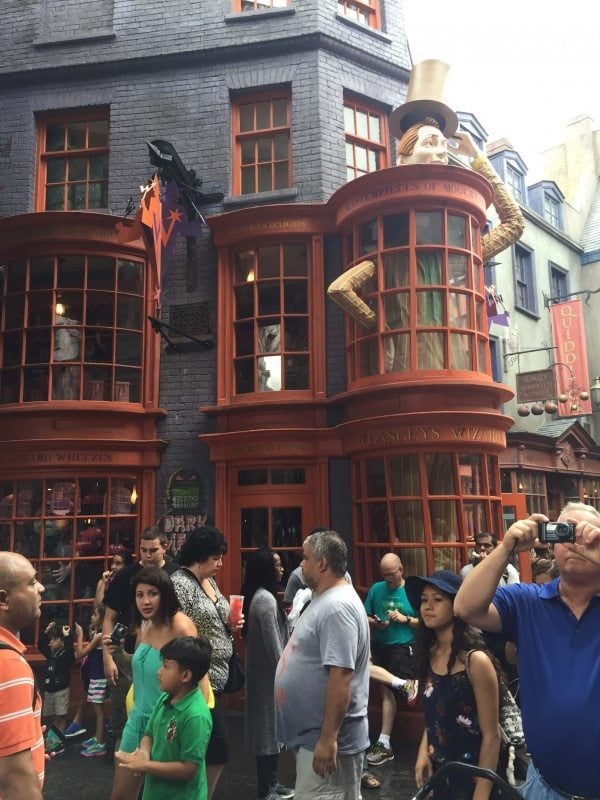 The Knight Bus

Platform 9 3/4

The Hogwarts Express Ride- it really looks like you are traveling to the school.

The Hogwarts Express

Hogwarts Castle

The Sorting Hat

Our Lunch at the Three Broomsticks – Fish and Chips and Ribs, not to mention Butter Beer and of course Pumpkin Juice! Such a fun place to eat and the food was tremendous!

Walking around Hogsmeade

Universal Studios Orlando
Some of my other favorite rides were the water rides Ripsaw Falls and Popeye's- which left us completely soaked! And the Revenge of the Mummy and Rip Ride Rocket were my favorite coasters. I am dying to go back and ride the Kong ride and the Hulk, both were under construction when we visited.

The parks were getting all set up for Halloween and had fun decorations- we missed it by a day but everyone was so excited about Halloween Horror Nights. We are going to have to come back to see what all the excitement is about!

The Cowfish Restaurant
That night we had the most delicious dinner at The Cowfish. We love sushi and this place was top notch. My favorite appetizer was the truffle fries but my husband loved the blackened tuna nachos. They surprised us with a chef's 17 piece special that was amazing, and my favorite sushi was one with mango and coconut. The service was fantastic too, we all loved our server- she was so friendly and funny and very attentive. It was so good (you can see some of the pics below) I highly recommend making reservations if you are going to the park. It's pretty popular so be sure to call in ahead.

Check out all that sushi!

Some of the best truffle fries I have ever had.

You can find the Cowfish right along the City Walk in front of Universal Studios. No ticket needed in this area of the park. 🙂

Thank you again, Universal Studios for treating us to a day at your park and a great dinner. It was so much fun, I wish I could go back and do the whole day over again. But for now I can drink my yummy pumpkin juice at home!

Last but definitely not least, here is our yummy cool refreshing pumpkin juice recipe. And don't forget to check out our recipe for Harry Potter Butterbeer too!
How to Make Harry Potter's Pumpkin Juice
Our version of Harry Potter's Pumpkin Juice is the perfect drink for fall. It has a smooth pumpkin flavor with a little bit of spice and is super tasty!
Instructions
Combine all ingredients in a large pitcher and stir well.

Pour over ice in individual glasses.

Stir again before each serving.
Nutrition
Calories:
177
kcal
|
Carbohydrates:
44
g
|
Protein:
1
g
|
Fat:
1
g
|
Saturated Fat:
1
g
|
Sodium:
13
mg
|
Potassium:
316
mg
|
Fiber:
1
g
|
Sugar:
38
g
|
Vitamin A:
4136
IU
|
Vitamin C:
3
mg
|
Calcium:
34
mg
|
Iron:
1
mg