Our Version of Harry Potter Butterbeer tastes just like what they sell at the Wizarding World of Harry Potter. A no-cook method that is SO easy!
We took a trip there last weekend and we fell in LOVE with this tasty drink. I knew I had to recreate it once I got home. It turns out it is SO easy to make! I will definitely be whipping up a batch for my next Harry Potter movie marathon. You can make this recipe two ways. If you are going for super authentic, you can add caramel and butter extracts to the cream soda. This really adds that extra butter-y flavor and makes it taste EXACTLY like the real thing. If you are looking for a more simple recipe, you can just use plain cream soda. It still tastes SUPER yummy and you don't have to spend the extra money on extracts only to put them in your pantry and never use them again. I think it tastes awesome both ways!
If you want to go try a Butterbeer at The Wizarding World of Harry Potter at Universal Studious in Hollywood or Orlando we highly recommend you use GET AWAY TODAY.  They always have the best deals on Places to Stay and Tickets. Click on the image below:
Keep scrolling after the Butterbeer recipe and to see more of our favorite foods from The Wizarding World of Harry Potter at Universal Studios!
Our Version of Harry Potter's Butterbeer
INGREDIENTS (with Amazon Links)
INSTRUCTIONS
In large mixing bowl, whip heavy cream until it forms stiff peaks.

Add butterscotch topping and powdered sugar.

Mix the caramel and butter extracts with the cream soda and then pour the mixture into clear cups or mugs.

Top with butterscotch cream topping and enjoy!
Other foods we LOVED at the Wizarding World of Harry Potter and where to find them:
The Ribs Platter – The Three Broomsticks: We loved these ribs! The glaze was so yummy and I like that it is served with corn on the cob. Even though we were in Hogsmeade, I felt like this was a meal worthy of the Great Hall at Hogwarts!
Fish and Chips – The Three Broomsticks: These fish and chips were SO good! Sometimes I feel like fish and chips is all chip and no fish, but that was not the case here. Plus, the tartar sauce was so yummy that I dipped all my chips in it too!
Shepherd's Pie – The Three Broomsticks: This Shepherd's Pie was the perfect comfort food. I felt like I was in Molly Weasley's kitchen eating a real home-cooked meal. I loved how they swirl the mashed potatoes on top!
Butterbeer – The Three Broomsticks and the Butterbeer Cart: Okay, so this was definitely the main attraction for me. I have ALWAYS wanted to try Butterbeer ever since I read about it in the books! Let me tell you, it does not disappoint! It is creamy, butterscotch-y HEAVEN! We got it with our meal at the Three Broomsticks and then got a second round later at one of the carts. At the cart you can get it in a souvenir stein!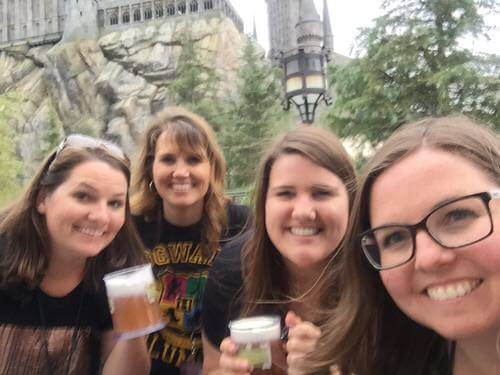 (A very blurry picture of us drinking our Butterbeers in front of the castle! Group selfies are a struggle sometimes…)
Frozen Butterbeer and Pumpkin Juice – The Three Broomsticks: Butterbeer was not the only tasty drink here. The Frozen Butterbeer is SO GOOD. If it wasn't a little chilly on the day we were there, I would have had like 10 of them. It is basically a slushy version of the Butterbeer. Another drink we loved was the Pumpkin Juice! It is a cold drink that tastes a little like Apple Cider. It is basically Fall in a cup. Check out our version of the RECIPE for PUMPKIN JUICE HERE!
Every Flavored Beans, Chocolate Frogs, and MORE – Honeydukes: Honeydukes was definitely my favorite shop. It was just like I imagined it when I read the books! Every nook and cranny was lined with goodies. We bought LOTS of souvenirs here. Our favorites were the Every Flavor Beans (they MEAN every flavor) and the Chocolate Frogs (they come with a cool collectors card, just like in the books). Here are a few shots from the store:

More Pictures from around Hogsmeade:


Get Away Today:
If you are looking to book a trip to The Wizarding World of Harry Potter at Universal Studios in Hollywood or Orlando we highly recommend you use GET AWAY TODAY.  They always have the best deals on Places to Stay and Tickets. Click on the image below:
SaveSave