These Gluten Free Pancakes are light and fluffy and incredibly tasty! If you're new to being gluten free, this is a perfect recipe to try.
Gluten Free Pancakes
These gluten free pancakes are one of the first things that made me feel like I could still eat delicious food after being told by my doctor that I'm allergic to wheat and now have to eat completely gluten free. I admit, I was a little devastated, as many of my favorite foods have wheat. But after coming to grips with it and doing a little research I realized that although I can't have wheat, there are still ways to create alternative yummy recipes of the foods that I love. This pancake recipe still cooks up fluffy, light and flavorful while being completely gluten free.
Finding Good Gluten Free Flour
The most important step to fluffy gluten-free pancakes is starting with a good GF flour. Not all gluten free flours are created equal! You need to find a good one that says it substitutes cup for cup with regular flour. I had to experiment with a few different ones before finding this one that I really like. Recently I tried the Namaste Perfect Flour Blend Gluten Free Flour, which I found at Costco. It's delicious and measures exactly like flour. And it gives this pancake recipe that light, fluffy texture that I've been craving.
Coconut Yogurt Syrup
This coconut syrup is to die for! It tastes just like the coconut syrups that they serve at diners in Hawaii. I could eat it with a spoon, it's that yummy. Plus, it's super easy to make and tastes amazing with this pancake recipe. Of course, there are dozens of syrups and toppings you can try, but this is one of my favorites to share with you. Here's all you need:
Sugar
Coconut Greek Yogurt. You could use regular coconut yogurt too, but the Greek variety gives it more bulk and flavor.
Butter
Coconut extract
Melt all the ingredients together and whisk over low heat until they're all combined and smooth. It's delicious on waffles, toast, homemade rolls, just about anything!
More Syrup Recipes and Toppings
If blackberries aren't your thing, just leave them out! You can add chocolate chips instead, or blueberries, strawberries, raspberries or nuts.
Try our version of Kneaders Caramel Syrup or Nicea's Homemade Yogurt Syrup. Both of these syrups have a creamier texture that enhances the richness and flavor of the pancake.
Of course, traditional maple syrup is always a favorite. We also have several tasty options along with our pancakes recipes below. Mix and match to find your favorites!
READ NEXT: 33+ Super Easy Breakfast Ideas
Other Pancake and Syrup Recipes
How to Make Gluten Free Pancakes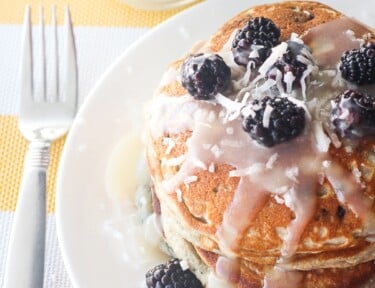 Gluten Free Pancakes
These Gluten Free Pancakes are light and fluffy and incredibly tasty! If you're new to being gluten free, this is a perfect recipe to try.
Ingredients
Gluten Free Pancakes Batter:
Additional Toppings (optional)
fresh blackberries, blueberries, or raspberries
Instructions
For the Gluten Free Pancakes:
Mix together all the dry ingredients in a medium sized bowl, then stir in the milk and egg. If you are adding fresh berries, gently stir them in now.

Line a skillet, over a low-medium heat, with some cooking spray. Then add ½ cup of the pancake mixture. Cook until golden brown and the first side, then flip and repeat.

Serve with hot syrup and fresh berries.
For the Coconut Syrup (optional):
Add the sugar, yogurt, and butter to a small saucepan over low heat. When the sugar has dissolved, turn the heat up to medium high and bring to a boil.

Remove from heat and stir in the coconut extract.
To serve:
Top pancakes with the coconut syrup, fresh berries, and coconut flakes.
Notes
Nutrition value calculations are for the gluten free pancakes only.
*Make sure the gluten free flour used is a cup for cup flour substitute.
Nutrition Information
Calories:
201
kcal
Carbohydrates:
41
g
Protein:
5
g
Fat:
3
g
Saturated Fat:
1
g
Cholesterol:
25
mg
Sodium:
316
mg
Potassium:
128
mg
Fiber:
3
g
Sugar:
18
g
Vitamin A:
102
IU
Calcium:
102
mg
Iron:
1
mg