This truly is THE best guacamole EVER. It's the ONLY guacamole recipe you will ever need. A few fresh ingredients and you've got yourself the best guac in town.
The BEST Guacamole EVER
I have made this simple guacamole recipe COUNTLESS times for guests and I always get rave reviews. It is the only version I will make because it is just that good. The freshness can't be beat! I know there are dozens of variations out there (fresh lime juice, a clove garlic, jalapeno pepper, etc.) but trust me, this is the best guacamole recipe you could ever want. Serve it on all sorts of dishes: nachos, enchiladas, burritos, quesadillas, fajitas, or just a big bowl of tortilla chips! I could literally eat this guacamole all day long and never get sick of it. Be sure to read all the comments on this recipe below. This is one of our recipes that was originally posted over seven years ago and it's still a favorite today!
Our family is OBSESSED with Mexican food. We would eat it every night if we could! Try some of our other Mexican-inspired recipes including our Restaurant-Style Mexican Rice, Black Bean Tacos, Easy Ground Beef Taco Salad, and more!
Secrets to Success
Want to know the secret to making the BEST guacamole? FRESH ingredients and a couple shakes of Green Tabasco. Whenever we make guacamole, we always try to use as many ingredients from the garden as possible. You just can't beat that fresh garden taste. Also, you don't need a bunch of added ingredients. You don't need a whole ton of spices, and this is coming from someone who loves spicing EVERYTHING up. Kosher salt, pepper and a little green Tabasco is all you need. The green Tabasco adds just a hint of flavor that complements all the other ingredients perfectly.
I got the idea for using the green Tabasco at a restaurant here in Boise called "Barbacoa". They make the best table side guac that I have ever had at a restaurant. I noticed the one thing they do differently from other restaurants is they add just a tiny bit of that green Tabasco. I tried it at home and that little tiny ingredient makes all the difference. It gives it a "zing" that puts it over the top. Mind you, this post is NOT sponsored at all. This is NOT a plug for Tabasco. This is simply what we use to turn great guac into the BEST guac.
How to Pick Out Ripe Avocados
There's nothing worse than slicing into an avocado to make homemade guacamole and realizing that it isn't ripe. Either it is under ripe and very hard, or overripe, brown, and slimy. Avoid this situation by picking out ripe avocados.
Ripe avocados will have dark green skin, and if you pull off the little stem, the skin under the stem should be green as well.
You can also determine ripeness by giving the avocado a gentle squeeze. You don't want to squeeze too hard, just enough to see if the fruit has some give to it. If the avocado is ripe, it won't be too hard or too squishy.
You should be able to cut it in half and easily remove the pit with a spoon.
If you won't be making the guacamole for a few days after shopping, make sure to keep the avocados in the fridge in order to slow down the aging process and keep them from turning brown.
One little trick to try if you want to speed up the ripening of your avocados is to store them in a paper bag with the top rolled tightly closed. The avocado will release natural gasses into the bag that will speed up the process.
Can You Freeze Avocados?
Yes! This is a perfect way to store avocados or leftover guacamole. Check out our post for four simple ways to freeze avocado. You'll always have some on hand for any occasion that comes up! Make sure to use freezer safe containers and plastic wrap to avoid oxidation. Thaw some out if you need slices for a salad or a sandwich, or if you just have a craving for some chips and guac.
Delicious Ways To Serve Guacamole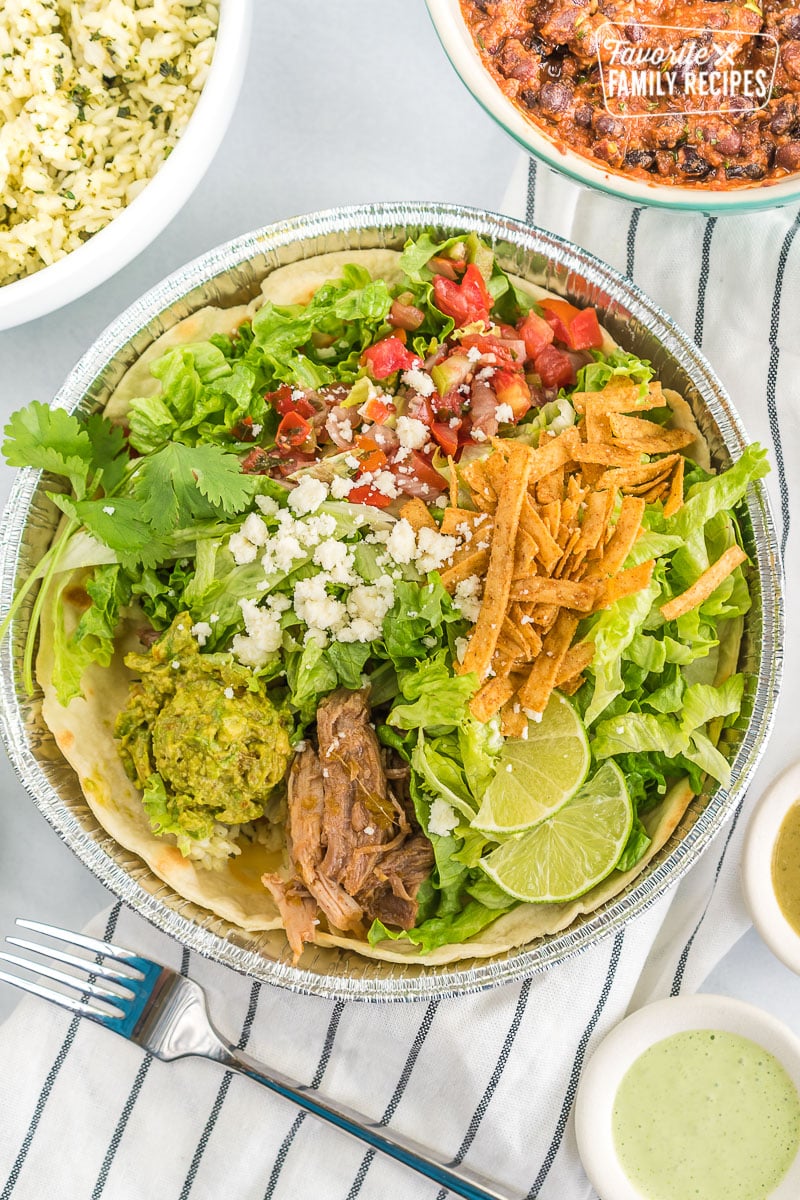 Serving this guacamole with chips is just the beginning, here are some of our favorite recipes that we have used this guacamole with:
Guacamole Chicken Torta Sandwiches: South of the border freshness in sandwich form with this guacamole as a spread. Heavenly.
Cafe Rio Recipes: We ALWAYS serve this guacamole when we make our Cafe Rio recipes. You just can't beat it!
ALL of our MEXICAN recipes: Here's a quick link to ALL of our delicious Mexican recipes. This guacamole goes well with every single one of them! Especially our Chicken Flautas.
Recipes for Cinco de Mayo: Check out this list of all the recipes you need to celebrate Cinco de Mayo.
You can also just pile some tortilla chips on a plate, top with shredded cheese, sour cream, guacamole dip and some salsa and go to town on a delicious plate of simple nachos.
How to Make the BEST Guacamole EVER
The BEST Guacamole EVER
This truly is the best guacamole EVER. It's the ONLY guacamole recipe you'll ever need. A few fresh ingredients and you've got yourself the best guac in town!
Instructions
Pit avocados and mash in a bowl. If you like your guac kind of chunky (that's how we like it), coarsely chop with the side of a fork instead of using the fork to mash it straight down.

Add the rest of the ingredients to the bowl.

Stir until all the ingredients are distributed evenly.
Nutrition Information
Calories:
129
kcal
Carbohydrates:
9
g
Protein:
2
g
Fat:
11
g
Saturated Fat:
2
g
Sodium:
20
mg
Potassium:
428
mg
Fiber:
6
g
Sugar:
1
g
Vitamin A:
350
IU
Vitamin C:
15.9
mg
Calcium:
15
mg
Iron:
0.5
mg