Chick-fil-A Frozen Lemonade is the perfect summertime treat! Creamy and refreshing with only TWO ingredients!
Copycat Chick-fil-A Frozen Lemonade
This Chick-fil-A Frosted Lemonade recipe is one of my favorite treats for hot summer days. Don't get me wrong, I will never say no to a lunch at Chick-fil-A. The nuggets and Chick-fil-A sauce are a match made in HEAVEN. However, I don't live near a Chick-fil-A right now and I have resorted to trying some copycat recipes.. I knew I had to try to make one of these refreshing drinks at home. This  It's not quite a milkshake, but not quite a slushy. It is perfectly in the middle with tart lemon flavor and creamy vanilla. It seriously takes 5 minutes to whip up and it tastes just like the real thing!
Ingredients for Chick-fil-A Frozen Lemonade
Vanilla Ice Cream – I like to use a creamier brand like Tillamook or Edy's, but you can use any vanilla ice cream! Make sure you keep in in the freezer right up until you add it to the blender. You want it to be really cold.
Lemonade – Fresh squeezed lemonade is the best for this recipe. I like the Trader Joe's brand or Newman's Own Lemonade. Simply Lemonade works great too! You can also use homemade lemonade, made of fresh lemon juice, sugar, and water.
Lemon Zest (Optional) – If you are a lemon-lover, like me, then you can add in the zest of one lemon to really bring out the tart lemon flavor! Remember when zesting to stop when you see white. The white part of the lemon rind is really bitter.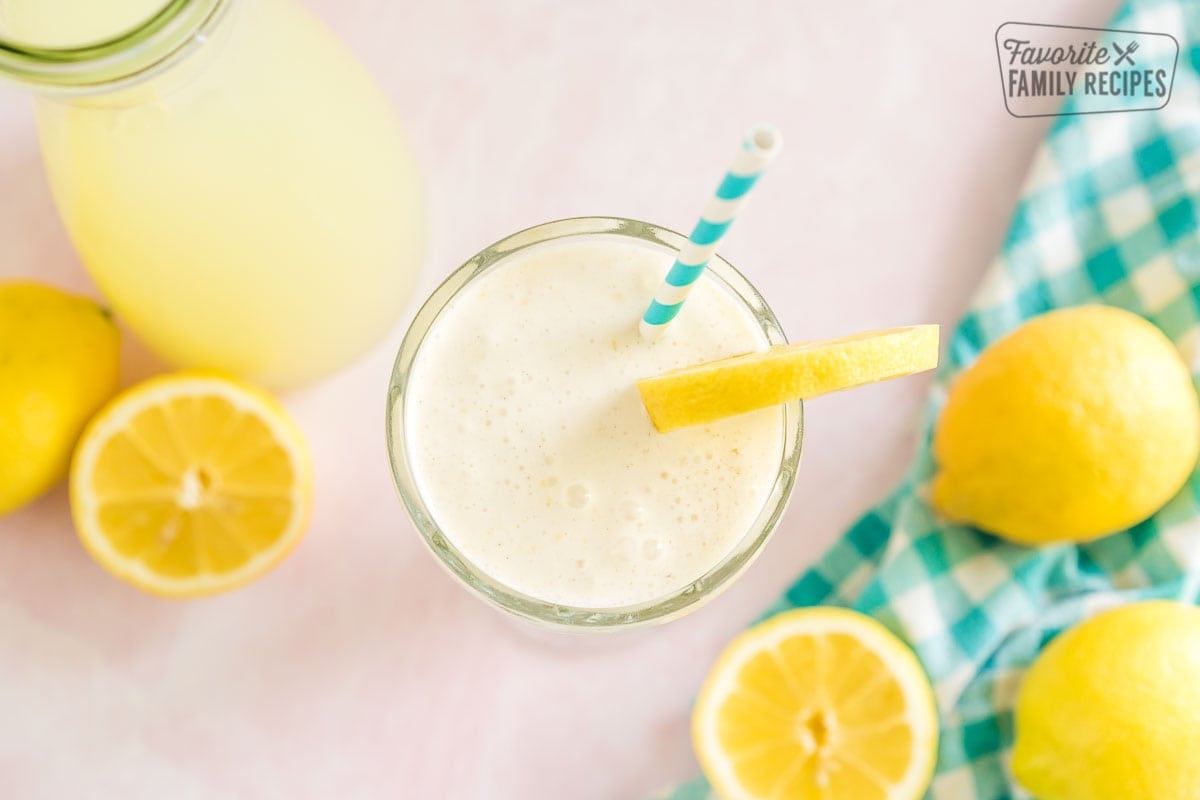 Variations
This simple, two-ingredient Frozen Lemonade recipe is perfect just the way it is. However, you can definitely change things up and try different flavors. Use different lemonade flavors – strawberry lemonade, raspberry lemonade, etc. Simply Lemonade makes a peach lemonade that would be like the perfect blend of the Chick Fil A Peach Milkshake and the Frosted Lemonade! You can also use different citrus juices like limeade or even orange juice, almost like an Orange Julius. (If you are now craving an Orange Julius, try our recipe! It is so good!)
Recipe Tip
The consistency of your frozen lemonade depends partially on how long you blend it. If you like a thicker drink, stop blending just after the ingredients are combined. If you like a thinner drink, then blend for a little longer, until it reaches your desired consistency. Don't worry, if you do over-blend and you want it to be thicker, then you can add in a few ice cubes at a time until you get the consistency right.
FAQ
Is making a Frosted Lemonade at home really cheaper?
Let's do the math! A Frosted Lemonade at Chick Fil A costs $4.49 before tax, as of June 2022. I bought a half gallon of vanilla ice cream for $4.39 and a 52 oz bottle of Simply Lemonade for $2.58. I was able to make 4 servings for $6.92. Four frosted lemonades at Chick Fil A would have cost $17.96 + tax. So I would say yes!
What if I like my frozen lemonade more sweet than tart?
This lemonade drink has a tart lemon flavor. If you like sweeter lemon flavors, you can add a little bit of vanilla extract. You can also omit the lemon zest.
More Drink Recipes
Chick Fil A Frozen Lemonade
Chick Fil A Frozen Lemonade is the perfect summertime treat! Creamy and refreshing with only TWO ingredients!
Instructions
Add all ingredients to the blender and pulse until combined.

Pour into glasses and serve. Garnish with lemon slices if desired.
Nutrition Information
Calories:
470
kcal
Carbohydrates:
62
g
Protein:
7
g
Fat:
22
g
Saturated Fat:
13
g
Polyunsaturated Fat:
1
g
Monounsaturated Fat:
6
g
Cholesterol:
87
mg
Sodium:
166
mg
Potassium:
394
mg
Fiber:
1
g
Sugar:
56
g
Vitamin A:
834
IU
Vitamin C:
1
mg
Calcium:
253
mg
Iron:
0.2
mg