Crockpot White Chicken Chili is so easy to throw together in the slow cooker on a cold day. Versatile enough to make as mild or spicy as you like!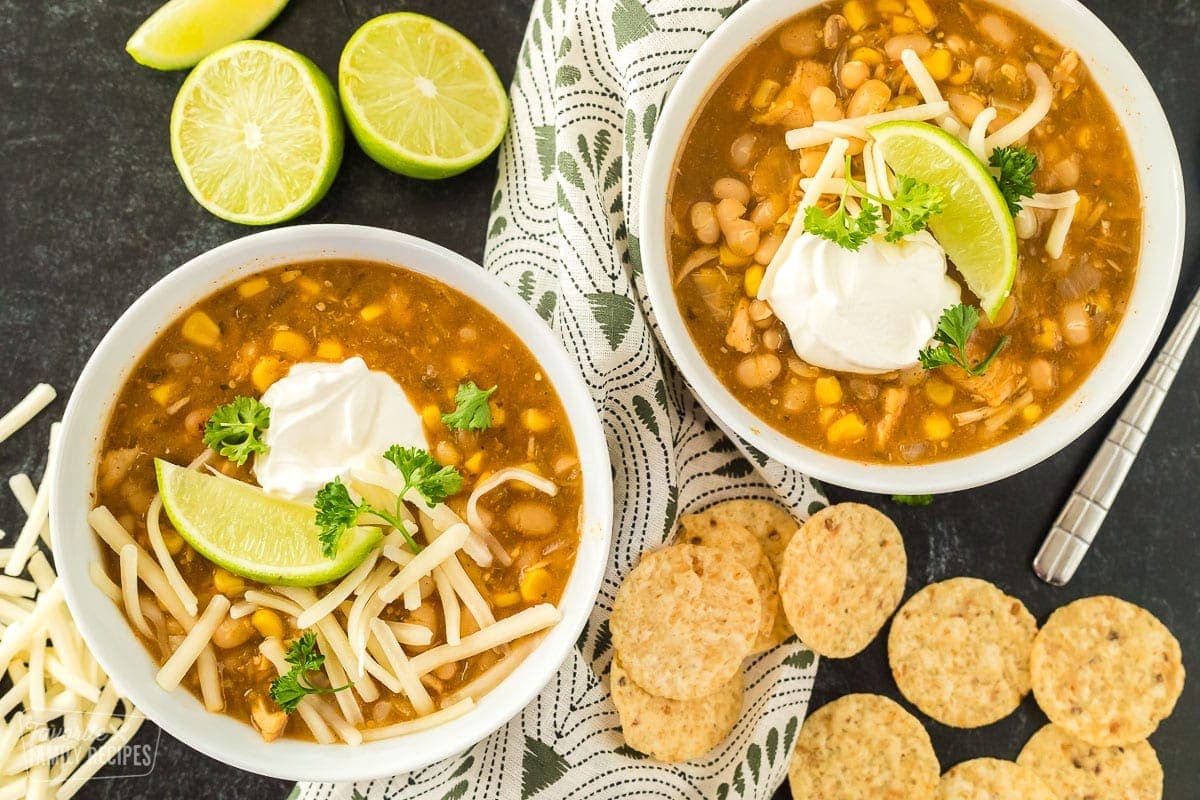 What is in White Chicken Chili?
There's nothing better than gathering around a warm pot of soup with friends and family on a crisp evening. With temperatures dipping (at least in some parts of the country) we all have comfort food on the brain, and this Crockpot White Chicken Chili Recipe is one of our very favorites to make when there's a chill in the air. And since it simmers in the slower cooker all day, your house will smell divine!
Tender, shredded chicken combined with buttery white beans and just the right amount of kick makes this recipe a family hit! Around these parts we enjoy a good amount of spice, so we love to use El Pinto HOT Green Chili Salsa. It's pretty spicy but so very delicious! If you like it more mild, La Victoria mild green salsa is a tamer alternative, and tastes just as glorious. That's the beauty of this recipe: make it as mild or spicy as you want.
Using Cooked Chicken
We like using chicken that is already cooked for this recipe, just to make things easier. Most of the time we will use the chicken breast or chicken thighs from a rotisserie chicken. You can also use leftover chicken from a previous meal or even leftover cooked turkey (a GREAT way to use up Thanksgiving leftovers). You can use uncooked chicken and shred it afterwards but because a Crockpot or slow cooker takes a while to come up to high enough temperatures so the chicken could be sitting in the "risky" temperature zone for too long. If you want to use uncooked chicken, it would probably be better to use the Instant Pot (see notes below).
What Kinds of White Beans Can I Use?
Any kind of white bean will work great. It really comes down to the size of the beans that you prefer in your chili. You can use white kidney beans, cannellini beans, navy beans, great northern beans, or we used these Rancho Gordo Alubia Blanca Beans.
Can I Use Dry Beans Instead of Canned?
Yes! If you have dry beans on hand, you can use dry beans instead of canned. You will just need to add more liquid and cooking time to the chili. We love using these Rancho Gordo dry beans that are freshly grown and packed in California. Simply rinse the beans and add them to the Crockpot with the other ingredients and cover by about 2″ of chicken broth. This will allow enough liquid for the beans to absorb. Add 1-2 hours to the cooking time to allow enough time for the beans to soften.
More Tasty Options
Take your white chicken chili to the next level by including all or some of these easy add-ins and garnishes:
Cream cheese (delicious if you want to make it a creamy white chicken chili)
Sour cream
Green chiles
Avocado
Fresh cilantro
Lime wedges
Instant Pot White Chicken Chili
If you need dinner on the table in a hurry, you can always cook up this chili in the Instant Pot. They best thing about using an Instant Pot is that you can use uncooked (and even frozen) chicken breasts or thighs because the chicken will be brought up to temperature quickly. This is a great alternative if you don't have cooked chicken on hand. Simply add all the ingredients, adding the liquids first and making sure the beans are on top (if the beans are on the bottom you will get a burn notice, the beans sink and burn easily). Cook on high pressure for 35 minutes if using thawed chicken, 45 minutes for frozen chicken.
Stovetop Instructions
If you prefer cooking on the stovetop, make step 1 as directed below in a large pot on the stove. Once onions are cooked through, add the remaining ingredients to the pot. Cover and simmer on low for about 20 minutes, stirring occasionally.
What Can I Serve With Crock Pot White Chicken Chili?
Feel free to get as creative as you like with toppings for this white chili recipe. We love to top our bowls with crumbled tortilla chips, extra cheese, or even green onions. We also love to tone down the spiciness a bit with our Cakey Cornbread drizzled with honey and butter. And leftovers turn into a hearty soup and salad lunch with a big, beautiful green salad alongside.
Can Chicken Chili Be Frozen?
Yes! This recipe doesn't have any creams or cheeses as written so it can easily be frozen. Simply place you chili in an airtight container or freezer-safe zip-top bag and freeze for up to three months. Just wait to add your shredded cheese until re-heated and ready to serve. Which leads me to my next point…
How to Re-heat Chicken Chili
Allow the whole thing to thaw completely in the refrigerator, then simmer on the stove until hot but not boiling, stirring often to prevent scorching. Then, add your cheese and enjoy!
How Long Will White Chicken Chili Last in the Refrigerator?
A good rule of thumb when storing soup with chicken in the fridge is three to four days, for maximum freshness.
Is Chicken Chili Gluten Free?
The only ingredient that may make this recipe not gluten free is the chicken broth. Most chicken broths are gluten-free but it is always a good idea to just check the labels to be sure. You can substitute with water or there are some decent gluten free chicken broth varieties that are specifically labeled as such if you are uncertain.
More Chili Recipes
If you're as excited about soup season as much as we are, here are a few of our favorites, guaranteed to warm your family's bellies and bring big smiles to their faces. What could be better?
How to Make Crockpot White Chicken Chili
Crockpot White Chicken Chili Recipe
Crockpot White Chicken Chili is so easy to throw together in the slow cooker on a cold day. Versatile enough to make as mild or spicy as you like!
Ingredients
2

medium

onions

finely chopped

2

tablespoons

oil

1-2

cups

green salsa

mild to hot, to taste

2

15 ounce cans

corn

drained

2

15 ounce cans

white beans

drained and rinsed

2

14 ounce cans

chicken broth

4

cups

chicken

cooked, shredded

8

ounces

cream cheese

(optional, great for creamy-style chili)

2

tablespoons

lime juice

1

teaspoon

ground cumin

dash of

chili powder

optional, to taste

1/2

teaspoon

ground black pepper

2

cups

shredded Monterey Jack cheese

tortilla chips

to taste
Instructions
In a large saucepan, cook onion in hot oil over medium heat. After it is caramelized a little bit, add the green salsa. Heat for about 3 minutes.

Add salsa mixture to the Crock Pot and add corn, beans, broth, cooked chicken, cream cheese (optional), lime juice, and seasonings. Cook on high for 4 hours.

About 10 minutes before serving, add the shredded cheese and stir until melted (this is how we like it best). You can also serve the cheese on the side as a garnish. Serve with tortilla chips, cilantro, avocado, or any other preferred garnishes.
Nutrition Information
Love this recipe?
We want to hear from you! Please leave a review.
This post contains links to Amazon.com. Please note that Amazon prices tend to change often so prices may be higher or lower without notice.