These Lemon Bars are a tart, yummy dessert with a tangy lemon layer, cookie crust and dusting of powdered sugar. A real summer treat!
Light and Bright Lemon Bars
These luscious lemon bars are a family favorite during summer months. They're so bright, tangy, chewy and yummy; a perfect treat for warm summer nights on the patio. I remember trying to make my mom's recipe for these lemon bars several times when I was in high school, and I could never get it quite right. Practice makes perfect, after all, so I kept at it. And now that I've figured out my mistakes, I have master the art of these lemon bars and made it much easier for you! When life gives you lemons, save a couple for this scrumptious lemon bar recipe. You're welcome.

Tips for the Perfect Lemon Bars
This recipe provides the perfect ratio of buttery crust to bright, lemony filling. Make sure to press the crust down firmly so it doesn't overpower the lemon flavor.
Use very cold margarine or butter when making the crust, then use a pastry cutter or fork to blend it in with the flour. Cold butter makes light layers of crust which tastes airy and just the perfect amount of crisp yet tender.
Bake lemon bars in a glass pan, as metal pans can give the bar cookies a slightly metallic taste.
Use a good quality cooking spray or even parchment paper to line the bottom of the glass baking pan. They'll come out easily without breaking. Part of a good lemon bar is the presentation, after all.
These bars can be served warm or cold. I love them after they've refrigerated for a few hours, which allows them to set up beautifully and let the flavors settle all together.
Try to use fresh lemons for this recipe. Not only will you be able to grate some fresh lemon zest from the rind, but fresh lemon juice tastes so much better and brighter than the bottled stuff.
To get the maximum juice out of your lemons, either roll them on the counter with your hand for a few seconds, or microwave them for about ten seconds. You'll be amazed how juicy those lemons can be!
Don't forget a generous dusting of powdered sugar on top. The sugar kind of melts into the lemon filling, making a golden, sweet crust on top that complements the tangy lemon. These are so delicious!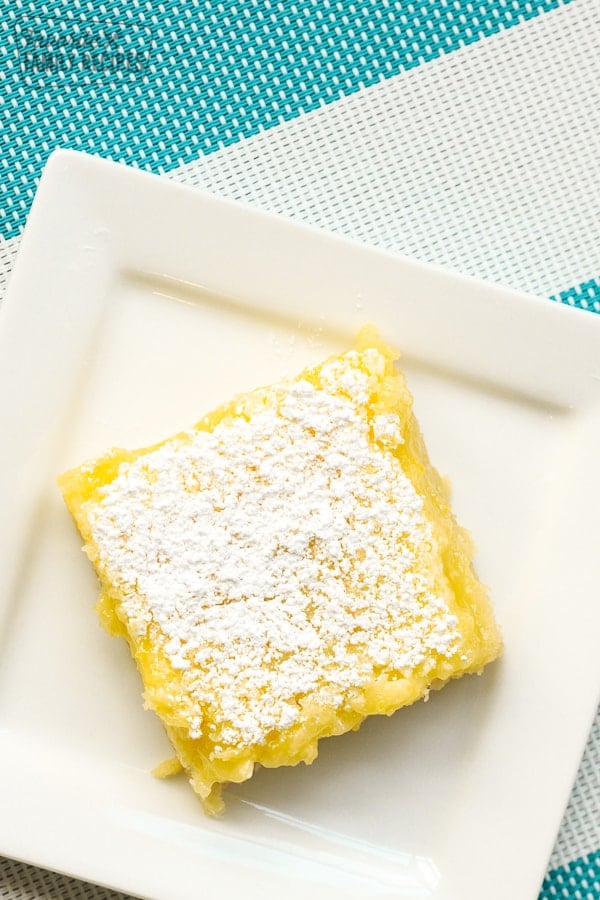 More Delightful Bar Recipes
If you love bar cookie recipes as much as we do, you're in luck! We've gathered a few of our favorite tried and true treats right here for you to try:
The Very Best Lemon Bars
Lemon Bars are a tart,yummy dessert with a tangy lemon layer, cookie crust and dusting of powdered sugar. A real summer treat!
Equipment
Conventional Oven

9 X 13 inch Pan
Instructions
FOR THE CRUST:
Mix with pastry blender til crumbly, then press into the bottom of a 9×13 pan lined with cooking spray. Bake at 350 for about 20 minutes or until slightly brown.
FOR THE LEMON FILLING:
Mix and pour over pre-baked crust. Bake 20 minutes at 350. Sprinkle with powdered sugar. Allow bars to cool before cutting and serving.
Nutrition Information
Calories:
216
kcal
Carbohydrates:
29
g
Protein:
3
g
Fat:
10
g
Saturated Fat:
6
g
Cholesterol:
57
mg
Sodium:
94
mg
Potassium:
43
mg
Fiber:
1
g
Sugar:
18
g
Vitamin A:
330
IU
Vitamin C:
1.9
mg
Calcium:
14
mg
Iron:
0.8
mg