This Lemon Bundt Cake recipe tastes just like a Nothing Bundt Cakes original! A sweet, tart cake with an AMAZING cream cheese frosting.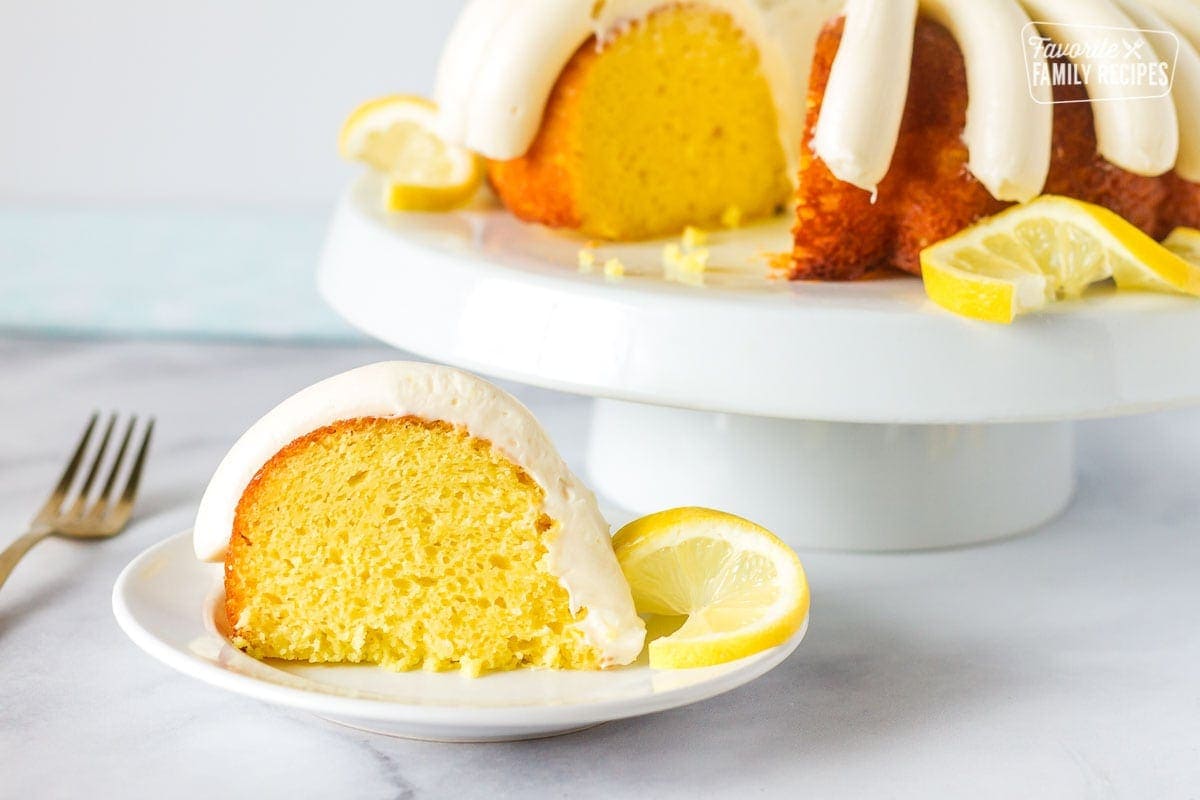 Lemon Bundt Cake
This gorgeous Lemon Bundt Cake is just as delicious as what you can get at the Nothing Bundt Cakes store, but now you can make it right at home! The dense, rich, moist cake is bursting with lemon flavor, with the flavor and consistency of lemon pound cake. It's topped with a light, fluffy cream cheese frosting. Make this yummy Lemon Nothing Bundt Cake for an special birthday, baby shower, or a casual Saturday evening dessert.

This is one of our most popular cake recipes! And we didn't stop at lemon! We have copycat recipes for all the Nothing Bundt Cakes classics: Chocolate Chocolate Chip, White Chocolate Raspberry, Red Velvet and more!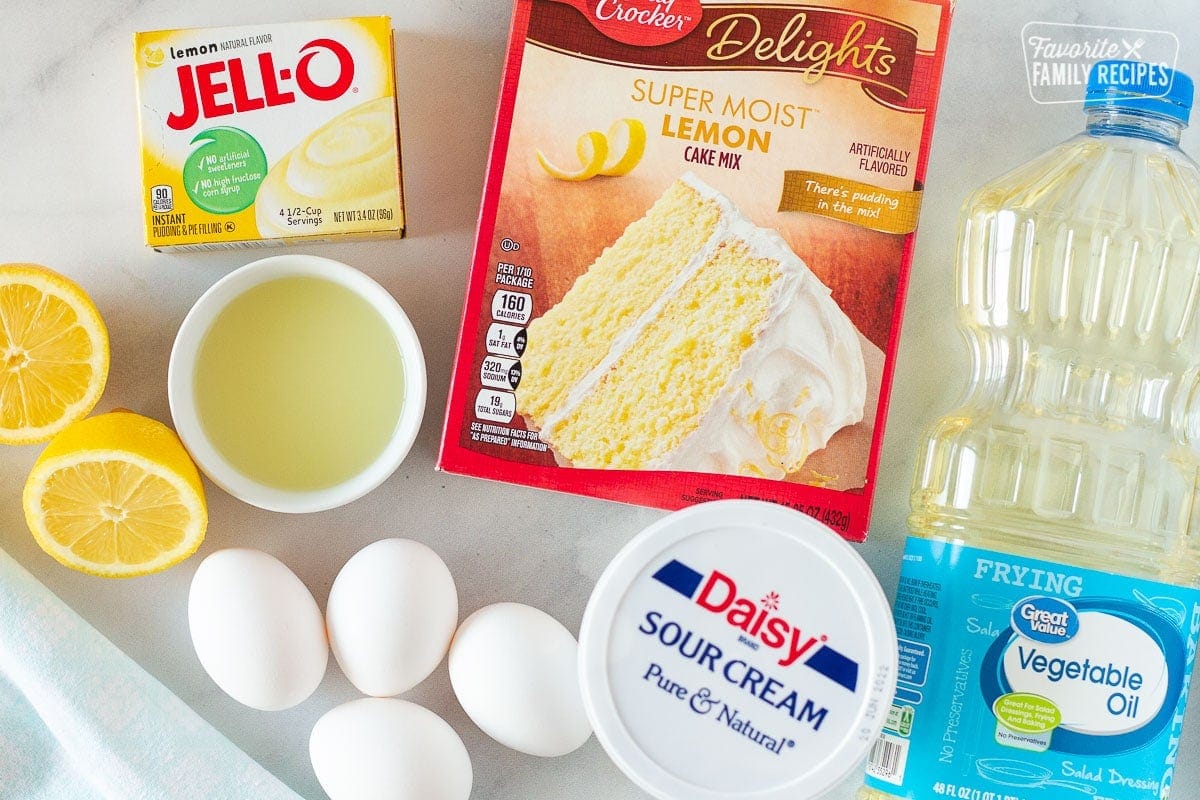 Ingredients for this Lemon Bundt Cake
Using cake mixes helps this recipe come together in a snap! You'll avoid having to use salt, baking powder, baking soda, etc. Here's all you need for the best lemon bundt cake recipe ever:
Lemon cake mix from the store – any brand will do!
Lemon pudding mix – you'll stir the dry instant pudding right in the batter.
Sour cream
Eggs
Vegetable oil
Lemon juice – you can use fresh lemon juice squeezed right from a lemon or you can measure ¼ cup of lemon juice from a bottle.
Water
White chocolate chips (optional) – For a richer cake, fold in some white chocolate chips into the batter using a rubber spatula.
Bundt Cake Frosting
The cream cheese frosting is so easy and can be used on dozens of treats. Here's all you need:
Cream cheese – make sure it is softened at room temperature.
Butter – I like to use unsalted butter at room temperature.
Powdered sugar – use a sifter to make sure the confectioners' sugar is nice and fine.
Use fresh raspberries or mint leaves as a garnish. You can also use a little lemon zest on top for a beautiful finish.
How to Frost this Lemon Bundt Cake
Sometimes I frost this cake like the store on our Chocolate Chocolate Chip Cake. This looks pretty, but I always feel like someone gets short-changed if they don't get the big blob of frosting on their slice. To prevent this, I sometimes frost the whole cake as pictured above. There is always plenty of frosting and I pile the extra in the middle so there is added frosting on each piece when I slice it. You can also thin the frosting with milk to make more of an icing and drizzle it over the top.
More Than Meets the Eye
Because of the richness of Nothing Bundt Cake's Lemon Cake, one bundt cake can easily serve 15-20 people. It saves in the refrigerator for several days if you have leftovers. The cake can also be frozen and then thawed in the refrigerator before it is frosted. Make sure it is wrapped in plastic wrap and then in aluminum foil before freezing to maintain the moisture and texture of the cake.
Removing the Cake from the Bundt Pan
Sometimes it can be tricky to remove the cake from the bundt pan after baking. Here's a tip to remove the cake once it cools.
Run a knife around the outer and inner edges of the cake (between the cake and the pan).
Place the plate or stand you will be using to hold the cake upside down on top of the bundt pan.
Gently hold the bundt pan and plate together as you flip them both right side up. The cake may pop out of the pan as you are flipping, but if it does not leave the cake pan upside down on top of the plate.
Gently tap around the top of the pan with the handle end of a butter knife. This will loosen the cake from the sides and it should easily come out onto the plate.
If not, flip the platter and bundt pan over again and start over by running the knife around the edges of the pan.
Tips for Making this Bundt Cake Recipe
Use Fresh Lemons: For the best flavor, always use fresh lemons for both zest and juice. You can use bottled lemon juice but it may lack the vibrant citrus flavor you are looking for.
Room Temperature Ingredients: Bring ingredients like eggs, butter, and sour cream to room temperature before starting. This ensures better mixing and a smoother batter.
Don't Overmix: Mix the batter just until the ingredients are combined. Overmixing can result in a dense and tough cake.
Properly Grease the Pan: Use baking spray or butter and flour to coat the Bundt pan thoroughly. This helps in easy release after baking.
Avoid Overbaking: Check the cake a few minutes before the recommended baking time to prevent it from becoming dry. A toothpick inserted into the center should come out with a few moist crumbs clinging to it.
Cool the Cake Properly: Allow the cake to cool in the pan for about 15-20 minutes before inverting it onto a wire rack or cake platter. This helps the cake settle and prevents it from breaking.
Try a Lemon Glaze: For an extra burst of lemon flavor and sweetness, consider adding a simple lemon glaze made with powdered sugar and lemon juice instead of making a cream cheese frosting.
Garnish with Lemon Zest: To make the cake more visually appealing, sprinkle some fresh lemon zest over the frosting.
Store Correctly: Store the cooled cake in an airtight container or wrap it tightly in plastic wrap. It can stay fresh for several days at room temperature or longer when refrigerated.
What Readers are Saying About this Recipe
"I have made this cake from this recipe so many times I figure it is way past time I gave a review. It is a delicious moist cake and the frosting is to die for. I do not add all the powdered sugar (usually around 2 cups) and I grate a little lemon zest along with the raspberries and mint leaves for the top. This is one of my go to recipes when I want to impress!!!" – Rosie G.
"Amazing! I'll never spend $30 on the real deal Bundt cake ever again. This recipe is as good, if not BETTER! Thank you for sharing! It was delicious!!" – Michelle
"I even made this Gluten Free using Magnolia Mixes GF Lemon pound cake mix. I also zested my lemon before juicing it. The non-gluten free family and friends could not believe how good it tasted! Thank you!" – Leah N.
More Bundt Cake Recipes
Nothing Bundt Cakes Lemon Cake Copycat
This Nothing Bundt Cakes Lemon Cake Copycat recipe tastes just like the original! A sweet, tart cake with an AMAZING cream cheese frosting.
Equipment
Hand Mixer

Mixing Bowls

Bundt Cake Pan
Ingredients
1

lemon cake mix

3.4

ounces

lemon pudding mix

dry, instant pudding

1

cup

sour cream

4

large

eggs

1/2

cup

oil

1/4

cup

lemon juice

(fresh lemon juice tastes best)

1/4

cup

water

1 1/2

cups

white chocolate chips

optional
Instructions
Preheat oven to 350 degrees. Gather your ingredients.

Using an electric mixer, beat the cake mix, pudding, sour cream, eggs, oil, lemon juice, and water for 2 minutes. If using white chocolate chips, chop the chips into smaller pieces and add to the cake batter. Pour cake batter into a greased bundt cake pan (nonstick cooking spray works best).

Bake for 45-50 minutes. Let cool for 20 minutes.

Remove the cake from the bundt pan and place it on a serving plate or cake stand. See post above for details on how to easily do this. Wrap the cake well with plastic wrap and let it sit in the refrigerator overnight before frosting and serving.
Frosting
In a medium bowl or mixer, combine the cream cheese and butter until smooth and creamy. Mix in the vanilla, then gradually add the powdered sugar. Start with 2 cups and then keep adding until the frosting is nice and thick.

Place a ziplock bag or piping bag into a cup and fill with frosting.

Snip the corner of the bag. You want a thick frosting strip, so make sure the hole is big enough to let out the right amount of frosting.

Frost the cake in thick stripes going from the middle to the outside. Keep cake refrigerated.
Nutrition Information
Calories:
627
kcal
Carbohydrates:
74
g
Protein:
6
g
Fat:
35
g
Saturated Fat:
16
g
Cholesterol:
105
mg
Sodium:
490
mg
Potassium:
151
mg
Fiber:
1
g
Sugar:
51
g
Vitamin A:
760
IU
Vitamin C:
1.8
mg
Calcium:
163
mg
Iron:
1.2
mg
Love this recipe?
We want to hear from you! Please leave a review.