Your favorite meat and potatoes dinner isn't complete without this easy and delicious Beef Gravy recipe. The deep color and rich flavor makes this gravy the perfect topping to so many meals!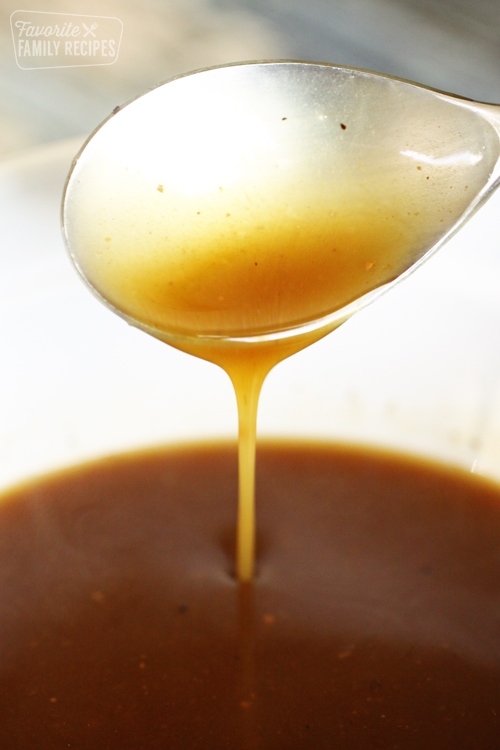 The Best Beef Gravy Recipe

The taste of homemade gravy far exceeds gravy that comes from a powder. The extra few minutes it takes to make your own is totally worth it. It is a favorite at our Sunday dinners.
Growing up, the star of every Sunday dinner was our mom's creamy, rich beef gravy. She was famous for her warm, comforting Sunday meals, especially mashed potatoes and gravy. Extended family members were always clamoring to get an invite to her table. One of our uncles (who will remain anonymous) came over for dinner once, filled his whole plate with mashed potatoes and then covered the entire thing with Mom's gravy. Hey, no judgement here, Uncle Anonymous. We're just jealous we didn't think of doing it first!
The Best Roast Beef Recipes
If you are looking to make a roast beef gravy recipe, it helps to start with a good recipe for roast beef. Lucky for you, we have lots of great roast beef recipes! From slow cooker roast beef (aka Crock Pot pot roast) to our popular Instant Pot pot roast to a Sunday oven pot roast made in a roasting pan, we've you you covered. All of these methods will give you a good amount of liquid for a delicious roast beef gravy.
Gravy with Juices from a Beef Roast
Drippings from your roast meat is ideal for the best gravy. Use that glorious broth left over from cooking your meat for your gravy. Use as much as you can and try to scrape up those little beef bits from the bottom of your roasting pan, slow cooker, or Instant Pot before turning it into gravy.
Homemade Beef Gravy with Beef Broth
Drippings from your main course meat is ideal for the best gravy but sometimes there's not enough juices left in the pan to make enough gravy to feed the family. If this is the case (which it is the case MOST of the time for our gravy-loving family) here's a simple trick: add beef broth and a little butter. Gravy needs a bit of that good, delicious fat for a better consistency. If you don't have drippings at all, no worries, just follow the recipe below for an easy beef broth gravy!
Can I Use Beef Stock Instead of Beef Broth?
Yes! Stock that has been simmered down from bones, seasonings, and veggies (usually the trifecta of carrots, celery and onions) adds a much deeper flavor to gravy. But if making all that at home sounds daunting, there are several can or carton options at your regular grocery store.
Beef Gravy with Flour
We like the cornstarch method when making gravy because it is a little more forgiving and easier to do when you have beef drippings. If you don't have cornstarch on hand or prefer a roux gravy you can still use this easy recipe! Simply melt butter, add flour and stir until flour is cooked– then whisk in the beef broth and remaining ingredients. Which leads me to…
Brown Gravy from a Roux
Gravy made from a roux sounds fancy, but it's actually really easy once you understand how it works. What I like about roux gravy is that it can vary in flavor and color depending on how long you cook the flour. If you like a deep, dark brown gravy (similar to gravies in Europe), you cook the flour for much longer than you would a light brown, country-style beef gravy (see image below). There is so much to know about roux, we actually dedicated an entire post to it. Learn ALL about roux HERE.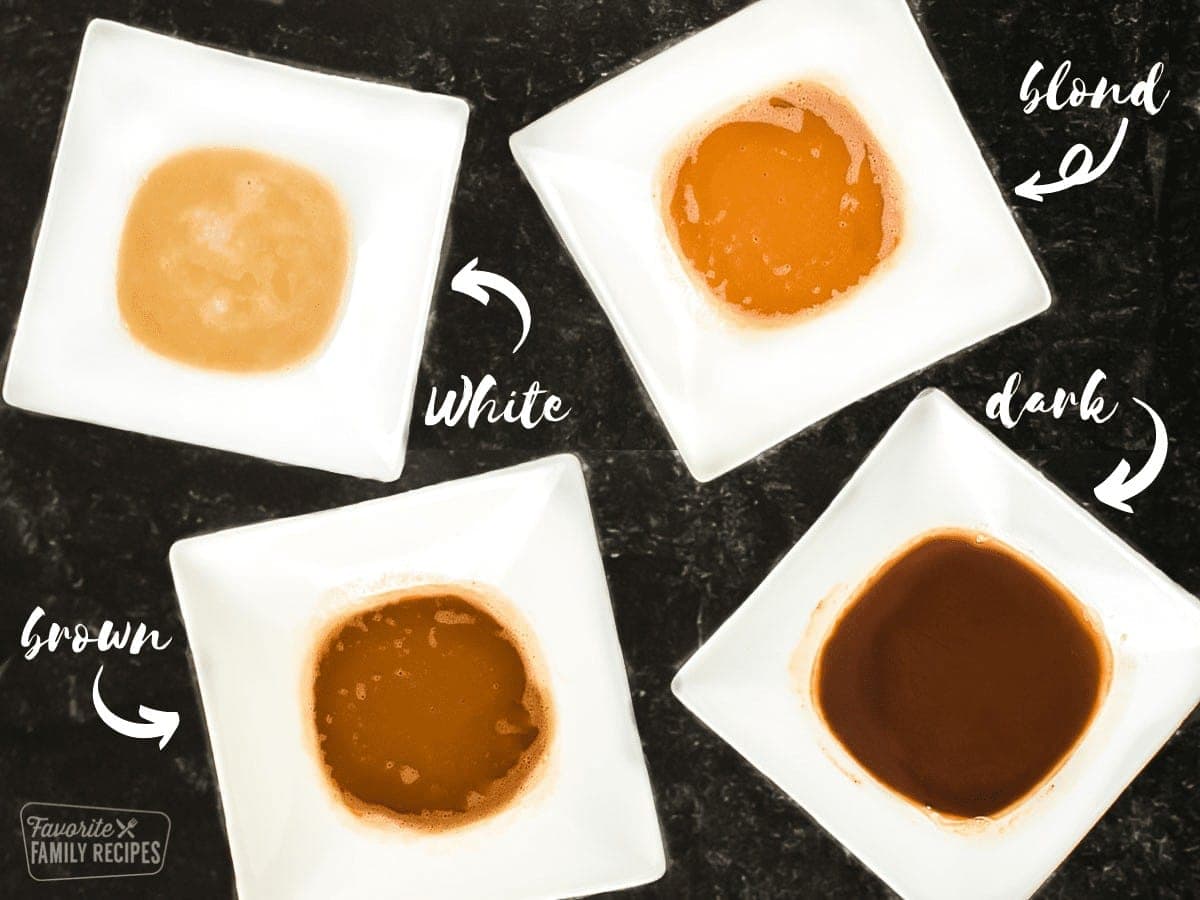 Is Beef Gravy Gluten Free?
Most beef gravies are NOT gluten free. Beef broth or bouillon generally contain a fair amount of gluten. But, if you use a gluten free broth (check the labels!) and prepare this recipe with corn starch, you will have a delicious gluten free gravy.
Kick It Up a Notch
Want to add some more flavor dimensions to your roast beef gravy? Try adding some of these easy ingredients:
Worcestershire sauce – adds a deep, tangy flavor to the gravy.
Thyme – Bring a fresh, earthy flavor to your gravy with a teaspoon of thyme. Let it simmer until all those fresh flavors are released.
Chopped onion – sauté some finely chopped onion in a little butter before adding any other ingredients for a brighter flavor.
Mushrooms – Any mushroom lovers out there? Slice up some mushrooms and sauté in butter over medium heat before adding to the gravy.
Where's The Beef?
Want even more delicious, beefy recipes with beef gravies and sauces? Here are some of our favorites:
More Delicious Gravy Recipes
Once you have the method down, the possibilities of delicious gravies are endless. Give some of these a try:
Beef Gravy
Your favorite meat and potatoes dinner isn't complete without this easy and delicious Beef Gravy recipe. The deep color and rich flavor makes this gravy the perfect topping to so many meals!
Instructions
In a medium-sized sauce pan, combine butter, beef broth, onion powder, and garlic powder. Bring to a boil, stirring occasionally.


Reduce heat and bring to a simmer.


In a small bowl or liquid measuring cup, combine cornstarch and water, stirring until well combined.


While whisking the broth CONSTANTLY, slowly add cornstarch mixture to the saucepan. I like to pour in about a tablespoon at a time to gauge consistency. You may not need all of the cornstarch mixture, add only until desired consistency is reached.


Add beef bouillon (or Kosher salt– I just like the depth of flavor the beef bouillon adds as compared to straight up salt) and pepper to taste.


Allow to simmer 2-3 minutes. Serve over potatoes, rice, poutine, or your favorite beef dishes.

Nutrition Information
Calories:
65
kcal
Carbohydrates:
5
g
Protein:
2
g
Fat:
5
g
Saturated Fat:
3
g
Cholesterol:
11
mg
Sodium:
486
mg
Potassium:
77
mg
Fiber:
1
g
Sugar:
1
g
Vitamin A:
131
IU
Vitamin C:
1
mg
Calcium:
11
mg
Iron:
1
mg
ingredients