A roux is a thickening agent used in a variety of sauces, gravies, soups and stews. Find out how to create a roux from scratch with our easy recipe!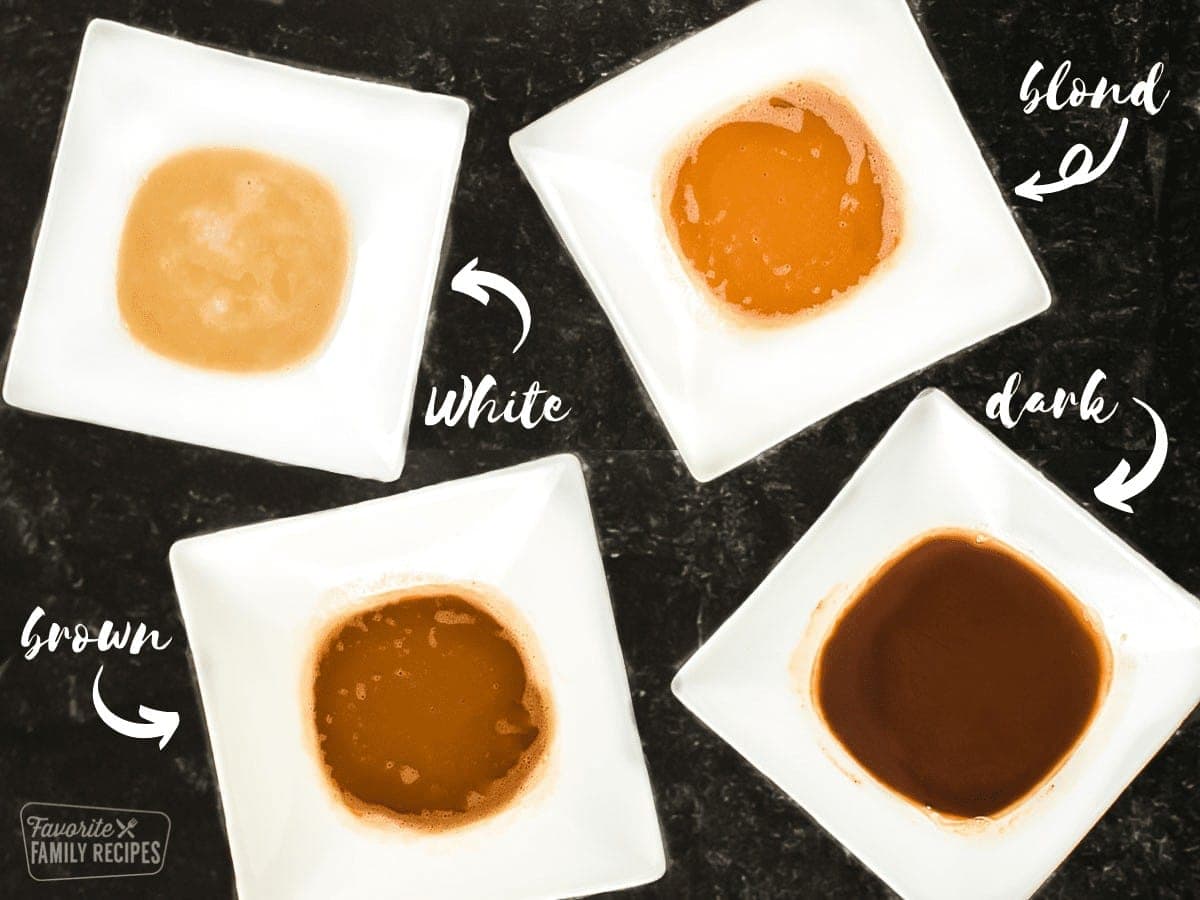 What Is a Roux?
A roux (pronounced "roo") is a thickening agent used for gravies, soups, stews, and sauces. It creates a smooth, creamy consistency without lumps. It is made with butter and flour and cooked on a stovetop. Liquids can be added to a roux to make gravy or soup bases or the roux can be added to liquids such as soups or stews to thicken. Here, we will teach you the different types of roux and how to use them.
What is the Ratio of Flour to Butter?
The most common ratio for roux is 1:1, or a mixture of equal parts flour and butter (or "fat"). This is the ratio that we prefer to use. Others use a 2:1 ratio (2 parts flour, 1 part butter) but we have found that this usually results in clumping and doesn't brown as well.
What Are the Types of Roux?
The type (or color) of roux depends completely on how long you cook it. That's it. The longer you cook it, the darker it gets. Also, the longer it cooks, the less thickening power it has. So a very dark roux will have a deeper flavor, but it won't thicken as much as a white roux. Here is a simple breakdown of the 4 common types of roux:
White Roux:
White roux is the most common type of roux. Butter is most often used as the "fat" for white roux because of the flavor. Bacon fat, vegetable oil or any other cooking oil can be used.
Color: Off-white or very light
Flavor: Neutral, very little flavor
Thickening power: Thickens very well
Used in: Béchamel sauce, velouté, white sauces, cheese sauces (mac and cheese), chowders, country gravy
Blond Roux:
Color: Can vary from "eggshell" to a light brown color
Flavor: More flavorful than white roux, smells almost caramelized when cooking
Thickening power: Thickens well
Used in: Soups, sauces, and chicken and turkey gravy
Brown Roux:
Color: Dark peanut butter color to deep brown color
Flavor: Deeper, nutty flavor, rich aroma
Thickening power: OK thickening, may want to add less liquid for a thicker consistency
Used in: Stews, beef or brown gravy
Dark Roux:
If dark roux is your goal, you will want to use canola oil, peanut oil, or any other high smoke point oil as your "fat". This will prevent the roux from burning and giving your roux a burnt taste.
Color: Deep brown to very dark brown, like melted dark chocolate
Flavor: Very deep, rich flavor
Thickening power: Not great, adds a smooth consistency but not super thick
Used in: Gumbo, Creole or Cajun dishes, stew, and goulash.
A Quick Guide
Need an easy guide as a reference? Pin this handy infographic!
Add Liquid to Make a Sauce or Gravy
For the recipe below, you can simply add liquid directly to the roux to make a sauce or gravy. Depending on what you are making, you can add any kind of broth, stock, or milk. I always add liquid until I get the consistency I am looking for. This can be anywhere from 3-6 cups of liquid for the roux recipe as written below. If you are using a brown or dark roux, you will want to use less liquid. Possibly only 2-3 cups. Just add a little bit of cold liquid at a time and stir constantly with a whisk until you reach your desired consistency.
Gravy: blond roux + broth (beef, chicken, or vegetable) or drippings
Country Gravy or Béchamel: white roux + milk + salt and pepper
Velouté: white roux + broth
Cheese sauce: white roux + milk + sharp cheddar (remove from heat and stir in cheese with a wooden spoon)
What is the difference between a roux and gravy?
Roux is purely a thickening agent. Gravy is the finished product after adding liquid and seasonings to a roux. Though gravy can be thickened with a roux, it is not the only thickener that can be used (see more on this below).
A Thickener For Soups and Sauces
As mentioned above, you can either add liquid to a roux OR you can add roux to a liquid. The latter method is most commonly used is soups, stews, chowders, and gumbo. You simply make the roux first and then stir it in a little at a time to thicken whatever you are making. We use this method to thicken our Creamy Broccoli Cauliflower Soup.
Using a Roux To Make Condensed Soups
Did you know that you can make your own condensed soup? It's easy! You just start with a simple roux and add less liquid. Check out our recipes for our Condensed Cream of Chicken Soup and our Homemade Condensed Cream of Mushroom Soup.
How to Make a Roux Without Flour
For a gluten-free alternative to a traditional roux, there are several substitutions you can make. Simply swap out the all-purpose flour for cornstarch, arrowroot, rice flour, or your favorite gluten-free flour.
How to Store a Roux
To save time in the future, you can always make a roux and save it for later. Sometimes if I just need a little bit of thickener for a recipe, I will still make this recipe as-is and just put away half for later use. You may be surprised how often you need just a little bit of thickener. You can store your roux in an airtight container in the refrigerator for up to a month or in your freezer for much longer (I am told indefinitely but I would say up to a year or so). Make up a bunch at once and store or freeze in ice cube trays as a quick thickening solution!
Recipes That Use Roux
How To Make a Roux (And Easy Gravy Recipe)
A roux is a thickening agent used in a variety of sauces, gravies, soups and stews. Find out how to create a roux from scratch with our easy recipe!
Instructions
In a medium-sized sauce pan melt butter over medium to medium-low heat.

When butter has melted, add flour and whisk until smooth.

Continue whisking until desired stage/color is reached.

White: appx. 2-5 minutesBlond: appx. 4-8 minutesBrown: appx. 8-15 minutesDark: appx. 15-30 minutes. (Note: It's always better to go by COLOR rather than TIME… these are just estimates to help with prep and planning)
To Make Gravy:
Add cold liquid a little at a time, whisking constantly, until desired consistency is reached. Season with salt and pepper to taste.
Nutrition Information
Calories:
87
kcal
Carbohydrates:
4
g
Protein:
1
g
Fat:
8
g
Saturated Fat:
5
g
Polyunsaturated Fat:
1
g
Monounsaturated Fat:
2
g
Trans Fat:
1
g
Cholesterol:
20
mg
Sodium:
68
mg
Potassium:
8
mg
Fiber:
1
g
Sugar:
1
g
Vitamin A:
236
IU
Calcium:
3
mg
Iron:
1
mg