This Rice Krispie Treat recipe is foolproof! They never come out hard or dry and it is less mess than making them over the stove!
Rice Krispie Treats
Rice Krispie Treats are one of my kids' favorite snacks, and I can't blame them. I love this sweet treat too! However, sometimes they can be kind of a pain to make. When my friend Heidi told me about her easy method I knew I had to try it! Now she's letting me share her secret with you – you can make them in the microwave! Not only is it easier than the stovetop method, they actually turn out BETTER. They are soft and chewy every time. Thanks Heidi!
Secret to Perfect Rice Krispie Treats
Is there anything worse than hard, dry, crunchy Rice Krispie Treats? Why does this happen? The answer is in how the marshmallows are cooked. When you melt the butter and marshmallows over the stove, the marshmallows have a tendency to get too hot. If the marshmallows cook too long the texture of the sugar changes and your treats will turn out hard and dry. Cooking them in the microwave allows you to control the temperature better. Another tip for keeping your krispies soft and chewy is to use fresh bags of mini marshmallows. Don't grab the bag that has been sitting in the back of your cupboard. Trust me, fresh marshmallows make a huge difference in the texture!
Gluten-Free Tips
With some newly discovered gluten allergies in our family, we are always trying to be aware of gluten-free foods. If you are wondering if Rice Krispie treats are gluten-free, it depends on the brand of cereal. There is barley present in Kellogg's brand, which contains gluten. Years ago there was a gluten free Kellogg's cereal but it has since been discontinued. You can find generic brands of "crispy rice cereal" that are gluten-free. Malt-O-Meal is a brand that makes a gluten-free crispy rice cereal, and it works great in this recipe.
Sweet Substitutions and Add-ins
This is a no-frills, basic recipe, but feel free to take them to the next level and add anything you would like to them including:
M&Ms
chocolate chips
coconut
crushed Oreos
candy corn (for Halloween)
Cadbury mini eggs (for Easter)
candy sprinkles, etc.
You can also change out the cereal! You can use Fruity Pebbles, cocoa Krispies, Cheerios, or Reeses Puffs for a completely different flavor.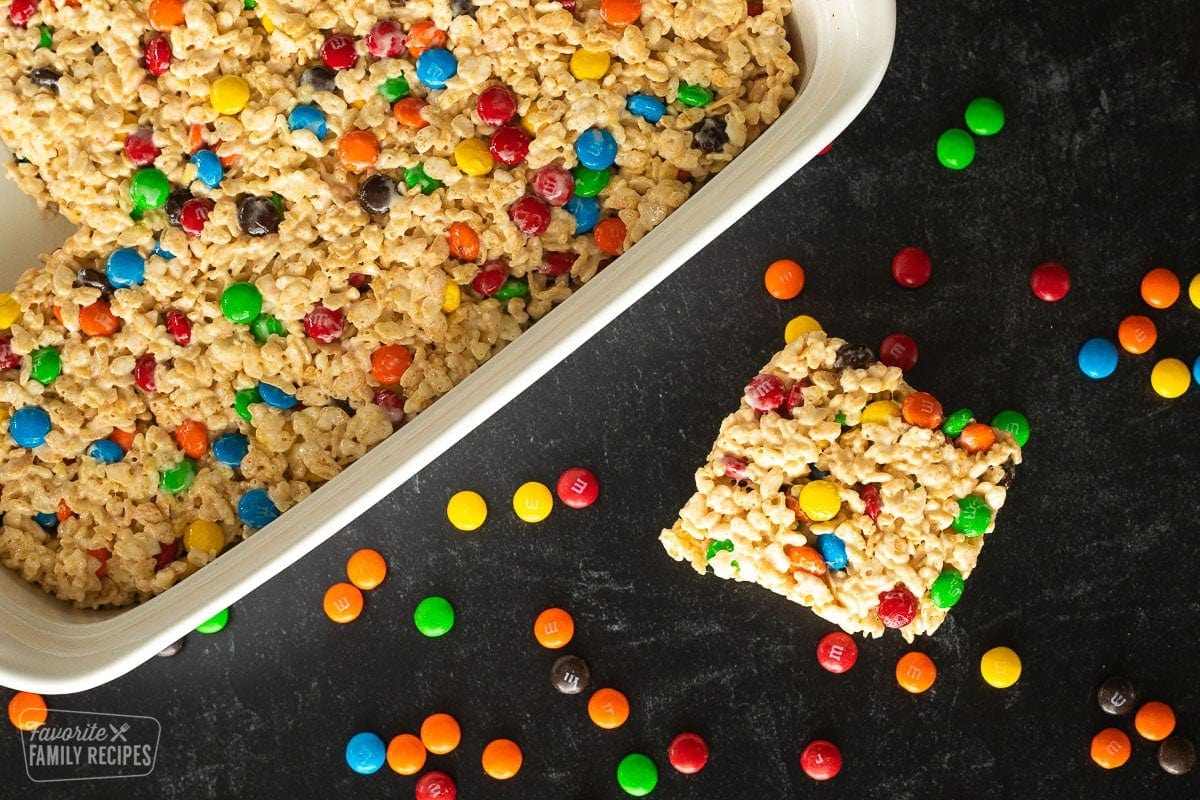 Storage Tips
To keep your treats fresh and chewy, you can cut them up and put them in an air-tight container, placing wax paper or parchment between each layer. This is the way we like to store them whenever we go camping our our for a picnic, It cuts down on plastic wrap. You can also store them right in the pan with plastic wrap over the top, or you can cut them into squares and wrap each individually.
More Recipes You Will Love
If you are looking for Rice Krispie treats that are a step beyond the basic recipe, try some of these tasty variations!
FAQs
Should I refrigerate Rice Krispie Treats?
It is not necessary to refrigerate your Rice Krispie treats after preparing. Refrigerating them could make them get too hard or even dry out. They can be stored at room temperature for up to 2 days (see storage tips above).
How long does it take for Rice Krispie Treats to harden?
When you microwave them, they don't take quite as long to cool. They will cool down and harden a little after about 30-40 minutes.
How many cups are in a box of rice cereal?
A 12 ox. box has about 10 cups, so for this recipe you will use just one cup less than a full box.
Can I use coconut oil instead of butter?
YES, and it is a delicious substitution! Just use the same amount of coconut oil as you would butter. We actually make this substitution often and include coconut flakes and chocolate chips.
How To Make Rice Krispie Treats
This Rice Krispie Treat recipe is foolproof! They never come out hard or dry and it is less mess than making them over the stove!
Instructions
Place butter and marshmallows in a LARGE microwave-safe bowl.

Microwave on high for 1 minute. Remove bowl from microwave and stir. Return bowl to microwave and microwave another 30 seconds. Stir again until marshmallows and butter are completely melted together. You only want it JUST melted.

Fold in rice cereal until well combined.

Place mixture in a greased 9×13 dish and press down evenly (spray a little cooking spray on your hands to prevent sticking). Allow to cool before serving.
Notes
*If you don't have a large microwave-safe bowl, melt the marshmallows and butter in a medium-sized bowl and place rice krispies in a large bowl. Add the melted marshmallow mixture to the rice krispies instead of adding the rice krispies to the marshmallows.  See video for clarification.
Though these can be served immediately, they taste best when cooled to room temperature.
Nutrition
Calories:
193
kcal
|
Carbohydrates:
34
g
|
Protein:
1
g
|
Fat:
6
g
|
Saturated Fat:
4
g
|
Cholesterol:
16
mg
|
Sodium:
79
mg
|
Potassium:
13
mg
|
Fiber:
1
g
|
Sugar:
17
g
|
Vitamin A:
190
IU
|
Calcium:
4
mg
|
Iron:
0.4
mg