Fresh oranges give this Orange Grilled Salmon a citrusy taste and tender texture. The salmon is wrapped in foil and then grilled to hold in the juices.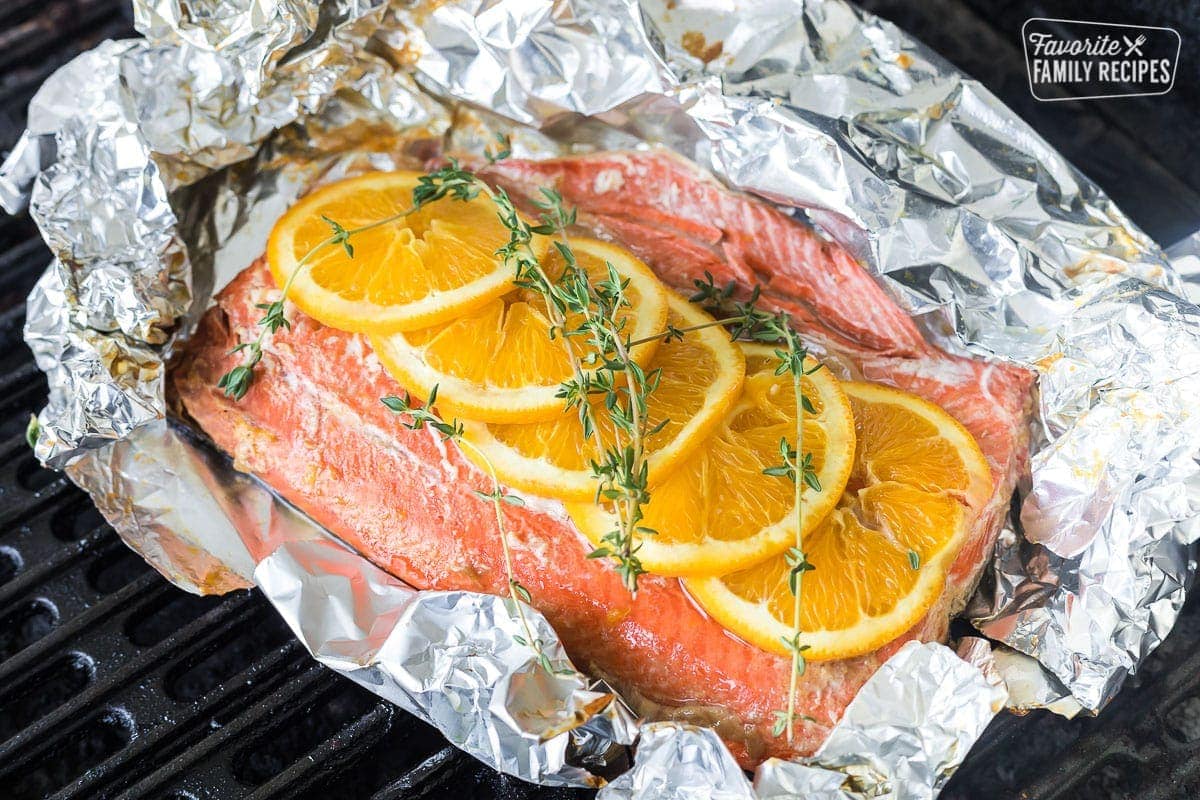 Orange Grilled Salmon
Now that the weather is getting warmer all I want to do is cook out on the grill, this is a sweet tangy dish that even your kids will love. It is my favorite grilled salmon recipe by far. Plus, it is SO easy. No fancy salmon marinade, no salmon sticking to the grill grates or falling apart when flipping, just add the ingredients and wrap it all in foil to grill. It really couldn't be easier!
Tip for Buying Salmon (or ANY Fish)
I worked with a seafood chef in Utah who taught me to never re-freeze fish when you buy it fresh. This is because when you buy it "fresh" at the store, it has most likely already been frozen and then thawed to sell. The thawed fish is meant to be cooked and eaten quickly. If you don't plan on cooking your salmon within a day, ask the meat counter butchers to give you a filet that is still frozen. That way when you thaw it at home, it is being thawed for the FIRST time and will have maximum flavor and freshness.
Healthy Benefits of Eating Salmon
Most of us know we should be getting more fish in our diets. The health benefits are pretty amazing. And when it tastes as good as this Orange Grilled Salmon, its surprising we don't cook fish more often. In case you're wondering, a few of the health benefits of fish — salmon in particular — include:
High in B vitamins
May reduce the risk of heart disease
Great source of lean protein
Rich in Omega-3 fatty acids
Filled with selenium
Some of the benefits may sound confusing, but in essence, salmon is great for brain development and function, it can improve cholesterol levels, which is good for overall heart health. Your body also requires protein in order to heal and prevent muscle loss. Salmon offers 22-25 grams of protein for every 3.5-ounce serving.
Flavor Variations
You can switch up the ingredients in your grilled salmon and still use the same grilling method. Not a fan of an organ flavor profile? No problem! Try using some of these flavor combinations on your salmon filets:
olive oil + salt + black pepper
butter + garlic + lemon
miso + a splash of low sodium soy sauce
fresh herbs + lemon
cream cheese + dill
cajun seasoning
Gas Grill or Charcoal Grill?
For this recipe you can either use a charcoal grill or a gas grill. You can even put the foil packet in a campfire over a grill grate. It is always helpful to use heavy duty foil when cooking over an open flame. No grill or fire pit? You can also cook the salmon in the oven at 450-degrees F for the same amount of time.
How Long To Cook Grilled Salmon
If you are cooking a salmon fillet in a foil packet on the grill, it can take between 10-15 minutes to cook through. The exact cooking time really depends on the size and thickness of your salmon filets. The best way to know for sure is to use a meat thermometer. You want the salmon to have an internal temperature of 120 degrees F in the thickest part of the filet. After cooking, remember to allow the salmon to rest for 3-4 minutes before serving.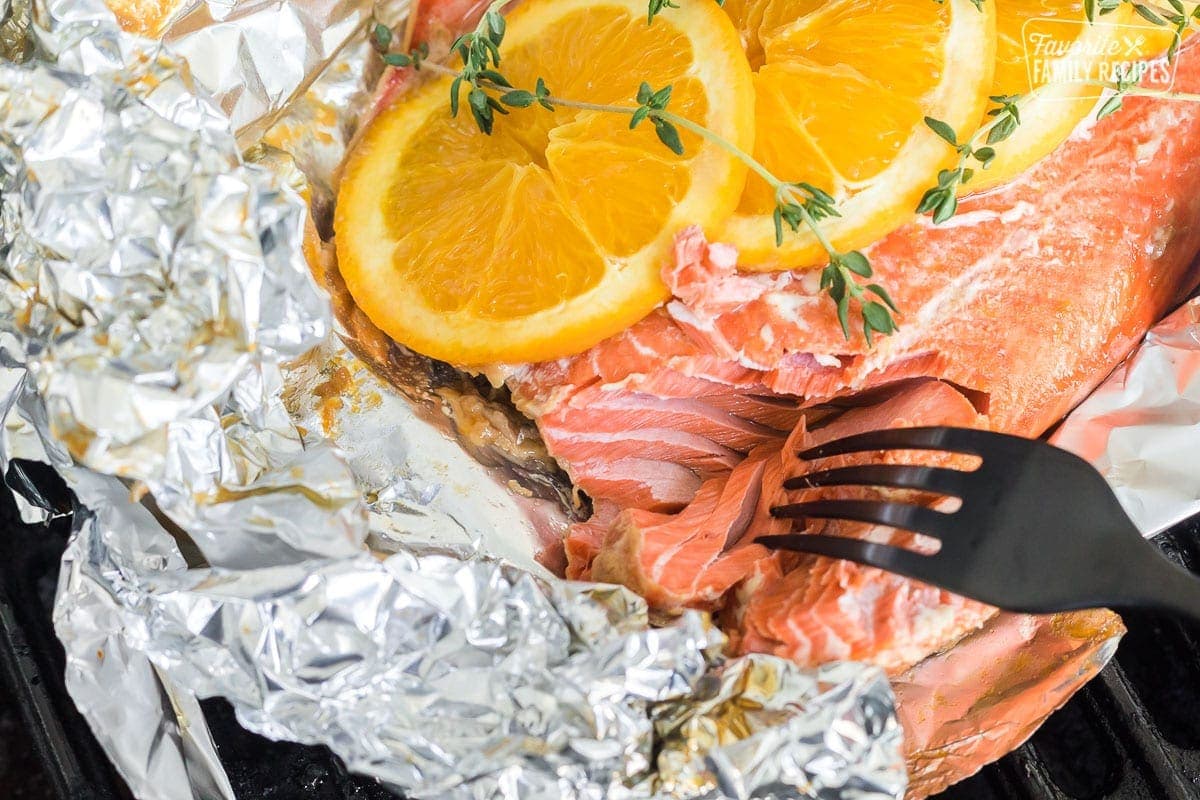 Add Some Grilled Vegetables
In a separate foil pack, add some asparagus, zucchini, broccoli, sliced onions, peppers, and/or pieces of corn on the cob. Drizzle a little olive oil over your veggies, season with salt and pepper and garnish with fresh parsley. Cook the vegetables alongside the salmon for the same amount of time the salmon cooks. This is an easy way to make it a full dinner by just using your grill!
Serving Grilled Salmon
Serve grilled salmon with cooked vegetables, grilled potatoes, with salad, over rice, or with any BBQ style side dish. Here are some side dishes we have hand-picked to go along perfectly with this recipe:
Storing Leftover Salmon
Store your leftover salmon in an airtight container in the refrigerator for up to 3-4 days. Reheat in the oven (or air fryer) until heated through or just serve cold, flaked over a salad.
More Delicious Salmon Recipes
If we've convinced you to up your fish intake, you'll be looking for more fish and salmon recipes. And of course, we have you covered. Here are a few tasty ones to try.
How To Make Orange Grilled Salmon
Orange Grilled Salmon
Fresh oranges give this Orange Grilled Salmon a citrusy taste and tender texture. The salmon is wrapped in foil and then grilled to hold in the juices.
Instructions
Place salmon skin side down (flesh side up) on a large piece of aluminum foil. Squeeze one orange over the top (if your oranges aren't very sweet, substitute this for ¾ cup "Simply Orange" orange juice and brush it over the top).

Sprinkle generously with the brown sugar and salt. Cut the second orange into slices and layer over the top.

Completely cover with the aluminum foil, fold and seal, then grill on medium heat with the grill lid closed until cooked through (120-degrees F) and flakes easily.
Nutrition Information
Calories:
130
kcal
Carbohydrates:
23
g
Protein:
6
g
Fat:
2
g
Saturated Fat:
1
g
Cholesterol:
16
mg
Sodium:
18
mg
Potassium:
242
mg
Fiber:
1
g
Sugar:
22
g
Vitamin A:
110
IU
Vitamin C:
23
mg
Calcium:
36
mg
Iron:
1
mg
SaveSave
SaveSave