This Hawaiian Macaroni Salad is the real deal. A no-frills, creamy mac salad that is the perfect side dish for any BBQ or Luau! One of our favorite Hawaiian foods of all time.
Authentic Hawaiian Mac Salad

If you enjoy Hawaiian cuisine, you will love this Hawaiian Mac Salad. It is essential on an Hawaiian Lunch plate!
Hawaiian Macaroni Salad is one of my biggest guilty pleasures. I lived on the North Shore of Oahu a little over 10 years ago and became very familiar with true, authentic Hawaiian "Mac Salad". I literally lived across the street from an L&L Hawaiian BBQ restaurant and found myself wandering over there way more often than I should have for their delicious plate lunch – always with mac salad and rice on the side (I love getting a little rice and mac salad together in one bite, oh so good).
Mac salad when you can't be in Hawaii
This past weekend I had a flashback to my Hawaii days when we ordered food from Honolulu Grill in St. George, UT. Everything we had there was delicious and seriously the most authentic Hawaiian food I have had since leaving Hawaii. The macaroni salad, especially, hit home and suddenly made me wonder why we haven't gotten a good Hawaiian mac salad recipe here on Favorite Family Recipes yet!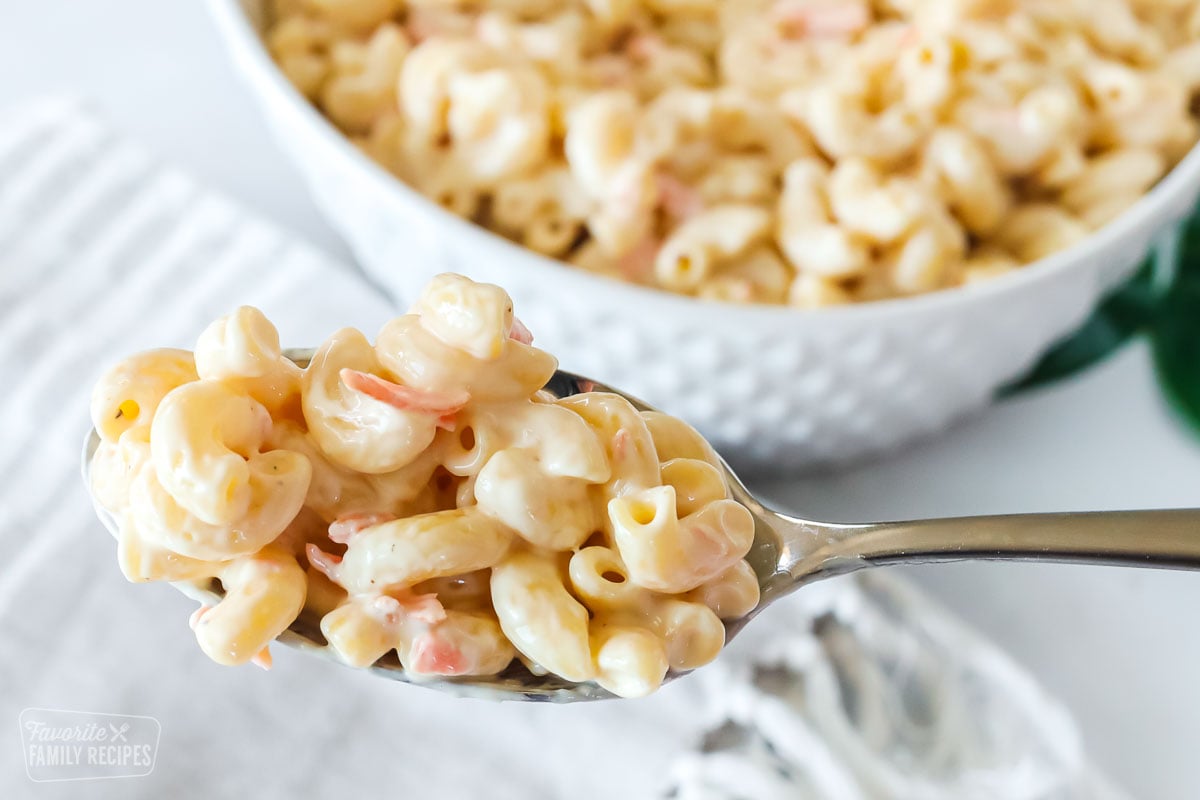 Keep it simple
Authentic Hawaiian Mac Salad is ridiculously simple. It is a no-frills mac salad yet, it is so creamy and flavorful. I had a friend in Hawaii who was also a caterer there. He explained to me long ago that true Hawaiian macaroni salad is pretty much just macaroni, carrot, mayonnaise and salt and pepper. This is the way the locals make it. There are a few other ingredients you can add like celery, extra onion, potatoes, fresh crab, or relish, but the basic recipe is my favorite. Once you start getting into adding ham or pineapple you are getting way off course. Adding ham or pineapple to something does not make it "Hawaiian Food". Pineapple and ham have no business being in a Hawaiian mac salad. EVER.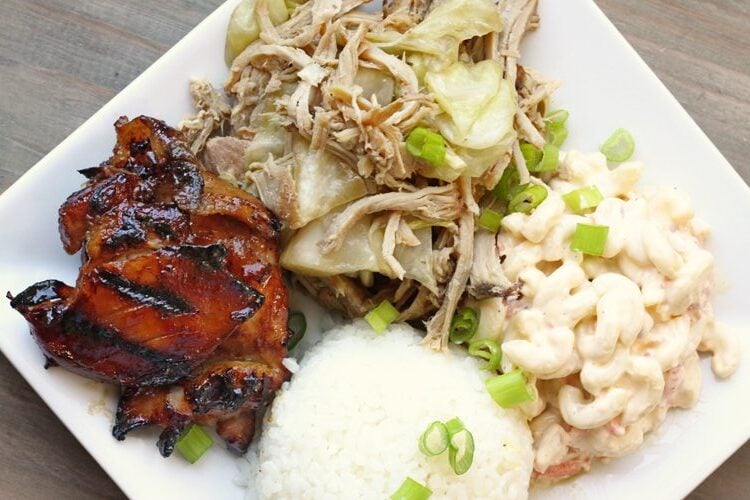 Healthy Hawaiian Macaroni Salad
This recipe may seem a little mayo-heavy, it's true. That is what makes it so stinking good. If you are really concerned about the mayo-ness you can substitute Greek yogurt in whatever amounts you would like (i.e. half mayo, half Greek yogurt). You will get a likeness of mac salad but I am telling you, it won't be quite the same. In Hawaii it's all about the mayo. As far as the BRAND of mayo, it has got to be Best Foods. Period. No other mayo will taste right.
Substitutions for a Vegan Hawaiian Mac Salad
We are so grateful for comments we get from our readers, especially when adapting recipes for special diets. We received a comment from Mimi that I thought would be helpful for anyone wanting to make this a vegan recipe. She substituted Hellman's Vegan Mayonnaise for the regular mayo in the recipe and Silk Unsweetened Cashew Milk for the regular milk. She said it turned out great. Thank you, Mimi!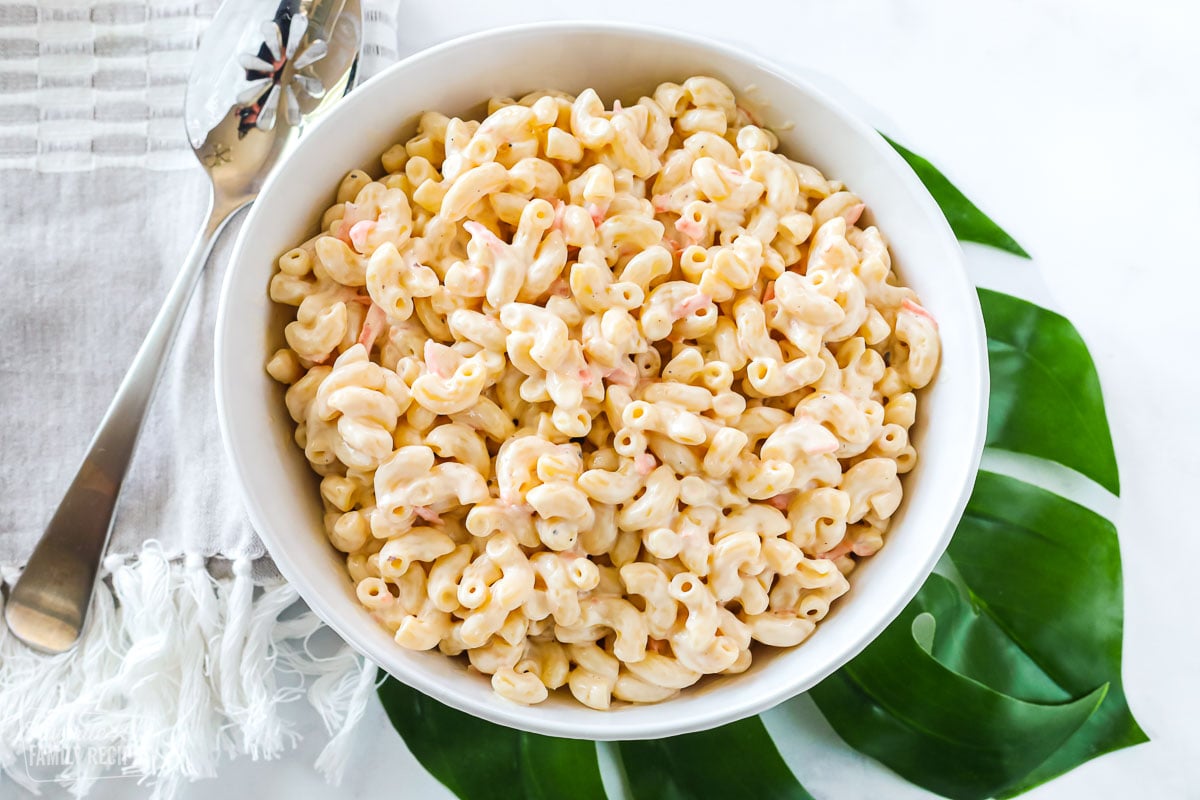 How to make Hawaiian Mac Salad ahead of time
If you make this ahead of time and it seems a little dried out, add some mayo mixed with a little milk until you get the right consistency back. Fold it in with a large rubber spatula so you don't tear the macaroni noodles. As an Amazon Associate we earn from qualifying purchases.
More Delicious Hawaiian Food
If you love this Hawaiian Macaroni Salad, try more of our authentic Hawaiian recipes:
Haupia – It only takes 4 ingredients to make this smooth, creamy, gelatin-like pudding dessert. Made with coconut milk and a little sugar, it is a little bite-sized taste of Hawaii (pictured above).
Shoyu Chicken – A popular Hawaiian dish featuring chicken thighs simmered to perfection in a sweet and savory ginger and garlic infused Shoyu sauce.
Spam Musubi – If you know what this is, you know how good it is. If you don't, you are in for a delicious Hawaiian food favorite! Delicious rice and spam wrapped in nori (dried seaweed) and enjoyed by all as a meal or snack any time of day! Dip in soy sauce for a little extra flavor.
Kalua Pork – This is an easy Crock Pot recipe (in lieu of imu style) made with Kalua pig and cabbage (make with or without ti leaves). Serve with poi or lau lau style in cooked ti leaves or taro leaves.
Loco Moco – Sticky long rice topped with hamburger patties, a fried egg, brown gravy, and topped with green onions.
Poke (Ahi Poke) – Diced raw fish, typically ahi tuna, sprinkled with sea salt and a sauce made from soy sauce and sesame oil and topped with chili peppers.
Saimin– A delicious Hawaiian noodle soup similar to Shoyu Ramen. Just swap out the ramen for the chewier Saimin noodle that is popular in Hawaii. Top with char siu, soft boiled egg, sliced spam, green onions, or nori.
Authentic Hawaiian Macaroni Salad
This Hawaiian Macaroni Salad is the real deal. A no-frills, creamy mac salad that is the perfect side dish for any BBQ or Luau!

Instructions
Cook macaroni according to package directions. Drain well and place macaroni in a large bowl (I like to use a tupperware bowl with a lid so I can easily refrigerate later).

While macaroni is still hot, sprinkle on vinegar and add carrot and onion. Toss together until well combined. Refrigerate for 15 minutes, or until cooled.

In a separate, smaller bowl, whisk together mayo, milk, and sugar. Fold mayo mixture into the macaroni until all the noodles are evenly coated. Add salt and pepper to taste.

Cover and refrigerate at least 4 hours (best if overnight). Gently stir before serving adding a little more milk if needed, no more than a tablespoon or two.
Nutrition Information
Calories:
563
kcal
Carbohydrates:
37
g
Protein:
7
g
Fat:
43
g
Saturated Fat:
7
g
Cholesterol:
24
mg
Sodium:
370
mg
Potassium:
165
mg
Fiber:
2
g
Sugar:
4
g
Vitamin A:
2085
IU
Vitamin C:
1
mg
Calcium:
25
mg
Iron:
0.7
mg