Hawaiian Beef Teriyaki is tender, juicy, and so flavorful! Thinly sliced beef drizzled with a simple homemade teriyaki sauce, this dish is a family favorite!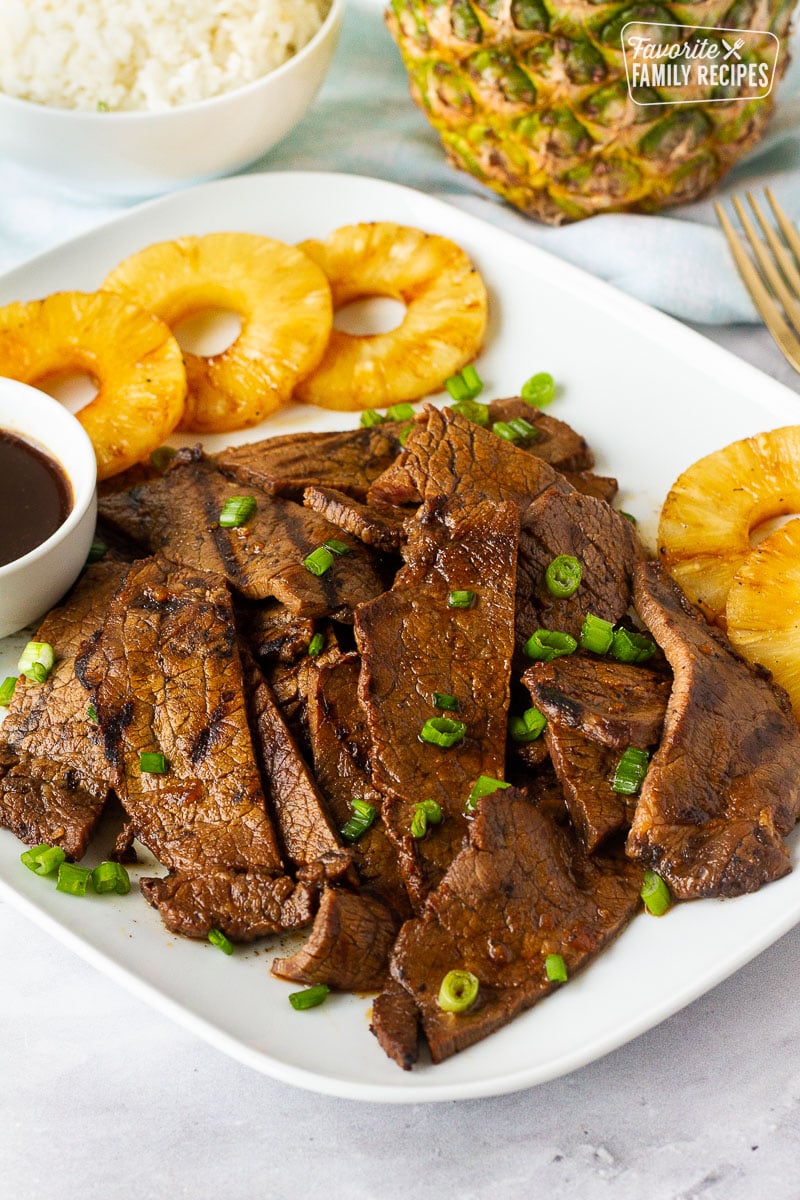 Featured with this recipe
This Hawaiian Beef Teriyaki is one of my favorite teriyaki recipes, and one that reminds me of my time living in Hawaii. Tender beef strips soak up the homemade teriyaki sauce and creates a sweet, almost candy-like flavor. Served with a simple side of rice or a traditional Hawaiian plate lunch, this beef is my family's favorite!
Ingredients in Hawaiian Beef Teriyaki
This recipe really only need a few ingredients, ones you probably have on hand right now! It's a terrific weekend meal when you want to throw something delicious together without a lot of fuss. Here's all you need:
A pound of skirt steak or carne asada – make sure it's thinly sliced.
Can of pineapple chunks with juice – you'll use the juice in the sauce and serve the pineapple chunks alongside the meat.
Soy sauce – you can also add a tbsp of rice vinegar into the marinade.
Brown sugar – dark brown sugar gives the marinade a deep color and delicious flavor.
Garlic cloves – mince with a knife or grate into the marinade.
Minced ginger – buy fresh ginger and store it in the freezer for maximum freshness.
Sesame seeds – optional for garnish
Red pepper flakes – a tiny pinch adds a ton of heat to the stir-fry recipe, so you can add just a bit if you want it spicy.
You can add all sorts of veggies to this dish too: green onions, sliced carrot, zucchini, green bell peppers, mushrooms, sliced red bell pepper, snow peas, asparagus, onion, or broccoli florets .
Tips for Tender Beef Teriyaki
In a small bowl, marinate thinly sliced flank steak or Carne Asada in the homemade teriyaki sauce for at least six hours in the fridge to really get the meat nice and tender. If you can marinate it overnight that's even better, but no longer than 24 hours.
Make sure the meat is stored in an airtight container or a Ziplock bag while marinating.
Because the beef is so thin, you can even cook this on the stove top instead of a grill. It'll cook up in just a couple of minutes!
You can even use sirloin steak and make this recipe into kabobs. Skewer chunks of meat and marinate as directed. Then throw on the grill with some fresh pineapple. So yummy!
Simple Homemade Sauce
Ditch the bottled teriyaki sauce for this teriyaki beef stir fry and make your own! All you need are a few simple pantry ingredients like soy sauce, brown sugar, garlic, ginger and cornstarch. Mix with pineapple juice and you have a flavorful marinade and sauce that you'll want to drizzle over just about anything!
Use the simple teriyaki sauce as a marinade for chicken, shrimp, burgers, stir fry or vegetables.
To thicken extra marinade for a sauce whisk a cornstarch mixture into the sauce. Bring to a boil, then drizzle over meat, veggies or rice.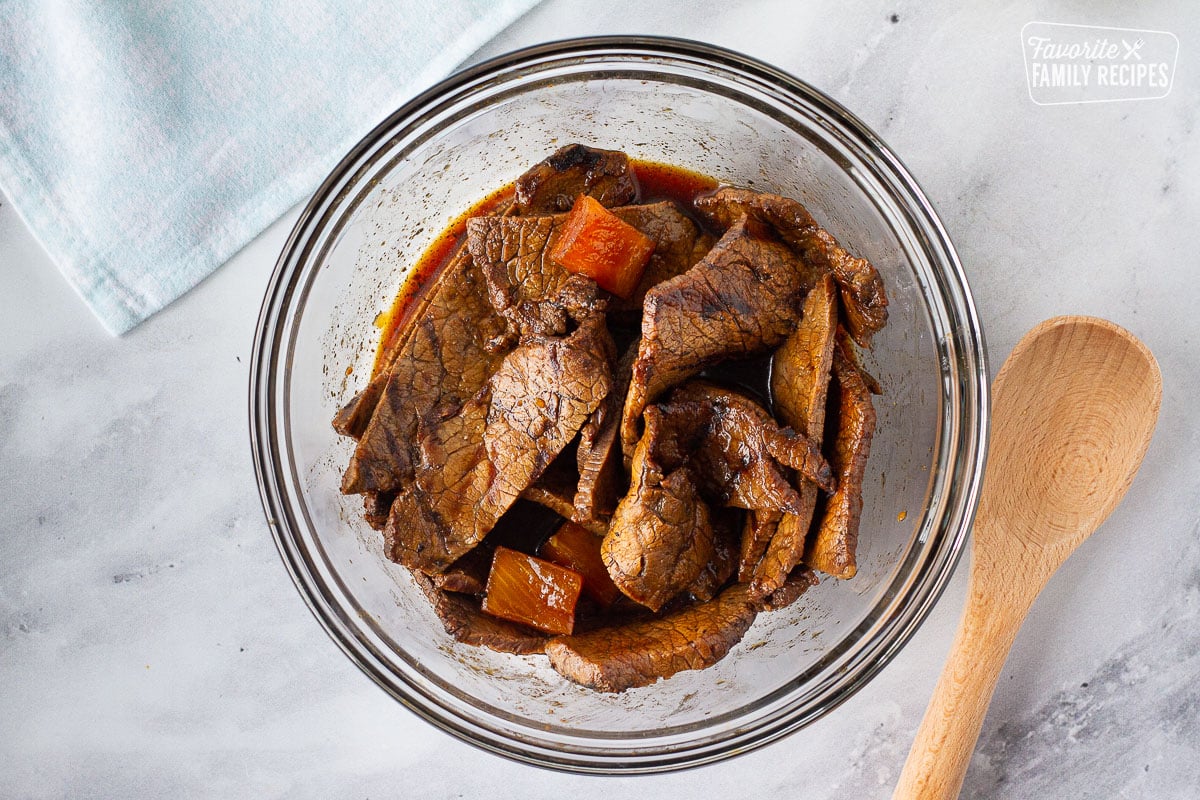 How to Store Leftovers
Leftovers make a delightful lunch the next day! You can store beef tightly covered in the refrigerator for up to three days.
Freeze leftover meat too! Keep it in a freezer-safe container for up to two months. Thaw in the refrigerator then microwave or toss on the grill once more, just to warm it up.
Use leftovers to create a delicious stir-fry! Just chop up any kind of veggies you like, then sauté meat with the vegetables in a frying pan, then serve alone or over rice. Delicious!
Frequently Asked Questions
I don't have a grill, what can I use too cook the meat instead?
Something smaller, like a Foreman grill or a grill pan on top of your stove works great. Or you can use a large frying pan, wok, or skillet. You just won't have the smoky grilled taste.
Should I use fresh or canned pineapple?
We generally use a can of pineapple along with the juice. But fresh pineapple would absolutely work and taste delicious.
How many does this recipe serve?
This exact recipe serves 4-6 people. Lots of times I double the sauce recipe for extra dipping and drizzling.
What is the best cut of beef for teriyaki?
We like to use flank steak, skirt steak, or carne asada.
READ NEXT:The Best Hawaiian Dessert Recipes
What to Serve with Beef Teriyaki
I like to grill some fresh pineapple slices and serve alongside the beef with some simple white rice, or with some of these delicious Hawaiian recipes:
How to Make Hawaiian Beef Teriyaki
Hawaiian Beef Teriyaki
Hawaiian Beef Teriyaki is tender, juicy, and so flavorful! Thinly sliced beef drizzled with a simple homemade teriyaki sauce, this dish is a family favorite!
Instructions
Mix together all ingredients, excluding beef. Set aside about ½ cup of the sauce, cover and refrigerate.

Place beef in a Ziploc bag and pour marinade over. Press out all the air, seal, and marinate for at least 6 hours (overnight works great).

Over prepared grill on medium-high heat, grill steak a minute or two on each side until cooked to your desired doneness. With the steak being so thin, you don't have to grill it for too long.

Place beef in a large bowl, pour the reserved ½ cup of sauce over the cooked beef and stir until well covered.

Serve with rice and/or grilled fresh pineapple.
Notes
You can also use sirloin steak, cut into chunks. Thread marinated beef onto skewers and grill.

Use this same marinade for amazing teriyaki burgers.
Nutrition information does not include rice.
Nutrition Information
Calories:
431
kcal
Carbohydrates:
61
g
Protein:
31
g
Fat:
9
g
Saturated Fat:
3
g
Polyunsaturated Fat:
1
g
Monounsaturated Fat:
4
g
Trans Fat:
0.4
g
Cholesterol:
71
mg
Sodium:
3328
mg
Potassium:
649
mg
Fiber:
2
g
Sugar:
56
g
Vitamin A:
62
IU
Vitamin C:
10
mg
Calcium:
72
mg
Iron:
4
mg
Love this recipe?
We want to hear from you! Please leave a review.