Grilled Pesto Pizzas are smothered in pesto sauce and sprinkled with feta cheese and fresh tomatoes, and grilled to perfection. Pizza night never looked so good!
Featured with this recipe
These Grilled Pesto Pizzas are one of our all time favorites in the summer, with fresh sweet tomatoes from the garden. We got this recipe from some dear friends years ago and have made it countless times since. We love sprinkling tomato basil flavored feta over the top, which melts into the tangy pesto sauce to perfection. This recipe makes 8 individual pizzas. You can also divide the dough one more time and make 16 mini pizzas for a yummy appetizer or side dish. Serve these pizzas with a huge green salad and you've got a fresh, light and delicious meal perfect for warm summer nights.
Ingredients in Grilled Pesto Pizza
For the dough:
Quick rising yeast packets
Salt
Sugar
Olive oil
Water
Flour
For the topping:
Pesto sauce
Feta cheese
Tomatoes
Dried basil
Salt
Pepper
Tips for Grilling Pizza
In the summertime, grilled pizzas are the way to go. You don't have to heat up the house with a hot oven, plus you get a great, grilled flavor. You just can't get that kind of flavor from a regular oven. If you are intimidated by grilling pizzas, DON'T BE. It's not scary. It's actually REALLY easy and once you try it, you will never go back to baking pizzas in the oven (at least during the summer). Need some help getting started with grilling pizzas? Here are a few tips:
Clean your grill grate: When grilling pizza, you want to use a clean grill grate. This will prevent sticking. Plus, you don't want bits of last week's burgers on your pizzas. Give your grates a good scrape and you will be good to go.
Preheat the Grill: Another way to prevent sticking. You want the grate hot before putting the pizza on or it will stick.
Use Olive Oil: Brush your dough with a little olive oil before putting on the grill. This also helps prevent sticking.
Have Your Ingredients Ready to Go: Have everything chopped, grated, peeled, opened, and ready to go. It's a quick process and you want to get those toppings on right away.
Use a Pizza Spatula and Pizza Peel: These are to help assist in flipping the pizzas and getting them off the grill. Your best deal out there is the Pizza Accessory Kit from Camp Chef. This includes 2 pizza peels, a pizza spatula AND a rocking pizza cutter for under $50. This kit makes a great gift! I just have to add that the rocking pizza cutter is like the best thing ever.
Frequently Asked Questions
What meats go with pesto?
Grilled chicken, grilled salmon, grilled steak, and grilled shrimp all pair really well with pesto. Experiment and enjoy!
What toppings go well with pesto pizza?
You could do any number of combinations with mushrooms, cauliflower, kale, olives, fresh basil, capers, anchovies, sun-dried tomatoes, goat cheese, avocado, prosciutto, grilled red peppers, and nuts.
When should you add basil to pizza?
Fresh basil should be added after the pizza has cooked, dried basil can be added before or after.
Read more:Our Favorite Grill Recipes
More Grill Recipes To Try
Once you've fired up your grill, there's no end to the delicious recipes you can make. Try a few of our favorites, hot off the grill:
How to Make Grilled Pesto Pizzas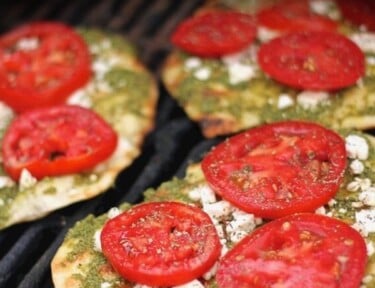 Grilled Pesto Pizzas
Grilled Pesto Pizzas are smothered in pesto sauce and sprinkled with feta cheese and fresh tomatoes, and grilled to perfection. Pizza night never looked so good!



Ingredients
For the Dough:
2

¼ ounce packets

Quick Rising Yeast

(or ½ ounce)

1 1/2

teaspoons

salt

1/2

teaspoon

sugar

1

tablespoon

olive oil

1

cup

hot water
Topping:
1

cup

Pesto Sauce

we use the big bottle from Costco

1

cup

Feta cheese

tomato and basil flavor

4

tomatoes

sliced

dried basil

to taste

salt and pepper

to taste
Instructions
Knead dough for 1 minute then divide into 8 balls.

Roll out into individual pizzas and layer on a plate divided by wax paper.

Let dough rise for about 20 minutes.

Grill on medium heat.

After the first side is done flip and top with pesto and feta.

When fully cooked, remove from heat and add tomato slices and season with basil, salt, and pepper.
Notes
Feel like getting a little fancy with your pizza? Try some toppings:
Roasted red pepper
Nuts
Goat cheese
Sun-dried tomatoes
Olives
Anchovies
Capers
Balsamic glaze
Mushrooms
Kale
Prosciutto
Nutrition Information
Love this recipe?
We want to hear from you! Please leave a review.
SaveSave