These Steak Kabobs with veggies and Avocado Sauce are slightly spicy, but the cool flavor of the avocado sauce balances it out nicely. Perfect for summer grilling!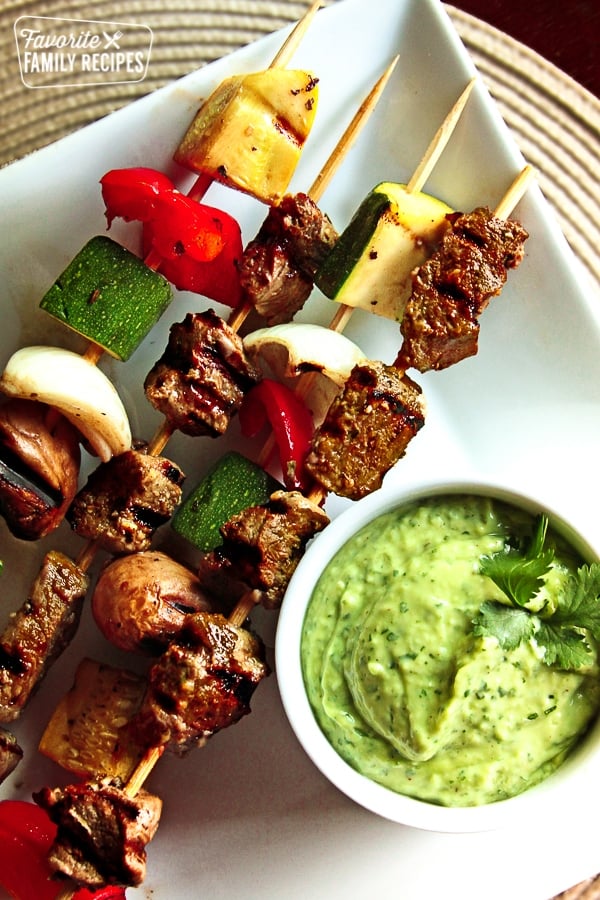 Featured with this recipe
I love these steak skewers with avocado sauce. They are slightly spicy, but the cool flavor of the avocado sauce balances it out nicely. Remember to let your bamboo/wooden skewers soak for at LEAST 30 minutes before threading the beef on.
Best Vegetables to Add
When it comes to grilling, there are plenty of veggies you can throw on the barbecue to really enhance the flavor of the meat. Peppers, whether red, yellow, orange, or green, add delightful color to the Steak Kabob. You can use all three if you like because each bell pepper has such unique flavor. Since a lot of grilling takes place in summer, don't forget about those delicious summer squash and zucchini. Slice them into circles or elongated strips, either way they work well on a skewer stick. Onions, mushrooms, chunks of corn on the cob, pieces of asparagus, you can try pretty much anything on a Steak Kabob.
Ingredients in Steak Kabobs
For the Veggies:
Onion
Red bell pepper
Yellow summer squash
Zucchini
Mushrooms
For the Steak:
Extra virgin olive oil
Granulated garlic
Granulated onion
Dried oregano
Black pepper
Kosher salt
Red pepper flakes – optional
Jalapeño – crushed or diced, optional
Beef top sirloin steak
For the Avocado Sauce:
Avocado
English cucumber
Cilantro
Sour cream
Kosher salt
Lime juice
Cumin
Frequently Asked Questions
How long should you marinate vegetables for kabobs?
Marinate for at least 4 hours. This will give them the best possible flavor.
How big do you cut steak for kabobs?
Bite-sized pieces are perfect! You want to be able to fit a whole piece in your mouth. That's why kabobs are so fun!
How long does it take to cook steak kabobs?
Medium-rare steak kabobs take 10-12 minutes on the grill, but it is personal preference. Keep an eye on your steak and remember to turn often for even browning.
Read more:35+ Dinner Ideas
More Grilling Ideas
Grilling is such a great way to cook in the summer. Hey, anything to avoid heating up the house! Go ahead and give some of these other great grilling recipes a try:
How To Make Steak Kabobs with Avocado Sauce
Steak Skewers with Avocado Sauce
These Steak and Veggie Skewers with Avocado Sauce are slightly spicy, but the cool flavor of the avocado sauce balances it out nicely. Perfect for Summer grilling!
Ingredients
For the Veggies
1

onion

cut into large pieces

1

red pepper

cut into large pieces

1

yellow summer squash

cut into large pieces

1

zucchini

cut into large pieces

8

mushrooms

cut in half
Instructions
For the Veggies
Combine all marinade ingredients and pour over cut veggies. Put in a Ziploc bag and seal bag tightly with the air pressed out of it as much as possible. Refrigerate for at least 4 hours. Thread vegetables on skewers and grill until veggies are hot, tender, and cooked through (to desired doneness).
For the Steak
In large bowl combine oil, granulated garlic and onion, oregano, pepper, and the ½ teaspoon salt, red pepper flakes (optional) and jalapeño (optional); set aside. Trim fat from meat. Cut meat in 1-inch pieces or cubes. Add meat to oil mixture; toss to coat evenly. Let stand at room temperature for 30 minutes.

Thread meat on skewers, leaving ¼ inch between pieces. Grill 10 to 12 minutes for medium rare (145-degrees), turning to brown evenly. Serve steaks with avocado sauce and grilled veggie skewers.
Avocado Sauce
In a food processor combine avocado, cucumber, cilantro, sour cream, lime juice, 1 tablespoon water, the 1 teaspoon salt, and cumin. Cover and process until nearly smooth, stopping to scrape sides as necessary. Transfer to serving bowl.
Notes
High in protein and fiber from the meat and vegetables, this meal is already wonderful, but if you want to improve on perfection, consider these…
Other Skewer-ing Ideas:
Red onion grills up sweet and delicious
Cherry tomatoes char and will pop in your mouth, so fun
Green bell pepper, similar to red bell pepper, but a little more bitter
Pineapple is sweet and juicy
Asparagus is crunchy and grassy
If you aren't a fan of the beef kabobs, try chicken kabobs instead
Looking for side dishes to serve with your steak kabobs? This steak kabob recipe is the perfect dish to serve at a BBQ, and the dishes that go well with them would fit right in at the picnic.
Try a big salad with everything but the kitchen sink in there!
Cut up slices of watermelon or a fruit salad
Macaroni or potato salad
Bake up some picnic cake
Nutrition Information
Calories:
274
kcal
Carbohydrates:
10
g
Protein:
28
g
Fat:
14
g
Saturated Fat:
3
g
Cholesterol:
69
mg
Sodium:
336
mg
Potassium:
773
mg
Fiber:
3
g
Sugar:
4
g
Vitamin A:
1170
IU
Vitamin C:
26.6
mg
Calcium:
67
mg
Iron:
3
mg
Love this recipe?
We want to hear from you! Please leave a review.