These Triple Berry Cheesecake Bites are little creamy morsels of heaven. These are perfect for parties so everyone can have a little bite of each flavor!
*This is post is sponsored by the Smucker's brand. All opinions expressed are my own.
These Triple Berry Cheesecake Bites and Blueberry Lemon Cheesecake Bites are a little taste of heaven. They are rich and creamy, and you don't have to commit to a whole piece of cheesecake. They are perfect for holiday gatherings and potlucks when you want to have a little taste of all the desserts. There is a special ingredient in these cheesecake bites that gives them an extra burst of flavor – the new Smucker's Fruit & Honey Fruit Spread. I recently had the pleasure of visiting The J.M. Smucker Company in Orville, Ohio to learn more about their company and products. What a fun trip! I was impressed with the dedication to wholesome and quality fruit spreads, the family traditions, and the family values The J.M. Smucker Company has carried on for generations. Did you know that the first fruit spread sold by J.M. Smucker in 1897 was apple butter? I would have guessed strawberry jam. The highlight was "playing" in the Smucker's test kitchen with many of the different Smucker's fruit spreads. I discovered that jams and jellies aren't just for bread anymore. We created smoothies, cookies, salad dressing, and appetizers all with fruit spreads. My new favorite fruit spread is the Smucker's Fruit & Honey Fruit Spread that comes in four flavors – Blueberry Lemon, Tropical, Triple Berry, and, of course, Strawberry. They are sweetened naturally with honey and they are tasty on everything from toast to this Triple Berry Cheesecake Bites dessert. To learn more about how you can use these delicious products, click here.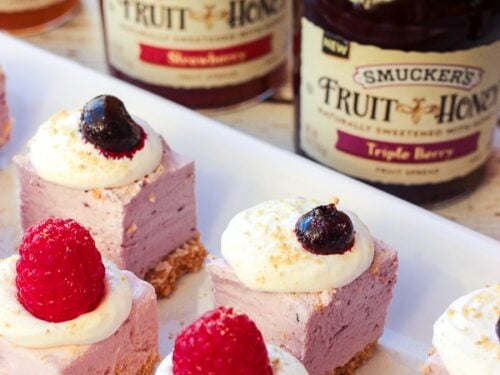 INSTRUCTIONS
Line a 9x9 or 11x7 inch baking dish with aluminum foil. Leave a 2 inch overhang on two sides so the cheesecake can be lifted out of the pan before cutting.

In a medium bowl, whisk together graham cracker crumbs, brown sugar, and cinnamon then stir in the melted butter. Press this mixture firmly and evenly into the bottom of the pan. Set aside.

Whip heavy cream in an electric mixer or in a bowl with a handheld mixer until it starts to thicken. Add 1/2 cup powdered sugar and continue to whip until stiff peaks form. Set aside.

In a separate mixer, blend cream cheese and 1 cup powdered sugar together for 2 minutes, or until light and fluffy. Mix in Smucker's Fruit & Honey Fruit Spread until well blended.

Fold one half of whipped cream into cream cheese mixture. Refrigerate the other half to use as a topping later.

Spread the filling over the graham cracker crust. Cover with plastic wrap and set in the freezer for at least 2 hours.

Before serving, remove cheesecake from the freezer and lift the cheesecake from the pan onto a cutting board using the foil edges. Cut the cheesecake into squares and garnish each square with a dollop of whipped cream and fresh fruit.

The cheesecake is easiest to cut when frozen and thaws very quickly once cut. Serve immediately or store in the refrigerator until ready to serve.
*This is post is sponsored by the Smucker's brand. All opinions expressed are my own.