This Chicken Artichoke Pasta can be prepared and ready to eat in 30 minutes. You will love the tender chicken, flavorful artichokes, and creamy sauce.
Featured with this recipe
Get ready to savor a delightful dish that combines the flavors of chicken and artichoke hearts. Chicken Artichoke Pasta is a simple yet satisfying recipe that's perfect for both experienced cooks and beginners. This dish offers a harmonious blend of savory and creamy, guaranteed to please your palate and keep you coming back for more. Thanks to my sister-in-law Katelyn for this delicious recipe!
Ingredients
Olive oil – a kitchen staple that provides deep flavor and healthy fats to this dish
Green onion – a fresh aromatic that adds a subtle onion flavor to this Chicken Artichoke Pasta
Garlic – add bold and savory flavor to the chicken and sauce
Boneless skinless chicken breast – tender, lean, and protein packed!
Salt – just a pinch of salt elevates every other flavor in the dish
Crushed red pepper flakes – omit if you aren't a fan of spice
Water – helps to break down any bits that have browned to the pan. You can also use chicken broth.
Artichoke hearts – artichokes have a tangy, earthy flavor that bring this pasta dish to the next level
Heavy cream – the secret to luxurious, velvety sauce
Butter – for a little extra flavor and smooth texture
Penne pasta – you can use any pasta shape you like but we love how the sauce clings to the outside and fills the inside of penne
Parmesan cheese – try to use fresh grated and grate it on the smallest side of a box grater
Substitutions/Adjustments to Try
We used chicken in this recipe, but it would also go really well with shrimp if your family likes seafood. Just add 1 pound of uncooked, deveined shrimp instead of the chicken.
If you are looking for a vegetarian version of Chicken Artichoke Pasta, then replace the chicken with mushrooms.
You can also use whole-wheat or gluten free noodles.
Add veggies like spinach, sun-dried tomatoes, Kalamata olives, or mushrooms.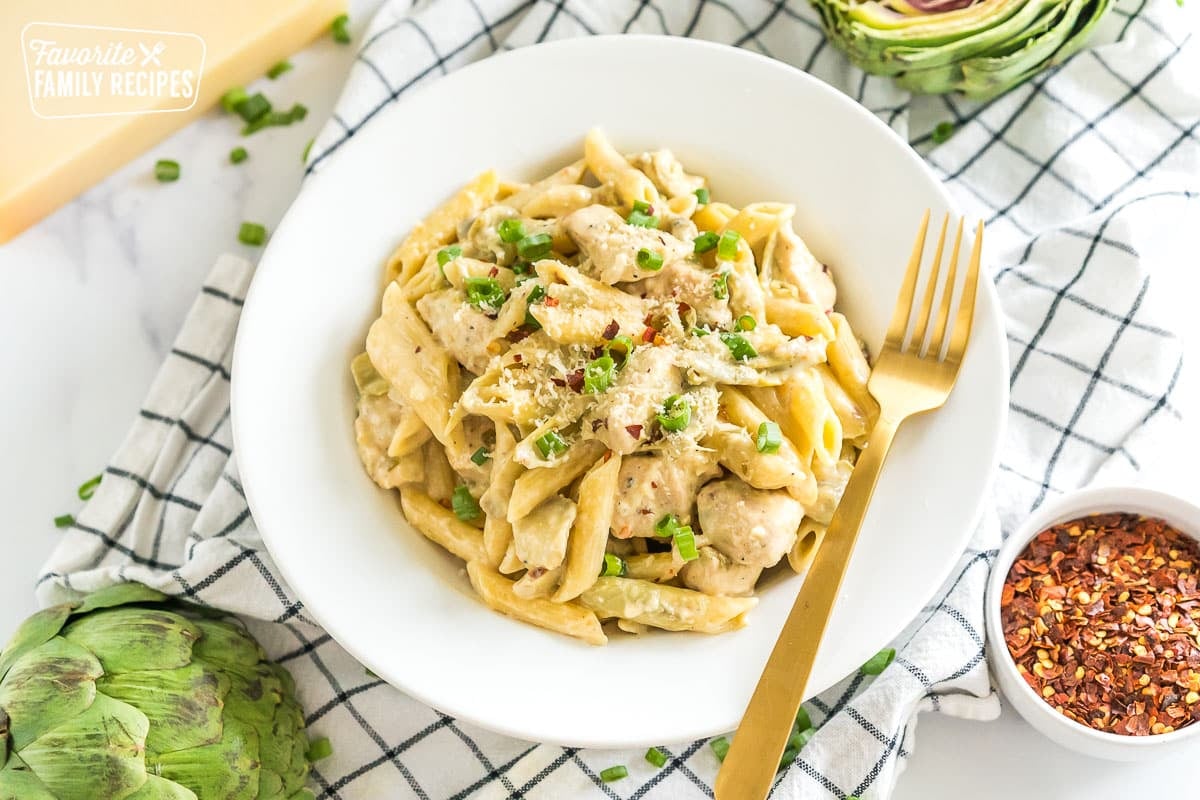 Storage and Reheating
This Chicken Artichoke Pasta makes really good leftovers, but it does dry out a little. Make sure to add a little cream or milk before heating it up in the microwave. I've also noticed that sometimes when you heat any chicken up in the microwave, it gives it a weird taste, but adding a little salt before microwaving helps to counteract that.
What to Serve with Chicken Artichoke Pasta
A crisp, garden-fresh salad with a zesty vinaigrette makes for a refreshing side dish, balancing the creamy richness of the pasta. Roasted or steamed vegetables such as asparagus, broccoli, or sautéed spinach offer a vibrant and nutritious complement to the meal. For a heartier option, consider garlic bread or crusty baguette slices to soak up that delectable sauce. If you're in the mood for an appetizer, a bruschetta with diced tomatoes, basil, and balsamic drizzle can kickstart your meal with Italian flair.
Frequently Asked Questions About Chicken Artichoke Pasta
Are canned marinated artichoke hearts healthy?
Yes, they are high in fiber and contain many vitamins including vitamin C, vitamin K, folate, phosphorus, and magnesium. They also are a source high in potassium and antioxidants.
Do canned artichokes taste good?
We use canned artichokes in this Chicken Artichoke Pasta recipe and with the creamy sauce and spices they taste great!
What other vegetable goes well with artichokes?
We love to add spinach, sun-dried tomatoes, and Kalamata olives to this pasta dish. They all go great with artichokes!
Read More:35+ Quick and Easy To Follow Dinner Ideas Your Family Will Surely Love
Love Artichokes?
How To Make Chicken Artichoke Pasta
Chicken Artichoke Pasta
This Chicken Artichoke Pasta is creamy and yummy and so easy to throw together. You will love the tender chicken and flavorful artichokes.
Instructions
Heat olive oil, onions, and garlic in a large skillet. Add chicken, salt, and red pepper flakes. Cook until chicken is cooked through.

Add water and scrape the bottom of the skillet. Add artichoke hearts and heavy cream.

Let reduce (cook 7 minutes until half as thick).

Remove from heat and stir in butter and parmesan cheese. Add pasta.

Serve with green onions, red pepper flakes, and parmesan cheese.
Notes
Looking to mix it up? Try shrimp instead of chicken for a delicious alternative.
Or, for a vegetarian version, use mushrooms instead of chicken.
You can use marinated artichokes for even more flavor!
Nutrition Information
Calories:
646
kcal
Carbohydrates:
46
g
Protein:
29
g
Fat:
37
g
Saturated Fat:
14
g
Cholesterol:
116
mg
Sodium:
947
mg
Potassium:
453
mg
Fiber:
3
g
Sugar:
2
g
Vitamin A:
1487
IU
Vitamin C:
16
mg
Calcium:
198
mg
Iron:
2
mg
Love this recipe?
We want to hear from you! Please leave a review.