This homemade alfredo sauce is quick and easy to make. Full of butter and fresh parmesan, you will be licking your plate clean!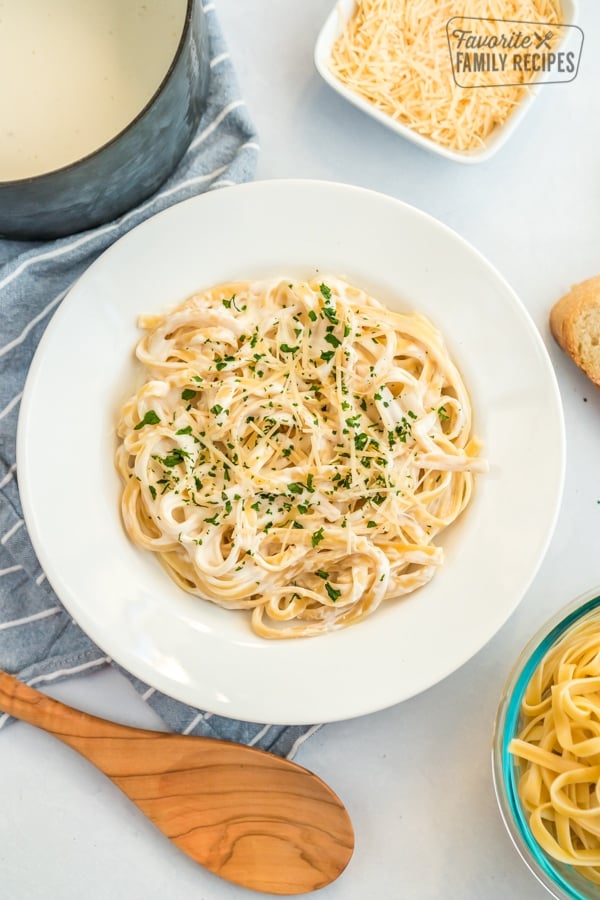 Featured with this recipe
Alfredo sauce is thick, rich, and full of flavor! With a smooth, velvety, cream sauce made from butter, cream, and parmesan cheese, this sauce is popular for good reason! Toss with pasta, use as a pizza sauce, or as a dipping sauce for breadsticks. There are so many options for homemade Alfredo sauce!

If you love Olive Garden, then you will love the nice velvety texture and rich taste this copycat Alfredo sauce has. This is a favorite sauce that everyone loves and is so versatile. Homemade Alfredo is a family favorite and will be yours for generations to come!
"Olive Garden" Style Alfredo Sauce vs. Authentic Alfredo Sauce
Most Alfredo sauces usually are close to the same ingredients and the same delicious flavor. There are a few ingredients that can be substituted and used one over the other. There is an authentic Alfredo sauce and an Olive Garden-style Alfredo sauce which is more American. Both have a great flavor, texture, and taste with a creamy white coloring.

Olive Garden Alfredo sauce has a thick, velvety, and creamy texture and appearance. This is more from an American style with more creams. A true, authentic Alfredo sauce is found in Italy using only butter, pasta, and parmesan cheese. In Italy, the sauce isn't made independently of the pasta dish, meaning the noodles and sauce are all tossed together and the sauce is formed as the ingredients come together.

This tastes incredible, however, it makes it difficult to serve the sauce on the side or as a dipping sauce. This sauce is made independently of the noodles so it can be served over the top of the pasta, tossed with pasta, served as a pizza sauce, or as a dipping sauce.
What Ingredients Do I Need?
Most Alfredo sauce recipes call for heavy cream or heavy whipping cream, but not this one! You don't even need to make a roux with flour and butter. Basically, you need a few kitchen staples! When you melt it all together, you get a rich, creamy sauce with a tangy, cheesy finish. You will never miss the heavy cream, I promise!
Butter – Unsalted butter works best. A smooth and rich flavor from the butter brings a buttery rich texture.
Cream cheese – This gives the Alfredo thickness with a hint of flavor.
Garlic powder – Season the cheese mixture to help with flavor and give it an Italian taste.
Milk – Helps add a creamy base and texture. No need for heavy cream with this recipe!
Parmesan cheese – We love to use a good DOP Parmigiano Reggiano that is rich in flavors and holds an authentic taste.
Substitutions for this Recipe
This simple Alfredo sauce is easy to make with pantry staple ingredients. You can add and substitute a few ingredients to help make your sauce even better! Try a different garlic, garnish with more cheeses, or try another type of noodle. All these options are easy to use and still will have on hand at home!
If you have garlic cloves to use up or a jar of minced garlic, feel free to use some of that fresh garlic instead of garlic powder.
Garnish with freshly ground black pepper, Romano cheese, asiago cheese, or fresh parsley.
Swap out fettuccine noodles with any other pasta you have in your pantry: angel hair pasta, penne, or linguine.
How to Make Alfredo Sauce
Making Alfredo sauce with cream cheese is foolproof! Because you melt the butter and cream cheese together, the sauce gets thick without being temperamental. Follow these easy step-by-step instructions for making the best Alfredo sauce.
Melt the butter and cream cheese together in a saucepan with seasonings. Stir with a wire whisk until smooth.
Add milk, whisking constantly, until desired consistency is reached.
Add Parmesan cheese and stir until melted. Add more milk if needed to thin.
Season with salt and pepper to taste.
Ways to Serve Alfredo Sauce
At the end of the day, this creamy, cheesy sauce is only as good as the dish it accompanies. There are so many options to pair this alfredo sauce with. Try it as the main dish, side dish, or dipping sauce! Each option is delicious and full of the amazing alfredo sauce flavor!
Serve this glorious sauce with Chicken Alfredo over Fettuccine or Linguini noodles.
Use this sauce as a dip for bread twists or veggies.
Drizzle this sauce over grilled chicken, shrimp, or meatballs.
Spread it on a pizza crust (try our family's favorite pizza dough recipe for your next pizza night)!
Serve grilled asparagus, green beans, or a simple green salad alongside your beautiful pasta dish.
5-Star Reviews from our Readers
Take it from some of our beloved readers who have tried this recipe; we guarantee you'll love it too! These are all great reviews and the way that they made it. It really is quick and easy to make in less than 15 minutes!
""This recipe was amazing! I made it last night and it was simple and tasty. Thank you!"

-Renee
"I made this sauce to go with some mushroom ravioli and my boyfriend and I agree, this is THE BEST Alfredo sauce we have ever had!! I substituted the garlic powder for chopped garlic cloves (I used one big one) – it turned out so garlicky, creamy, and cheesy… SO DELICIOUS!! This will become a dinner regular."

-Taralyn
"This recipe is amazing! Simple ingredients, simple preparation, huge crowd pleaser."

-Jo
"For our Italian family making an Alfredo sauce results in lots if criticism. We are a hard family to impress. This was the best Alfredo Sauce I have made and everyone asked how I made it. The minced garlic was fresh as well as the Parmesan cheese. I actually impressed myself! Great recipe and will be my go to sauce! Thank you!"

-Deborah
Frequently Asked Questions
What is Alfredo Sauce made of?
Alfredo sauce is typically made of butter, cream, and Parmesan cheese. Italian Alfredo sauce typically does not have cream and is made with starchy pasta water instead.
What does Alfredo sauce taste like?
Alfredo sauce tastes like a rich, creamy Parmesan sauce. It has a similar flavor to cacio e pepe. It is smooth and velvety in texture and easily coats pasta noodles.
Is Alfredo and carbonara the same?
No. The two sauces are similar but they are not the same. Alfredo sauce is made with butter, Parmesan cheese, and sometimes cream. Carbonara is made with egg, cured pork (such as bacon or guanciale), and pecorino Romano or Parmesan cheese.
Storing the Leftovers
Store any leftovers in the fridge for up to three days. Reheat by simmering on low heat on the stove or warming in the microwave. We do not recommend freezing the leftovers. If thawed and reheated the sauce texture will not be the same.
More Recipes to Try
You can use this alfredo sauce recipe in these or many other recipes. Try some of our favorites and enjoy some good quality, restaurant-style food in the comfort of your own kitchen!
How to Make Homemade Alfredo Sauce
Homemade Alfredo Sauce (15-Minute Recipe)
Our homemade Alfredo Sauce recipe is rich, creamy and so cheesy. It tastes better than any restaurant variety and is totally easy to make!
Instructions
Melt the butter in a medium-sized saucepan over medium heat. Add cream cheese and garlic powder, stirring with a wire whisk until smooth.

Add milk a little at a time while, continue to whisk.

Stir in Parmesan cheese and salt & pepper. Remove from heat when it gets to the desired consistency. The sauce will thicken rapidly, thin with milk if needed.

Serve over fettuccine or linguini noodles and garnish with fresh parsley.
Notes
Notes about homemade Alfredo sauce
If you have garlic cloves to use up, or a jar of minced garlic, feel free to use some of that fresh garlic instead of garlic powder.
Garnish with freshly ground black pepper, Romano cheese, asiago cheese or fresh parsley.
Swap out fettuccine noodles with any other pasta you have in your pantry: angel hair pasta, penne, or linguine.
Nutrition Information
Calories:
318
kcal
Carbohydrates:
5
g
Protein:
9
g
Fat:
30
g
Saturated Fat:
18
g
Cholesterol:
86
mg
Sodium:
421
mg
Potassium:
156
mg
Sugar:
5
g
Vitamin A:
1032
IU
Vitamin C:
1
mg
Calcium:
255
mg
Iron:
1
mg
Homemade Alfredo Sauce: A Love Story
Many years ago, my brother called me and said "Erica, I need to impress this girl, Amber. I told her that I am going to make her a nice dinner tonight." Of course I knew that he REALLY meant: "I want YOU to make a nice dinner for us tonight and I will pay the grocery bill." Later that evening when the table was set with candles and fine dinnerware, he ushered me into the basement. However, the dinner impressed Amber so much that later she agreed to marry Devin!
The Secret is OUT
Of course, after the wedding, the secret came out when Amber asked Devin to make his famous Homemade Alfredo Sauce. He called me up and I gave the recipe up happily. All is fair in love and war, after all! I happily shared the best alfredo sauce recipe with him and now with you! The rich, cheesy flavor in this gorgeous sauce puts Olive Garden alfredo sauce to shame! Definitely let us know in the comments if this recipe helps you fall in love!
Update: The Original Love Story!
Since posting this original recipe, we were contacted by a family member of the actual Alfredo Di Lelio, the creator of fettuccine Alfredo! This comment is one of our favorites of all time so we thought we would share it here for you to enjoy:
HISTORY OF ALFREDO DI LELIO CREATOR IN 1908 OF "FETTUCCINE ALL'ALFREDO" ("FETTUCCINE ALFREDO"), NOW SERVED BY HIS NEPHEW INES DI LELIO, AT THE RESTAURANT "IL VERO ALFREDO" – "ALFREDO DI ROMA" IN ROME, PIAZZA AUGUSTO IMPERATORE 30

With reference to your article I have the pleasure to tell you the history of my grandfather Alfredo Di Lelio, who is the creator of "Fettuccine all'Alfredo" ("Fettuccine Alfredo") in 1908 in the "trattoria" run by his mother Angelina in Rome, Piazza Rosa (Piazza disappeared in 1910 following the construction of the Galleria Colonna / Sordi). This "trattoria" of Piazza Rosa has become the "birthplace of fettuccine all'Alfredo". More specifically, as is well known to many people who love the "fettuccine all'Alfredo", this famous dish in the world was invented by Alfredo Di Lelio concerned about the lack of appetite of his wife Ines, who was pregnant with my father Armando (born February 26, 1908).

Alfredo di Lelio opened his restaurant "Alfredo" in 1914 in Rome. In 1943, during the war, he sold the restaurant to others outside his family. In 1950 Alfredo Di Lelio decided to reopen with his son Armando. His restaurant in Piazza Augusto Imperatore n.30 "Il Vero Alfredo" ("Alfredo di Roma") whose fame in the world has been strengthened by his nephew Alfredo and that now managed by me. The famous "gold cutlery" (fork and spoon gold) was donated in 1927 by two well-known American actors Mary Pickford and Douglas Fairbanks (in gratitude for the hospitality).

See the website of "Il Vero Alfredo" (also about franchising news). I must clarify that other restaurants "Alfredo" in Rome do not belong and are out of my brand . "Il Vero Alfredo – Alfredo di Roma". I inform you that the restaurant "Il Vero Alfredo –Alfredo di Roma" is in the registry of "Historic Shops of Excellence" of the City of Rome Capitale.

– Best regards Ines Di Lelio