Fresh Hatch chiles are the best kind of chile to use for chiles rellenos! They have a bright flavor with a touch of sweetness.
This is a sponsored post written by me on behalf of Albertsons. All opinions are 100% mine.
Hatch Chiles Rellenos
Chiles rellenos are one of my very favorite Mexican-style dishes. I love ordering them at restaurants and trying all the different variations. Making them at home can be a but of a labor of love, but it is SO worth it! Although chiles rellenos can be made with a variety of green peppers, our favorite method (and some may argue the most authentic method) uses Hatch chiles. Hatch chiles are easy to work with and the flavor beats out any other chile.
What are Hatch Chiles?
Hatch chiles are a popular green chile that originated in New Mexico. They can be spicy but the ones I got were quite mild and perfect for chiles rellenos (this could have been because I removed the seeds). I love the flavor of Hatch chilies, because they have a nice earthy, and slightly sweet flavor. They are SO GOOD roasted and added to recipes. They go well in soups, dips, sauces, and any recipe that called for diced chiles.
Where to find Hatch Chiles
I found these Hatch chiles at Albertsons Market Street (in Meridian, ID). Both the Market Street location and the Broadway location are offering fresh Hatch Chiles (and all sorts of fun, new Hatch chile grocery items) right now. You can even buy the chiles in bulk and the will roast them for you for free! If you don't want to buy a bunch in bulk, they have some that are roasted and ready-to-eat right there in the store. I bought a bag to use in our Pork Chile Verde recipe later this week. If you don't want to go into the store to find Hatch chiles, Albertsons also offers Grocery Delivery and Drive Up & Go™ for convenient ways to shop! Be sure to ask your local Albertsons Companies family of stores, including Albertsons, Safeway, ACME Markets, Jewel-Osco, Vons, Randalls, Shaw's Supermarket, Star Market and Tom Thumb about Hatch Chile offerings in your area.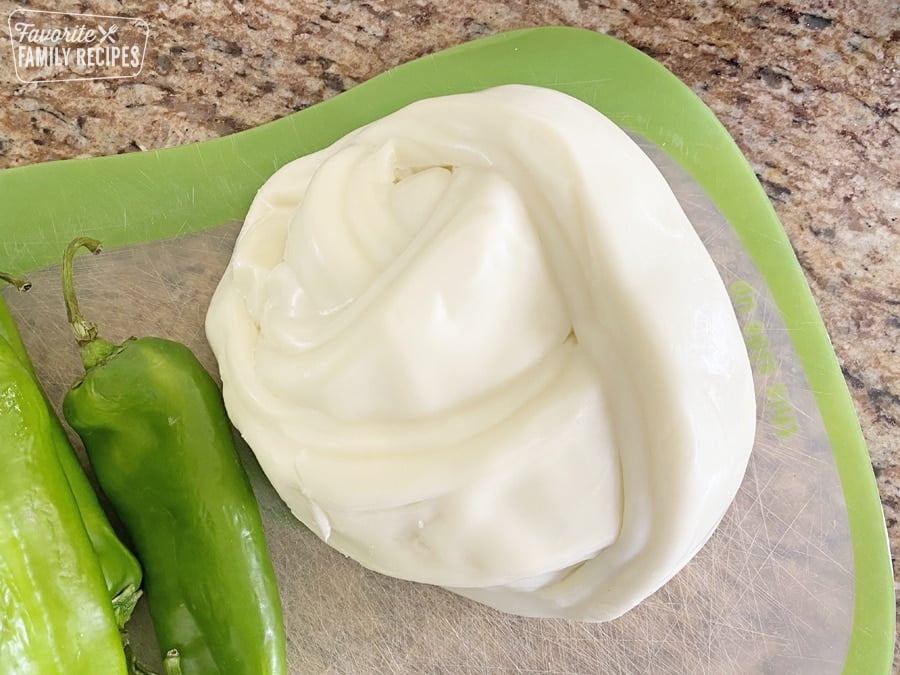 What Cheese is Best For Chiles Rellenos?
For these chiles rellenos, we use Oaxaca cheese. It is the most "authentic" cheese for chiles rellenos and in my opinion it has the best texture (AND it just looks cool. Just look at that picture above), but any kind of good "melting" cheese will work great. You can use Queso Blanco, Asadero, Monterey Jack, Pepper Jack, or even Cheddar or Mozzarella. The lines are pretty blurry when it comes to chiles rellenos because it is literally just "stuffed green chile peppers". Different regions stuff them with different things and even use different green peppers and sauces. Honestly, it all comes down to preference and what is available in your area.
Tips for Making Chiles Rellenos
Remove the seeds to avoid unwanted spiciness/bitterness. Don't get me wrong, I love spicy, but I don't enjoy biting into a bitter seed.
Use toothpicks to secure the chiles if needed. I have made chiles rellenos several times and I am still not "pro" enough to make them without sealing them up with toothpicks. It will make things easier for you and you won't have cheese seeping out into your oil.
Make sure your oil has come to temperature before adding the chiles rellenos. I actually use my fondue pot to fry because I can easily set the temperature. If you can't set the temperature, use a cooking thermometer. This ensures perfectly golden chiles rellenos.
Roast your veggies before blending them into the sauce to get a deeper, richer flavor.
Hatch Chiles Rellenos
Fresh Hatch chiles are the best kind of chile to use for chiles rellenos! They have a bright flavor with a touch of sweetness. 
Ingredients
8

Hatch chiles

8-10

ounces

Oaxaca cheese

(or substitute for any of the cheeses mentioned about)

6

large

eggs

(separated)

2/3

cup

flour

1

teaspoon

salt

1

teaspoon

garlic powder
Instructions
Place Hatch chiles on a foil-lined backing sheet and broil for 5-10 minutes or until the chile has dark black/brown blister spots.

Flip chiles and broil an additional 5-10 minutes until they are blackened on all sides. Carefully remove the peppers from the pan and place in a gallon-sized ziplock bag to steam (about 10-15 minutes). This helps it so the skin will easily peel away. Do not steam for more than 15 minutes or the pepper will become too soft and won't hold together.

Remove chiles from the bag and place on a cutting board. Remove skins from chiles once cool enough to handle.

Take each chile and slice a slit in the side with a sharp knife. Gently remove the seeds from each chile and then carefully stuff with cheese. Use 1-2 toothpicks to secure and seal.

Separate the eggs to make the batter. Place the egg whites in a mixing bowls and the yolks in a glass measuring cup.

Whip the egg whites on high speed until stiff peaks form. Reduce the speed to low and slowly add the egg yolks in. The batter should be light and foamy. Set aside.

In a separate, shallow dish, combie flour, 1 teaspoon salt and garlic powder.

Line up the chiles, flour mixture, and egg batter into an assembly line. Once oil is hot (350-degrees), dredge each chile in the flour then carefully dip it into the egg batter, covering it completely. Carefully place the chile in the oil and fry for 2-3 minutes or until golden brown on the bottom. Using metal tongs, carefully flip to the other side for an additional 2-3 minutes or until golden brown all over. Tip: Don't overcrowd your chiles rellenos in the frying pan or deep fryer. I usually fry in batches of 2 (mostly because my pan is so small).

Remove chiles rellenos from the oil and place on paper towels to drain. Serve hot.

Serve with red sauce (see instructions below), salsa verde, and/or Mexican crema.
For The Red Sauce:
Place all the sauce ingredients in a blender and blend until smooth. Place in a medium-sized sauce pan and heat over medium heat. Once sauce starts to boil, reduce heat to a low simmer until ready to serve.

Tip: For added flavor, roast the tomatoes and onions at 400-degrees for 10-15 minutes before adding to the blender.
Nutrition Information
Calories:
214
kcal
Carbohydrates:
14
g
Protein:
13
g
Fat:
12
g
Saturated Fat:
7
g
Cholesterol:
150
mg
Sodium:
893
mg
Potassium:
270
mg
Fiber:
1
g
Sugar:
3
g
Vitamin A:
850
IU
Vitamin C:
12
mg
Calcium:
51
mg
Iron:
1
mg