Elote en vaso, also know as Esquites or Mexican Street Corn in a cup, is one of my very favorite Mexican dishes for so many reasons. It's crunchy, creamy, savory, tangy, and oh so delicious! This elote in a cup is an explosion of all the classic Mexican street corn flavors but served in a cup for easier eating.
"Elote en vaso" directly translated, means "corn in glass (or cup)." It is also commonly called "Esquites" (pronounced: es-kee-tes). This tasty treat hits all of the same notes as Mexican street corn: sweet corn mixed with creamy mayo, tangy lime and chili seasoning, and topped with a sprinkle of queso fresco and cilantro. But this dish is made in individual casserole cups instead of on a skewer—so you can enjoy it anywhere!
This recipe makes it easy to customize your Mexican Street Corn by using any toppings you like best—and since they're all available in the refrigerated section of most grocery stores, they'll stay fresh until you're ready to eat them! We know you can't get enough of sweet, delicious corn.
Elote in a cup is the perfect snack, appetizer, or side dish for any Mexican-inspired meal. And the best part? You can make it in less than 15 minutes. No shucking or grilling required!
Where to Find Elote in a Cup
The first time I ever had Elote in a Cup (Esquites) was in Quintana Rio Mexico, near Tulum. The corn was grilled fresh and served in a paper cup with the rest of the ingredients. It seemed like such a simple dish but the flavors were out of this world! A few years later when I was at Disneyland I was thrilled to find the dish at the Cozy Cone Restaurant at Disney's California Adventure (see picture above). Since then, I have been so excited to see esquites on the menu at many of my favorite Mexican restaurants. It has become an increasingly popular menu item in the United States but it can also be easily made at home!
Ingredients in Mexican Street Corn Cups
The great thing about this recipe is that you can make them as easy or as involved as you would like! You can keep it simple by using frozen corn or use fresh corn on the cob for a more authentic flavor. Totally up to you!
Sugar – just a couple of tablespoons. Trust me it's a game changer
Frozen corn kernels- see below for tips if you want to use fresh corn on the cob for this recipe
Mayonnaise – you can use a lower fat mayo for this recipe
Sour cream – can also substitute plain Greek yogurt
Lime salt – this is optional. But it tastes so good! If you can't find lime salt, use fresh lime juice or stir in a crystalized lime packet.
Cotija cheese – queso fresco or Mexican crema works great too! You can also substitute parmesan cheese too.
Fresh cilantro – add a tablespoon of chopped cilantro, or more to taste
Chili powder – Just a dusting of chili powder can also be used as a beautiful garnish.
Garnish with one lime cut into wedges
Tajin (optional) – Use Tajin powder in place of the lime salt and chili powder. Tajin is simply a mix of lime powder, chili powder, and salt so it can easily be used a a substitute for these ingredients.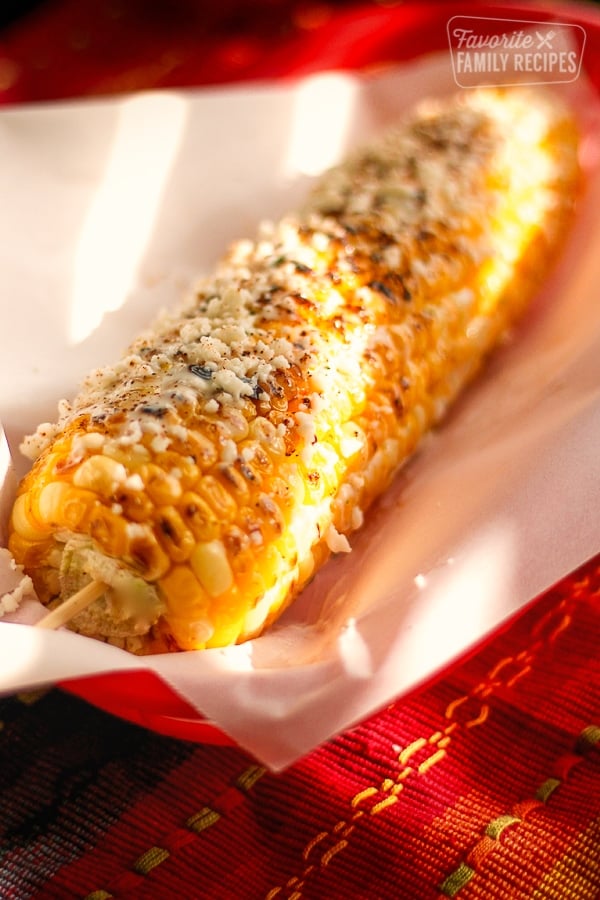 Additions and Variations
By making this dish at home, you can control what goes into it. We love the taste as-is but here are a few additions and slight variations you can make to your liking:
Reduced-calorie option: Try reduced-fat mayo or even Greek yogurt instead of regular mayonnaise if you are looking for a lower-calorie alternative.
Cotija alternatives: Cotija cheese can sometimes be difficult to find, so queso fresco is a good alternative. Cotija crumbles nicely and has a nice, salty flavor. It is similar to Feta cheese, but is a little more dry and crumbly, which makes it great for sprinkling on your favorite Mexican dishes.
Street Corn Salad or Dip: If you want to add a little more substance to this corn mixture to serve as a Mexican street corn salad or even as a dip with tortilla chips, you can always add some additional ingredients. Try adding grilled sliced cherry tomatoes, avocado, grilled zucchini, chopped jalapeño peppers, serrano peppers (if you like a little heat), chopped red onions, and/or sautéed onion.
Carne Asada Corn Salad: Serve over greens and some carne asada for a delicious and hearty Mexican corn salad.
Give it a Kick: Add a kick with some chopped jalapeños, a dash of hot sauce, or a sprinkle of cayenne pepper for those who love the heat.
Add some Tajin: Stir in Tajín and a hint of hickory, so it tastes like it would straight off the grill. If you add Tajin, remove the chili powder and lime salt (its essentially the same thing).
Add a Little Butter: Top each cup with a small pat of butter so it melts in the corn mixture.
Try it with Crema: Drizzle a some plain or homemade cilantro-lime crema over your esquites for an extra layer of flavor.
Top it with Bacon: Sprinkle some crispy bacon bits over the top for a smoky, savory element.
Hot Cheeto Style: Try topping the corn cups with crushed hot cheetos for a crunchy, spicy twist.
Suggestions for the Best Mexican Corn in a Cup
A lot of you have written in some tips and suggestions you've made, so we want to share those with our readers as well. Here are some more ideas to spoon on more flavor!
If you want to go all-out and actually grill FRESH corn for this recipe, you absolutely can. You can use our recipe for Grilled Mexican Street Corn, or our Grilled Corn on the Cob, or use the kernels from fresh, perfect corn on the cob recipe. After grilling or boiling the corn, you can use a sharp knife and cut the kernels into a large bowl and follow the rest of the recipe below as directed.
Give it more of a sautéed flavor by cooking the corn in a skillet over medium-high heat with a little garlic and vegetable oil or butter. If you like a little char, cook the corn in a non-stick skillet without oil until it becomes lightly charred.
Classic Elote (Grilled Mexican Street Corn)
Love elote in a cup but want to try the read deal on the cob? Sometimes you just can't beat Mexican street corn fresh off the grill. If you have a little more time and want to try the classic, try our Grilled Mexican Street Corn recipe! We walk you through, step-by-step, how to make Mexican street corn the traditional way!
Storing the Leftovers
Storing leftover elotes in a cup is a breeze! First, make sure they're completely cooled down to room temperature. Then, transfer them into an airtight container or sealable plastic bag. Place the container in the fridge, and your corn should be good for up to 3-4 days. If you're thinking about freezing them, well, you're in luck! Esquites freeze quite well. Just place them in an airtight container or heavy-duty freezer bag, leaving a bit of space at the top for any expansion during freezing. Keep them frozen for about 4-6 months. When you're ready to enjoy your leftover Mexican street corn, a quick reheat in the microwave or on the stovetop is all it takes to bring back that deliciousness.
What is the difference between elotes and esquites?
Elotes is grilled Mexican Street Corn on the Cob. Esquites is essentially the same thing, it is the same seasonings and flavors but served with the corn kernels cut from the cob and served in a cup.
What are esquites in English?
Esquites is Mexican-style corn in a cup. Also known as "Elotes en Vaso".
Is esquites the same as elotes en vaso?
Yes. They are the same thing. They are both Mexican-style street corn served in a cup or glass.
What is elote called when its in a cup?
When elote is served in a cup it is called "elote en vaso" or "esquites".
Can't wait to try this recipe. It says serve 4, but what size cups?
We use 9 ounce plastic cups to get four servings from this recipe.
Can I omit the sugar?
For some, corn is sweet enough on its own, so yes you can leave out the sugar. We just find the added sweetness balances out the spices beautifully. 

How do you keep it warm? Or, do you serve at room temperature?
We serve it at room temperature! It's delicious!
More Delicious Corn Recipes
Can't get enough delicious corn in your life? Same here! That's why we've gathered together some of our favorite corn recipes you can try such as Corn Casserole, Crockpot Creamed Corn, Grilled Corn on the Cob and more:
Elote in a Cup (Mexican Street Corn Cups)
This elote in a cup is an explosion of all the classic Mexican street corn flavors but served in a cup for easier eating.
Instructions
Bring 1 cup of water to a boil and add sugar. When water is boiling, add corn and cover with lid. Simmer corn for 3-5 minutes or until corn is cooked though and tender. 

While corn in simmering, combine mayonnaise, sour cream, sriracha, Kosher salt, and lime salt in a small bowl.

When corn is done cooking, drain well and return to pan. Allow to cool for about 3 minutes. Add sriracha-mayo mixture to the corn and until well combined. 

Divide corn into 4 individual cups.

Top with queso fresco, cilantro, a dash of chili powder, and a lime wedge. Serve immediately. 
Nutrition Information
Calories:
350
kcal
Carbohydrates:
37
g
Protein:
9
g
Fat:
21
g
Saturated Fat:
8
g
Cholesterol:
40
mg
Sodium:
465
mg
Potassium:
467
mg
Fiber:
4
g
Sugar:
8
g
Vitamin A:
1215
IU
Vitamin C:
17.5
mg
Calcium:
182
mg
Iron:
1.3
mg
Love this recipe?
We want to hear from you! Please leave a review.