If you're looking to make a delicious, easy, and versatile meal that can be enjoyed any time of day, then look no further than grits. This dish is so simple, you can make it at home in less than 30 minutes in 5 easy steps.
Grits are a staple in the South. They are made from cornmeal, and they're usually served as a breakfast dish with cheese, bacon, or other toppings. But they're also wonderful when added to stews or served alongside meat dishes for dinner. You can even make sweet versions of grits by adding sugar or fruit!
If you're a fan of Southern cuisine, we've put together a list of some of our favorite recipes from the South so that you can try them out for yourself, like our Biscuits and Gravy, Easy Cake Mix Cornbread, Chicken and Sausage Gumbo, and Corn Casserole.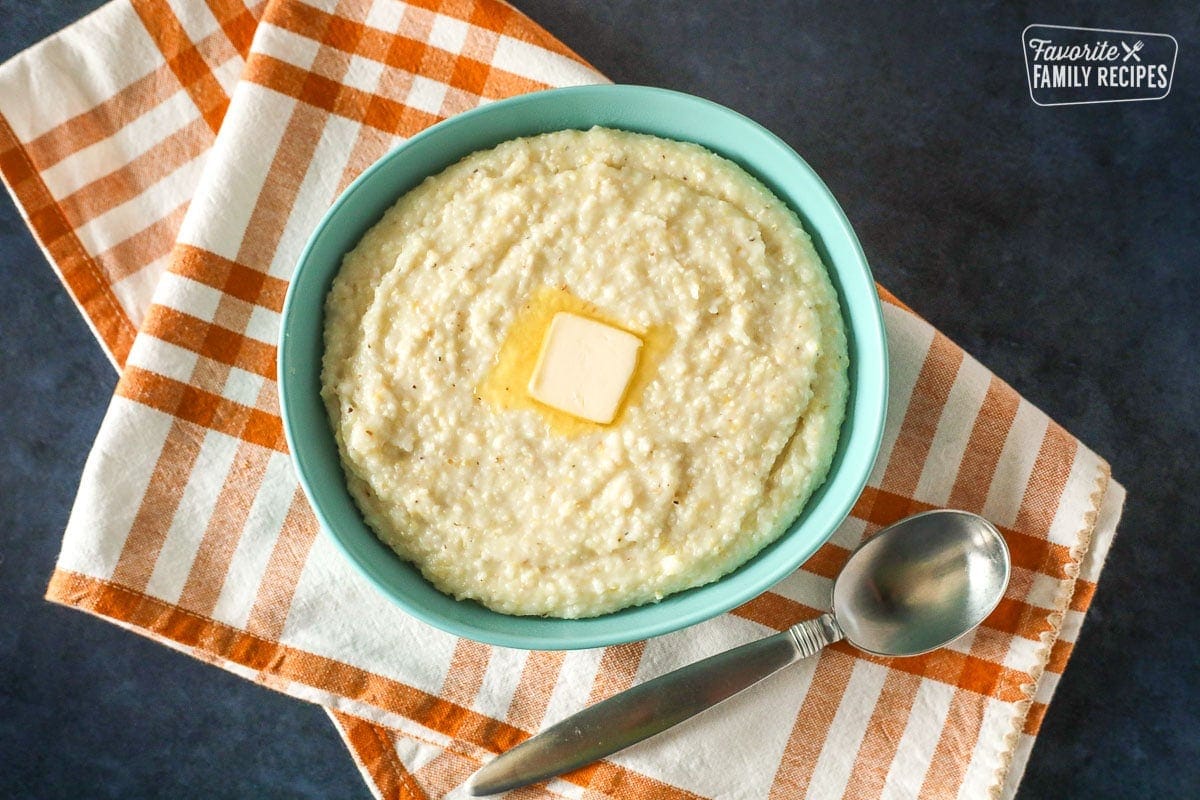 What are Grits?
Grits are a creamy porridge made from ground corn. The technique originates from the indigenous people of what is now the Southern United States, specifically the Muskogee tribe. British colonists learned this technique from the indigenous people. Now, grits are so popular that they are the official prepared dish of Georgia. Grits can be made from white corn or yellow corn kernels. Most grocery stores sell quick-cooking and stone-ground grits. Much like oatmeal, "quick" refers to a smaller grain and faster cook time. Additionally, "stone-ground" refers to a larger grain and a slower cook time. Grits are similar to polenta, which is also made from ground corn. The difference is polenta is made from yellow corn, while grits are made from white corn, or hominy.
Quick and Easy Breakfast
If you are looking for a simple, yet delicious addition to your breakfast repertoire, grits are your answer! We wrote this grits recipe using quick grits, so you will love how quickly they come together. You can cook grits with milk or even heavy cream for a richer, creamier texture.
First, add water, milk, butter, and salt to a pan. Then, bring it to a boil over medium heat. Make sure to stir often so the milk doesn't scorch on the bottom of the pan.
Next, slowly pour the grits into the pan. Stir with a whisk as you add them. Otherwise, they will get clumpy.
Then, cover the pan and let simmer for 25-30 minutes, stirring every 5 minutes or so. Be sure to scrape the bottom of the pan so nothing sticks.
Finally, when they are a thick and creamy consistency, remove from heat, add your toppings, and enjoy!
Sweet Style
Once you've cooked up your grits, you can make them savory or sweet. Let's start with sweet! Add any of these yummy toppings for a sweet breakfast.
Maple syrup
Brown sugar
Fruit
Nuts and seeds
Honey
Cinnamon
Some of my favorite combinations include bananas + honey + toasted almonds, berries + maple syrup, and pecans + maple syrup + cinnamon.
Savory Style
If you prefer a more savory breakfast, or you are serving grits with dinner, try some of these toppings.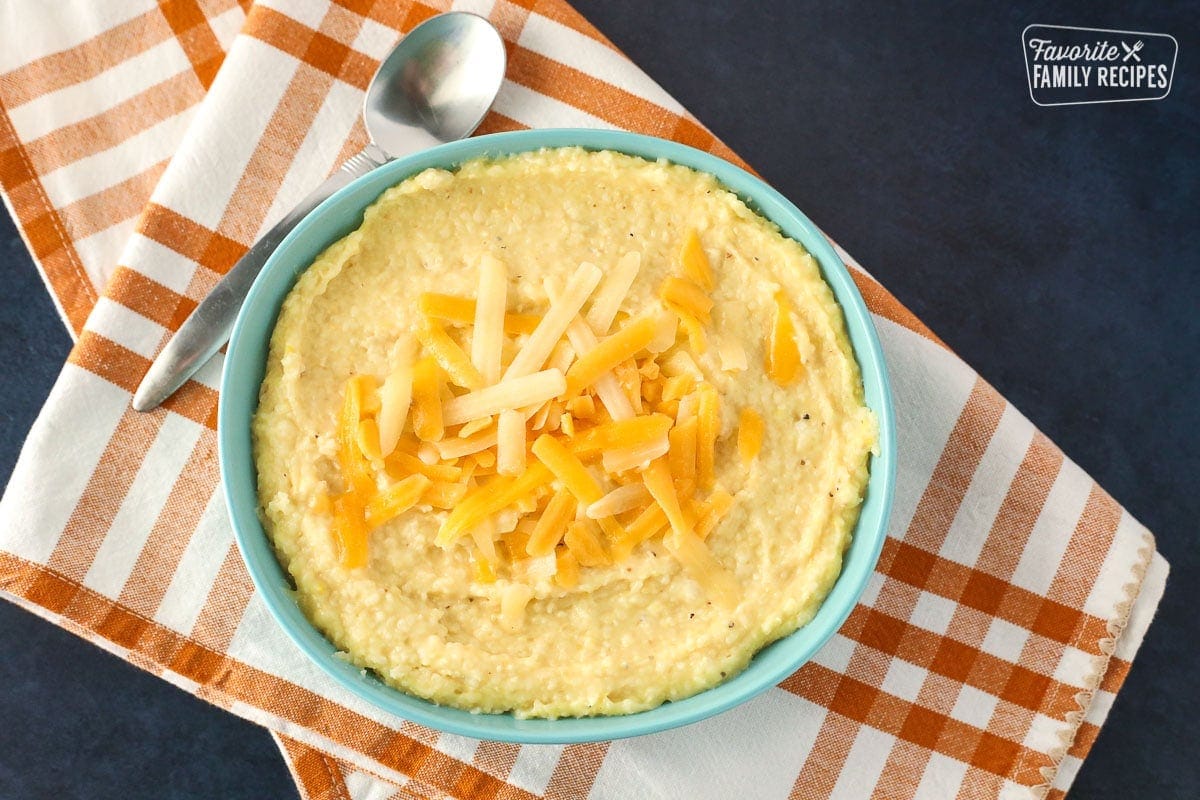 Use simple seasonings to add flavor: salt and black pepper, garlic powder, a dash of hot sauce.
Bacon
Cheddar cheese (note: add the  sharp cheddar cheese when they're done cooking, but still hot)
Eggs
Sausage
Green onion
Heirloom tomatoes
Caramelized onion
Peppers
Some of my favorite combinations include: cheese + bacon + green onion, fried eggs + sausage, and bacon + caramelized onion. Serve them with a side of toast.
For creamy grits, whether you are using stone-ground or quick, you will need to cook for longer than it states on the box.
More Southern Recipes
How to Make Grits
How to Make Grits (Creamy Southern Style)
Every Southern cook knows how to make Grits, and now you can too! This widely popular dish can be enjoyed for breakfast or dinner and made sweet or savory.
Ingredients
Instructions
In a large pot add water, milk, butter, and salt. Bring to a low boil over medium-high heat while stirring frequently.

Slowly pour in the grits while stirring constantly with a whisk. Turn heat to low and continue to whisk for one minute.

Cover the pan with a lid and stir well every 4 to 5 minutes. Be sure to scrape all along the bottom of the pot to prevent the grits from sticking or burning.

The grits are done when they reach a thick creamy consistency, it should take 25 to 30 minutes.

Pour grits into a serving bowl and top with a slice of butter while hot.
Cheese Grits (Optional)
Stir in a cup of your favorite kind of cheese when the grits are completely cooked and still hot.
Nutrition Information
Calories:
246
kcal
Carbohydrates:
35
g
Protein:
7
g
Fat:
9
g
Saturated Fat:
6
g
Polyunsaturated Fat:
1
g
Monounsaturated Fat:
2
g
Trans Fat:
1
g
Cholesterol:
26
mg
Sodium:
901
mg
Potassium:
233
mg
Fiber:
2
g
Sugar:
7
g
Vitamin A:
468
IU
Calcium:
155
mg
Iron:
1
mg
Love this recipe?
We want to hear from you! Please leave a review.