Shrimp and Grits is a classic Southern dish BURSTING with flavor. Tender shrimp, spicy sauce, and cheesy, creamy grits will have you feeling like you're at Mardi Gras!
Cajun food is a staple in our weeknight dinner rotation. We love to make dishes from all over the globe! Some of our other favorites are Indian, Mexican, Asian, and Greek.
Shrimp and Grits
Shrimp and Grits is a classic Southern comfort food meal that our whole family loves. It is traditionally a breakfast meal, but a lot of people enjoy it for lunch or dinner. It start out with cheesy, creamy homemade grits. Then, you add a savory, spicy tomato sauce. Finally, you top the dish off with buttery, tender shrimp, Andouille sausage, and corn.
Start with Quality Ingredients
If there is anything I have learned from all my adventures in the kitchen, it is that an amazing meal starts with amazing ingredients. For this recipe, try to purchase the freshest shrimp available. I got mine from Costco! If you are lucky enough to live near the ocean, you know how much better fresh seafood tastes. The other ingredient that makes a huge difference is the tomatoes for the sauce. San Marzano tomatoes are grown in Italy and they taste SO MUCH BETTER than any other canned tomato.
How to Make Cheesy Grits
While the shrimp is definitely a star player in this recipe, you are also going to love the creamy, cheesy grits. We have a whole post about how to make the best homemade grits HERE. Additionally, I'll give you a quick overview below.
To make the grits you'll need water, milk, butter, salt, quick grits, and cheese.
First, bring the water, milk, butter and salt to a boil in a large pot.
Then, slowly pour the grits into the pot while whisking.
Cover and cook the grits for 25-30 minutes, stirring every 4 or 5 minutes. Make sure to scrape the bottom of the pot.
When the grits are creamy, remove from heat and add butter and cheese.
FAQ
Why is Shrimp and Grits popular in the South?
Shrimp and Grits is often attributed to sailors off the North Carolina shores. Sailors would often eat grits for breakfast. However, during peak shrimp season, they would add buttered shrimp to their grits.
What goes good with Shrimp and Grits?
I like to serve a big salad with Shrimp and Grits, but any vegetable side dish will work. Sometimes we have steamed asparagus or broccoli.
Does this taste like the Shrimp and Grits at Cafe Orleans in Disneyland?
Yes! The only difference is that the dish at Cafe Orleans has fava beans and those aren't always easy to find at the store.
Other Cajun Recipes You'll Love
You can check out all of our delicious Cajun recipes HERE. Additionally, here are a few of our favorites!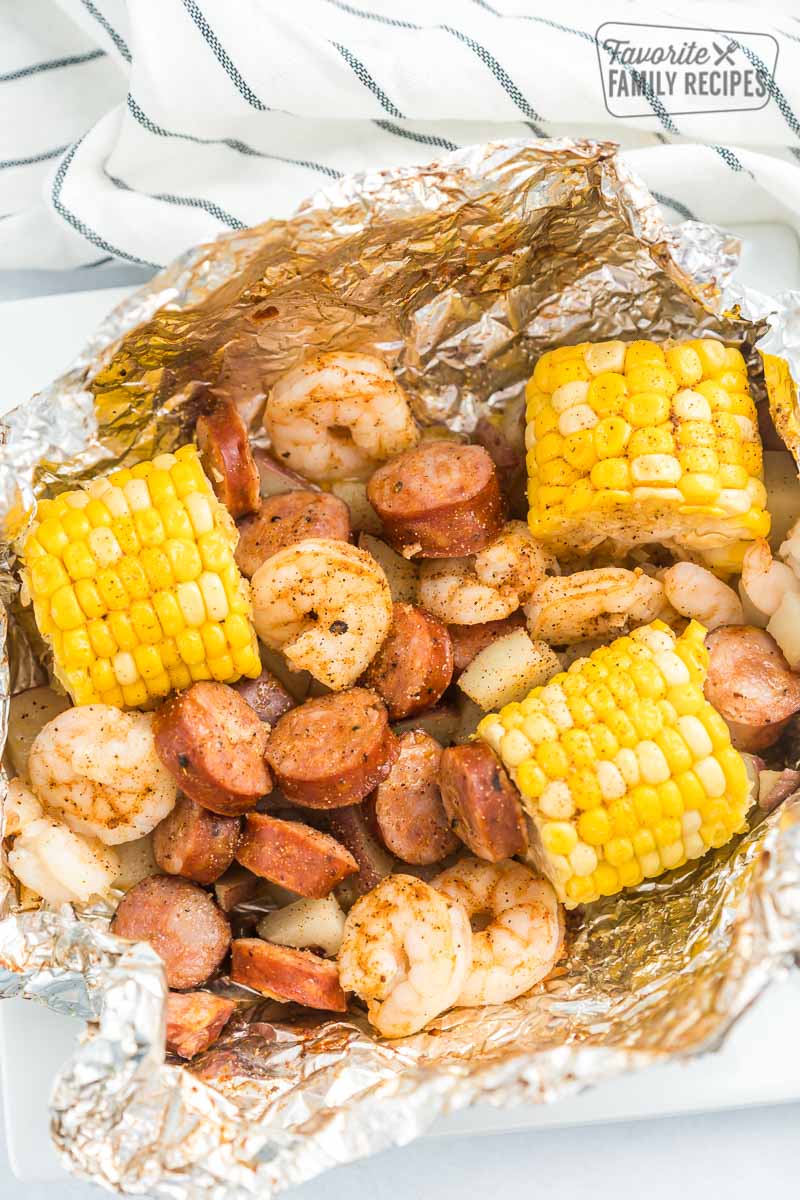 How to make Shrimp and Grits
Shrimp and Grits is a classic Southern dish BURSTING with flavor. You'll love the tender shrimp, spicy sauce, and cheesy, creamy grits.
Ingredients
For the Shrimp and Sausage:
Instructions
Cook grits in advance, allow at least 30 minutes for this step. Find our recipe for cheese grits HERE.
For the Sauce:
Start by making the sauce in a small sauce pan. Over medium heat, cook butter and garlic together until garlic begins to turn golden.

Add the canned tomatoes, creole, and paprika. Stir and mash up the tomatoes with a wooden sppon.

Turn stove to low to simmer. Cover the pan with the wood spoon still in, this prevents splattering but lets the sauce thicken. Simmer for 10 minutes stirring occasionally.
For the Shrimp and Sausage:
Add butter, garlic, paprika, chili powder, sliced sausage, shrimp, and corn to a fry pan. Cook together over medium heat until shimp is pink and cooked through.
To Serve:
Spoon a cup of grits into 4 bowls, making a shallow well in the middle of the grits. Divide the sauce between the 4 bowls.

Top each bowl with shrimp and sausage. Optional: sprinkle on a little chopped parsley.
Nutrition
Calories:
712
kcal
|
Carbohydrates:
46
g
|
Protein:
35
g
|
Fat:
43
g
|
Saturated Fat:
18
g
|
Polyunsaturated Fat:
5
g
|
Monounsaturated Fat:
15
g
|
Trans Fat:
1
g
|
Cholesterol:
222
mg
|
Sodium:
1898
mg
|
Potassium:
562
mg
|
Fiber:
4
g
|
Sugar:
1
g
|
Vitamin A:
1489
IU
|
Vitamin C:
3
mg
|
Calcium:
226
mg
|
Iron:
18
mg