Have you tried the Carnival Cruise Line Warm Chocolate Melting Cake? If you've been on a Carnival Cruise, you know how amazing it is. If not, you can indulge in this decadent chocolate melting cake at home.
Carnival Cruise Line Warm Chocolate Melting Cake
The Warm Chocolate Melting Cake has got to be the most popular dessert on a Carnival Cruise. If you don't believe us, see the comments below. It is a rich chocolate cake with a warm, pudding-like, chocolate center. On the cruise it is served in individual ramekins that are the perfect size for one serving. Try it with a scoop of vanilla ice cream or whipped topping.
Carnival Cruise Line's Recipe
Our sister, Elise, just got back from a cruise to the Caribbean with her family. As soon as she stepped on land she called me and said, "We need to figure out the recipe for the Melting Cake they served on the ship. It was to die for!"
Literally, moments later I was on the phone with GET AWAY TODAY telling them about my sister's cruise and they said "We have the recipe for that cake! A couple of our cruise specialists got the recipe from their last cruise!" I am not even kidding, that same day I went and got the ingredients to make it. Let me tell you – it was fabulous!
We are sharing this ACTUAL recipe with you! You can enjoy this delicious cake anytime!
Recipe Tips for Chocolate Melting Cake
It is supposed to be spongy and cake-y on top but gooey and melty in the middle. After 14 minutes, be sure to keep checking it. You don't want it to be cake-y all the way through, nor do you want it to be too runny.
Use your good judgement for doneness because oven temps and elevations are different for everyone. If you are worried about it, keep doing the "toothpick test" every minute or so. If you put the toothpick all the way down to the bottom and the bottom half of the toothpick DOESN'T come out clean, you did it right.
Get Away Today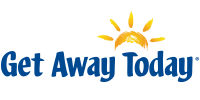 As I mentioned earlier, I was on the phone with GET AWAY TODAY trying to book a last-minute vacation for my family and they told me this month (October) is National Cruise Month! That is why Get Away Today was so gracious to share this Carnival Cruise recipe with us. If you are looking for a fun place to go on vacation or if you are even just thinking about going on vacation, click HERE to see the deals that they can get you!
By the way, can I just say I LOVED working with them on booking our vacation for next month? They definitely make you feel like a VIP no matter what your budget is! You can call them personally and they will answer any and all of your questions and give you EXPERT advice. They will help you find the perfect vacation for you and your budget. It makes me feel more special saying that I have a "travel agent" rather than saying "I found a deal online". They can find better deals than what you can find on other travel sites and you can actually talk to a real person to structure your vacation. Call them. Tell them Favorite Family Recipes sent ya! And tell them how much you love this chocolate cake!
We also use GET AWAY TODAY for booking Disney Vacations…

and trips to Universal Studios!
How To Make Carnival Cruise Line Warm Chocolate Melting Cake
Carnival Cruise Line Warm Chocolate Melting Cake
If you have been on a Carnival Cruise, you've probably had this warm chocolate melting cake and you know how amazingly good it is!
Equipment
Whisk

7 ounce Ramekins

Sauce pan
Instructions
Preheat oven to 375-degrees.

Melt chocolate and butter in a small saucepan, cool 10 minutes.

In the meantime, in a separate bowl, whisk eggs and sugar together. 

Add vanilla and flour and whisk until flour is well mixed in. 

When chocolate has cooled stir in egg mixture.

Fill 7 oz. ramekins about ¾ of the way full with chocolate batter.

You may need to add an extra few minutes of baking time depending on your elevation.

The cake should be cake spongy on the top but the middle of the cake should be melty and gooey-the consistency of pudding, not too runny. 

Do not let it overcook. Watch these babies closely! 

Serve with ice cream or whipped cream.
Nutrition Information
Calories:
724
kcal
Carbohydrates:
63
g
Protein:
9
g
Fat:
49
g
Saturated Fat:
33
g
Cholesterol:
256
mg
Sodium:
403
mg
Potassium:
285
mg
Fiber:
1
g
Sugar:
49
g
Vitamin A:
1300
IU
Calcium:
137
mg
Iron:
1.6
mg