Sriracha Deviled Eggs are a fire-y twist on a classic! These deviled eggs get a spicy kick from Sriracha hot sauce, but still taste sweet and creamy.
Sriracha Deviled Eggs
If you like spicy foods, then you are going to love this fire-y twist on a classic! These Sriracha Deviled Eggs are so delicious! I love Sriracha on just about anything and these Sriracha deviled eggs are no exception. The Sriracha perfectly complements the creaminess of the egg whites and the filling. My family loves deviled eggs, but not everyone likes them spicy. So, I make about half of them spicy and the other half I just sprinkle with a little paprika. That way people who aren't as fond of spice as I am can still enjoy them.
Ingredients in Sriracha Deviled Eggs
Hard Boiled Eggs – This Sriracha Deviled Eggs recipe starts with hard boiled eggs. See below for tips on how to make the best, easy-peel hard-boiled eggs!
Mayonnaise – Mayonnaise is one of those foods where I always buy the name brand. The store brand just never tastes as good! We like Best Foods Mayo the most. (Not sponsored – just the truth!)
Mustard – Mustard gives this deviled egg recipe a bit of tang and adds to the yellow coloring.
White Vinegar – With all the other creamy ingredients, you need just a little bit of acidity to cut through and balance things out.
Sugar – Just ⅛ of a teaspoon of sugar gives these deviled eggs a touch of sweetness.
Salt & Pepper – Add salt and pepper to your liking.
Sriracha – This spicy red sauce adds a little kick to this classic appetizer. I like my Sriracha deviled eggs really spicy so I add Sriracha to the yolk mixture and then drizzle it over the top as well.
Chives – The chives are optional but they add a pop of color and freshness to the dish!
Tips for Making the Perfect Hard Boiled Eggs
The first step to delicious Sriracha Deviled Eggs is having perfect hard-boiled eggs. Follow these steps for success!
The best eggs to hard boil are those that are at least three days old. Super fresh eggs tend to be harder to peel.
Don't put your eggs into already boiling water. Place them in the pan first, then add cold water until there's about an inch or so of water covering the eggs.
The key to making perfect eggs on the inside is to not over boil. If they're too hot for too long, then you will get that greenish-grayish ring around the yolk.
Here's our secret ingredient: add a little baking soda (about ½ teaspoon or a little less) to the water while boiling. This will make it easier to peel the eggs later on.
If you're going to peel the eggs right away to make these Sriracha Deviled Eggs, then give them a little crack and plunge them in an ice water bath. Only do this if you're going to peel them immediately after. If you're saving the eggs for later, just put them straight into the ice water.
If you have an Instant Pot, check out our Instant Pot Hard Boiled Eggs recipe.
FAQ
Why are they called Deviled Eggs?
The word "deviled" was originally used to describe foods that had a lot of condiments and spices. Deviled eggs were originally called stuffed eggs, but when the recipe began to include more pepper and paprika, they became known as deviled eggs.
Where did Deviled Eggs originate?
Deviled eggs can be traced all the way back to ancient Rome! Romans used to boil eggs and serve them with spicy sauces. The version we know today where the yolks are mashed with condiments originated in Spain.
Can I make Sriracha Deviled Eggs ahead of time?
Deviled eggs are good in the fridge for about two days, so you can make them a little bit in advance. Once you set them out, the are only good for two hours.
More Spicy Recipes
If you love the kick in these Sriracha Deviled Eggs, then try some of our other spicy recipes!
How to Make Sriracha Deviled Eggs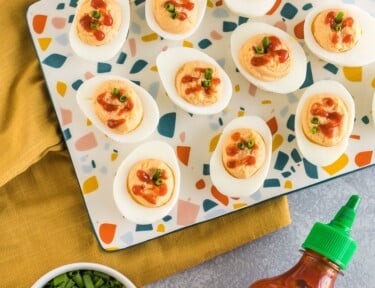 Sriracha Deviled Eggs
Sriracha Deviled Eggs are a fire-y twist on a classic! These deviled eggs get a spicy kick from Sriracha hot sauce, but still taste sweet and creamy.
Instructions
Peel the hard boiled eggs and cut them in half length-wise. Scoop out the yolks and place them in a separate bowl.

Mash the yolks with mayonnaise, mustard, sugar, vinegar, salt and pepper, and Sriracha.

Scoop the yolk mixture into a piping bag or a ziplock bag with a corner cut off. Pipe the filling into the eggs. Top with Sriracha and chives (optional).
Nutrition Information
Serving:
2
eggs
Calories:
110
kcal
Carbohydrates:
1
g
Protein:
6
g
Fat:
9
g
Saturated Fat:
2
g
Polyunsaturated Fat:
3
g
Monounsaturated Fat:
3
g
Trans Fat:
1
g
Cholesterol:
188
mg
Sodium:
106
mg
Potassium:
66
mg
Fiber:
1
g
Sugar:
1
g
Vitamin A:
264
IU
Vitamin C:
1
mg
Calcium:
26
mg
Iron:
1
mg
Love this recipe?
We want to hear from you! Please leave a review.