Chocolate Fondue is a simple, yet classic dessert that comes together fast. It's the perfect dip for strawberries, bananas, marshmallows, and more.
Featured with this recipe
This Chocolate Fondue recipe is quite possibly the easiest recipe on our site! Just two simple ingredients melt together to create the most decadent and divine dip for just about anything you can imagine. It's the perfect dessert to end a romantic dinner, a special Valentine's Day dessert or a tasty treat to share with the family on New Year's Eve. Grab a skewer and get dipping; you will love it!
Ingredients in Chocolate Fondue
Sweet chocolate and heavy cream. That's it! Just these two ingredients create a chocolate mixture that is to die for! No need for liqueur or other added ingredients. This recipe is perfect in its simplicity and tastes smooth and rich. You could add a pinch of salt to even out the sweetness, but it's not necessary. Here's what we recommend:
What is Fondue?
Fondue originated in Switzerland. Cheese was melted with wine, and then eaten by dipping chunks of bread into it. Over time, fondue has come to represent a cooking style. Melted cheese or chocolate is served in a portable pot that is kept hot with a burner or electricity. A piece of food is placed at the end of a long-stemmed fork and dipped in the fondue and then eaten. Fondue sets are available at most department stores and online (As an Amazon affiliate we earn from qualifying purchases).

If you were born after 1980, fondue may not be all that familiar to you. Fondue became popular in the United States in the 1960s and 1970s. I remember a fondue pot set our Mom had that she would pull out on special occasions and we loved it! Fortunately, fondue made a comeback in the early 2000s and continues to be popular today. It's like a chocolate fountain but with much less mess.
The Best Type of Chocolate to Use for Fondue
For this recipe, we like using quality milk chocolate chips. They melt easily and taste delicious! The Ghirardelli brand is our favorite. However, if you prefer a less sweet flavor, try Baker's Semi-Sweet Baking Chocolate, semi-sweet chocolate chips, or bittersweet chocolate. It's all up to you. And if you love peanut butter, see the recipe card below for details on how to make peanut butter chocolate fondue. So yummy!
Fondue with Heavy Cream
Heavy whipping cream is the other key ingredient in this two-ingredient fondue. Using heavy cream allows for a deliciously smooth texture and unbelievable flavor. If the chocolate seems too thick, add a bit more cream to the mixture. You'll never have lumps or separation with this recipe. It's deliciously perfect!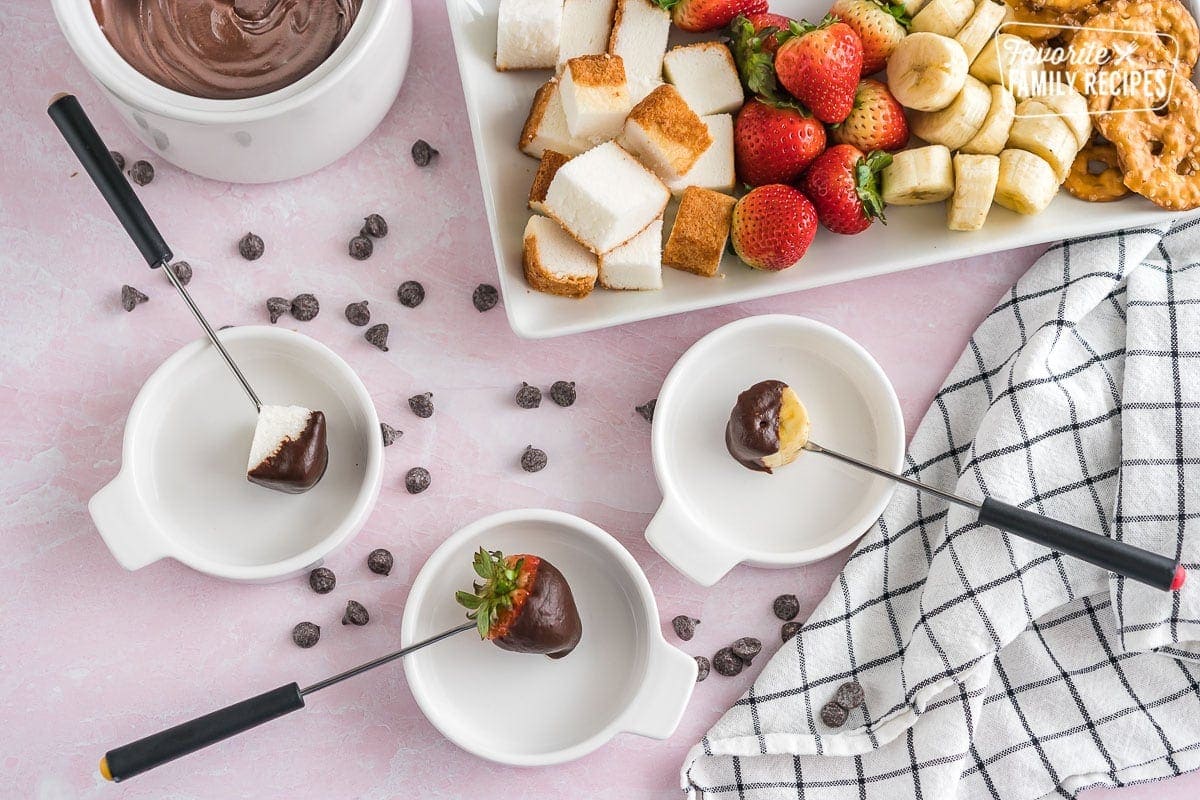 Food Dippers for Chocolate Fondue
The fondue experience is a social experience. Think roasting marshmallows over a fire, but a thousand times better! For chocolate fondue, we set out a tray of fruit, candies, and cookies. One dip in the fondue, and a piece of fruit suddenly becomes a little piece of chocolate heaven. You can choose anything in the world to dip in chocolate! Use your imagination, try new flavor combinations. Here are a few of our favorites, to get your creative juices flowing:
Fruit
Strawberries
Raspberries
Blackberries
Kiwi Fruit
Bananas
Pineapple
Oranges
Apples
Pears
Cherries
Dried Fruit (figs, mangoes, apricots)
On the fancier side
Pound Cake
Angel Food Cake
Biscotti
Donut holes
Mini Cream Puffs
Shortbread cookies
Candied Bacon
Cheesecake (cut in cubes)
For the whole family
Pretzels
Potato Chips
Graham Crackers
Marshmallows
Nilla Wafers
Oreos
Rice Krispie Treats (cut into bite-sized pieces)
White Chocolate Reese's Peanut Butter Cups (a MUST try!)
Frequently Asked Questions about Chocolate Fondue
Can I store leftovers for later?
This Chocolate Fondue is perfect to make ahead for a special evening. You can make it about three days ahead of time and store in the refrigerator.

How do I reheat chocolate fondue?
In the microwave: reheat for one minute in a microwave safe bowl and stir thoroughly. Repeat in 30 second increments until hot.
On the stove: Reheat in a saucepan over medium heat. Stir constantly until it reaches the desired consistency.
Can I use this fondue for ice cream?
Yes! This fondue makes the perfect chocolate sauce and tastes absolutely amazing over ice cream, so save some for your next sundae bar!
READ MORE:35+ Valentine's Day Dessert Ideas
Cheese Fondue Recipes
If you are as obsessed with fondue as we are, you've got to try a couple of our cheese fondue recipes.
One is a cheddar cheese fondue for dipping breads, vegetables, and meat. The cheese is smooth and creamy.
The other is a Spinach Artichoke Cheese Fondue copycat recipe from The Melting Pot (pictured here). It is incredibly delicious!
More Delectable Chocolate Recipes
How to Make Chocolate Fondue
Chocolate Fondue
Chocolate Fondue is a simple, yet classic dessert that comes together in just TWO ingredients! A must for a romantic Valentine's Day, girls' night or a fun family evening in!
Instructions
ON THE STOVE: Melt chocolate in a double boiler on low heat. Once chocolate chips are melted, slowly add heavy whipping cream until you reach the desired consistency.

IN THE MICROWAVE: Combine chocolate and heavy whipping cream in a microwaveable bowl. Heat for 1 minute and stir well. Heat another 30 seconds and stir. Continue heating in 30 second increments and stirring until you reach the desire consistency.

Transfer to fondue pot or a mini crock pot at the warm setting to keep warm. If the fondue will be used right away, it will stay warm in a heavy ceramic bowl. If it starts to thicken too much, simply reheat in the microwave for 30 seconds and stir.
Variations:
You can also add ¼ cup peanut butter for a different delicious flavor!
Notes
Use any leftover fondue for hot fudge sauce. It is delicious over ice cream!
To reheat in the microwave: reheat for one minute in a microwave safe bowl and stir thoroughly. Repeat in 30 second increments until hot.
On the stove: Reheat in a saucepan over medium heat. Stir constantly until it reaches the desired consistency.
Add more heavy cream to thin out the sauce if it gets too thick.
Nutrition Information
Calories:
353
kcal
Carbohydrates:
39
g
Protein:
3
g
Fat:
21
g
Saturated Fat:
13
g
Cholesterol:
36
mg
Sodium:
46
mg
Potassium:
15
mg
Fiber:
2
g
Sugar:
35
g
Vitamin A:
419
IU
Vitamin C:
1
mg
Calcium:
79
mg
Iron:
1
mg
Love this recipe?
We want to hear from you! Please leave a review.