Check out these easy charcuterie board ideas, perfect for entertaining! Don't miss our bonus recipe for a Vegan Charcuterie Board below!
Charcuterie Board Ideas
Charcuterie boards (pronounced "shar-KOO-tuh-ree") are a trend that I have seen popping up everywhere! Whether you are looking for a classic board, or more unique charcuterie board ideas, we have something for you!
Classic Charcuterie Board Ideas
The word "Charcuterie" is a French term for displaying a variety of cured meats, mostly pork. Originally they included things like salami, prosciutto, and sausages. Modern charcuterie boards can have any variety of meats, cheeses, fruits, veggies, olives, nuts, and sauces. Typically the boards are arranged in an aesthetically pleasing and abundant fashion. Check out our full step-by-step guide to making a classic Charcuterie Board.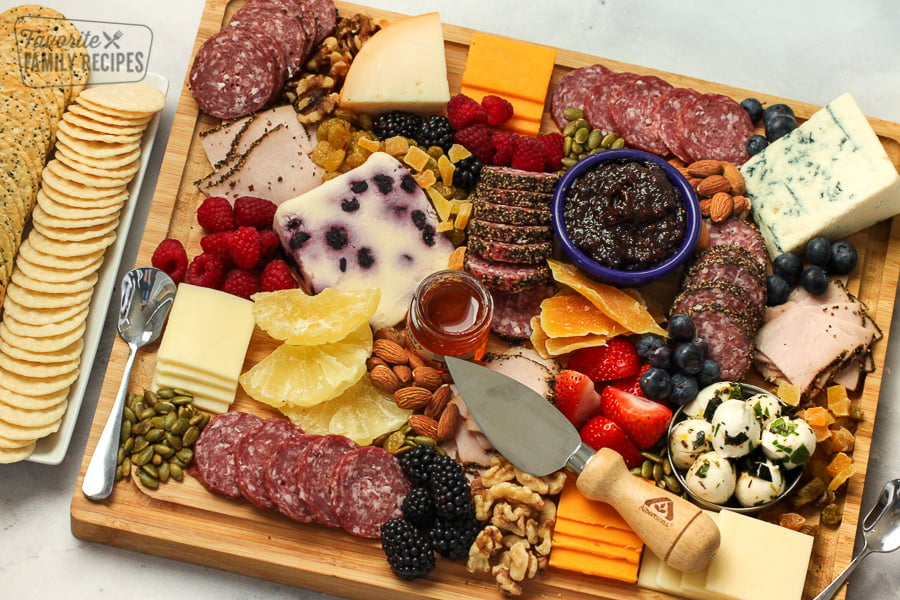 Meats
A true charcuterie board is served with a variety of cold cuts and meats. You can literally use anything that you think your guests will like. Here are some options:
salami
ham
pepperoni
prosciutto
roast beef
bacon
Cheeses
Next is the cheese. Remember to choose cheeses with a variety of firmness and textures. Here are some ideas:
Hard Cheese: Parmesan, Pecorino, Manchego
Semi-hard Cheese: Cheddar, Gouda, Gruyere, Havarti, Swiss, Provolone
Blue Cheese: Roquefort, Danish Blue, Gorgonzola
Soft Cheese: Cream cheese, Brie, Fontina, Mozzarella, Camembert
Other
Then, it is time to fill in your board with dried fruits, vegetables, and nuts. Here are some suggestions
fresh berries – blackberries, raspberries, strawberries, and blueberries
grapes
figs
kiwi
peaches
orange slices
dried mango, apricot, golden raisins, or pineapple
cucumber
carrots
cherry tomatoes
green, black, or kalamata olives
cashews
almonds
pecans
pepitas
walnuts
Preserves and Spreads
Sweet and savory dips and spreads make a great addition to your board. These are some of our favorites:
honey
fig butter
fruit preserves
olive tamponade
chutney
marmalade
jalapeno pepper jelly
bacon jam
Crackers and Bread
Crackers and bread make the perfect vehicle for getting all the delicious meats and cheeses into your mouth. Try some of these:
ritz crackers
triscuits
wheat thins
baguette slices
Dessert Charcuterie Board Ideas
Since the idea of charcuterie boards have become so popular, people have taken the idea and run with it! Dessert charcuterie boards are arranged in the same smorgasbord style but with all sweets and treats instead of meats and cheeses. They are so fun and you can tailor them to any theme or add a seasonal touch.
Valentine's Day Charcuterie Board – This board has everything red, pink, white, and chocolate! Perfect for a Galentine's Day party!
Halloween Charcuterie Board – I've been too old to Trick-or-Treat for [redacted] years now. However, that doesn't mean I don't want to eat my share of Halloween candy! I'm guessing I'm not the only adult who feels this way. That's why I love this Halloween Charcuterie Board. It's the perfect party food because there is a little something for everyone. We've got sour, sweet, chocolate, fruity, and salty!
Christmas Charcuterie Board – Tis the season to be….snacking! I don't know about you guys, but during Christmas I don't want to be in the kitchen all the time cooking big meals. Usually my family has a big dinner on Christmas Eve, and then for the rest of the holidays we just kind of graze on leftovers and appetizers. I love making a Christmas Charcuterie Board like this because I can just set it out while we are visiting or playing games and everyone gets to pick and choose what they want. It is also great for holiday parties and gatherings.
Sauces, Dips, and Spreads
Check out some of our favorite sauce, dip, and spread recipes to use on a charcuterie board:
Snack Ideas for Your Charcuterie Board
Here are a few of our recipes that would make great additions to any charcuterie board!
Tips for Making a Charcuterie Board
Try arranging your plate in a way that there is a variety of colors, textures, and sizes all over the board.
Try to prepare your charcuterie board fresh, within an hour of serving
Use little serving spoons and cheese knives to make serving easier.
Use little serving cups if you need to keep things from going all over the place.
Keep any extra ingredients you have close by so you can refill the board as needed
Buy seeds, nuts, and dried fruits in the bulk section of your grocery store.
How to Make a Vegan Charcuterie Board
Vegan Charcuterie Board
Charcuterie Boards are a popular appetizer, usually made up of meats and cheeses. With this Vegan Charcuterie Board, plant-based eaters can still get in on the fun.
Ingredients
1/2

cup

vegan pesto

1/2

cup

hummus

1/2

cup

Boursin plant-based cheese spread

10

ounces

marinated olives

6

ounces

crackers

I used pita crackers, pretzel slims, and sweet potato crackers

1

cup

dried apricots

3

persian cucumbers

sliced

6

petite carrots

sliced

1

cup

strawberries

halved

3

figs

halved

1

cup

cashews

1/2

cup

pecans
Garnishes
grape clusters

vegan chocolate bar pieces
Instructions
Start by placing bowls of olives, pesto, hummus, and vegan cheese spread on the board.

Next, place larger items like crackers, fruits, and veggies.

Lastly, fill in the gaps on the board with dried fruit, nuts, and garnishes.
Notes
Nutrition Facts are approximate. 
Nutrition Information
Calories:
346
kcal
Carbohydrates:
30
g
Protein:
7
g
Fat:
24
g
Saturated Fat:
6
g
Polyunsaturated Fat:
4
g
Monounsaturated Fat:
8
g
Trans Fat:
0.1
g
Cholesterol:
11
mg
Sodium:
714
mg
Potassium:
431
mg
Fiber:
5
g
Sugar:
13
g
Vitamin A:
5928
IU
Vitamin C:
10
mg
Calcium:
93
mg
Iron:
2
mg