Dessert Charcuterie Boards are the perfect thing to make for a party. You can tailor it to fit any theme, and there is always something for everyone. Make sure to check out our Fondue Charcuterie Board recipe below!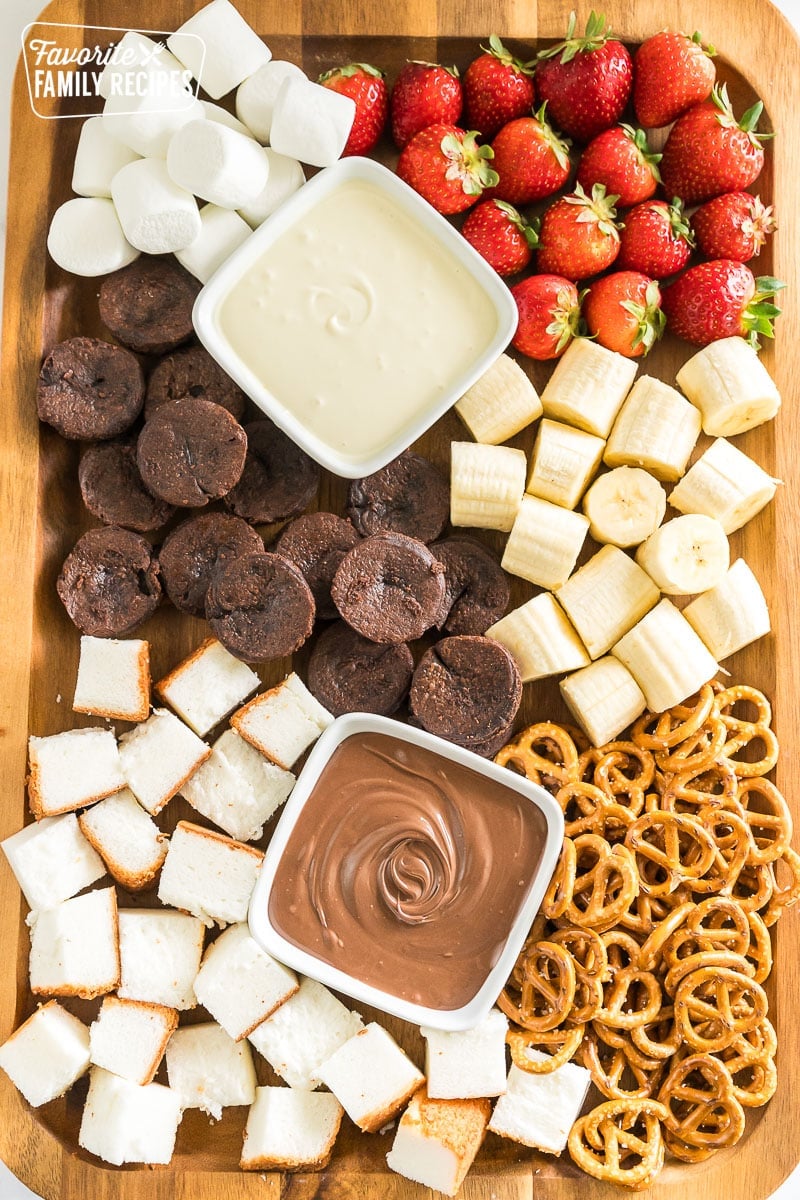 What is a Charcuterie Board?
Charcuterie boards (pronounced "shar-KOO-tuh-ree") are a trend that I have seen popping up everywhere! "Charcuterie" is a French term for displaying a variety of cured meats, mostly pork. Originally they included things like salami, prosciutto, and sausages. Modern charcuterie boards can have any variety of meats, cheeses, fruits, veggies, olives, nuts, and sauces. Typically the boards are arranged in an aesthetically pleasing and abundant fashion. If you want to learn more about how to make a traditional charcuterie board, check out our recipe HERE.
So, What is a Dessert Charcuterie Board?
Since the idea of charcuterie boards have become so popular, people have taken the idea and run with it! Dessert charcuterie boards are arranged in the same smorgasbord style but with all sweets and treats instead of meats and cheeses. They are so fun and you can tailor them to any theme. I chose a Valentine's Day theme since that is the next upcoming holiday. However, you can make one for Christmas, Easter, birthdays – pretty much any occasion.
Picking out Your Ingredients
It can be overwhelming to try and decide what to put on your dessert charcuterie board. I would suggest heading to a grocery store with a bulk section. That way, you can get a variety of ingredients without having to buy a huge bag of each one. Try to choose items with different sizes, textures, colors, shapes, and flavor. You want a little bit of everything – sweet, salty, crunch, creamy, chocolate, fruit, etc.
Dessert Charcuterie Board Ideas
There are so many delicious options for a dessert board! Feel free to use store-bought treats or make some of your own at home. Try some of our favorites and let us know your favorites below!
​Chocolate Chip Cookies
Macarons
Brownies
Donuts
Cupcakes
Chocolate Bars
Peanut Butter Cups
Candies
Chocolate Truffles
Marshmallows
Graham Crackers
Fresh Fruit – blueberries, strawberries, raspberries, blackberries, banana slices, orange slices, apple slices
Dips – caramel, chocolate ganache, cookie butter, Nutella
Valentine's Day Dessert Charcuterie Board
A few years ago I made this Valentine's Day Dessert Charcuterie Board for a Galentine's Day party and it was a hit! Here's what I used to make it.
INGREDIENTS
10 ounces hot fudge sauce recipe here
14 ounces cookie butter or biscoff spread
13 oz marshmallow fluff
2 cups jelly beans
2 cups gummy candy
2 dozen macarons
1 dozen meringue cookies
1 dozen soft sugar cookies with icing recipe here
1 dozen shortbread sandwich cookies with raspberry jam
1 box Little Debbie Valentine's Day snack cakes
14 ounces Pirouette wafers
2 dozen chocolate truffles recipe here
6 ounces fresh raspberries
2 dozen small heart shaped chocolate cookies
2 cups pretzel sticks
1 dozen strawberry creme wafers
8 ounces English toffee recipe here
2 cups conversation hearts
10 oz pink, red, and white M&Ms
1 cup sour cherry candies
sprinkles and chocolate roses for garnish
INSTRUCTIONS
Start with your sauces and spreads. Pour out each one into a small bowl. Top with sprinkles (optional) and place on the board.
Fill two more bowls – one with jelly beans and one with gummy candy. Place them on the board.
Then, start arranging the bigger items on the board (cookies, meringues, snack cakes, etc). Make sure you aren't placing like colors or like textures next to each other. Try to create different heights by stacking some items up while putting others out in a single layer.
Next, fill in open spaces with medium sized items (chocolate truffles, pretzel sticks, fresh raspberries, etc).
Finally, fill in the rest of the spaces with the smallest items (M&Ms, conversation hearts, chocolate roses, etc). You want your board to look very full and abundant, so make sure to fill every space and the edges of the board.
Measurements are approximate. I used an 18in x 24in board, but you can scale this recipe up or down depending on the size of your board.
The serving size of 50 is approximate. This would provide a minimum of 2 cookies and about ¼ cup of candy per person.
More Sweet Charcuterie Board Ideas
Candy Charcuterie Board
If you like having friends and family over for a movie night or game night, then this Candy Charcuterie Board is perfect for you! With a combination of salty and sweet treats, this board is guaranteed to satisfy any sweet tooth. Customize this board to your tastes and make it the centerpiece of your next gathering. Everyone will love munching on this board while chatting, watching movies, or playing games!
Breakfast Charcuterie Board
If you are hosting a breakfast and need inspiration, then look no further! This Breakfast Charcuterie Board will please your guests eyes and also their taste buds. This snack board is full of breakfast favorites and is perfect for holidays like Easter, Christmas morning, or Mother's Day. Customize everything to your liking and enjoy all the different waffle and topping combinations.
Breakfast Charcuterie Board
Set up a DIY breakfast charcuterie board with these step by step instructions. This project is perfect for a party and is sure to impress.
View This Recipe
Halloween Charcuterie Board
Creating a Halloween charcuterie board is a fun and festive way to share a fun Halloween snack board. That's why I love this Halloween Charcuterie Board. It's the perfect party food because there is a little something for everyone. We've got sour, sweet, chocolate, fruity, and salty!
Halloween Charcuterie Board
This Halloween Charcuterie Board makes the perfect centerpiece for any gathering of ghosts and ghouls! Ditch the traditional meat and cheese board for one filled with chocolates and candy. 
View This Recipe
Christmas Charcuterie Board
Usually my family has a big dinner on Christmas Eve, and then for Christmas Day we just kind of graze on leftovers and appetizers. I love making a Christmas Charcuterie Board like this because I can just set it out while we are visiting or playing games and everyone gets to pick and choose what they want. It is like a combination of a cheese board and a dessert! It is also great for holiday parties and gatherings.
Christmas Charcuterie Board
This Christmas Charcuterie Board is full of cheese, meats, and treats! It makes a great addition to any holiday gathering, large or small. 
View This Recipe
More Charcuterie Board Ideas
Charcuterie boards are so easy to make and always make for an impressive spread. Bring one of these and you will easily be the star of your next party!
How to Make a Fondue Dessert Charcuterie Board
We love Dessert Charcuterie boards in every theme, but this Fondue Charcuterie Board is one of our favorites! It is perfect for a night cuddling up on the couch or for a game night with friends!
Fondue Dessert Charcuterie Board
This is the ultimate fondue dessert charcuterie board and perfect for date night or game night! Plus it can be customized to your taste.
Ingredients
1

cup

milk chocolate chips

1

cup

white chocolate chips

16

ounces

pretzels

16

ounces

marshmallows

13

ounces

brownie bites

1

pound

strawberries

3

bananas

sliced

10

ounces

angel food cake

cubed
Instructions
Place milk chocolate chips in a small bowl and microwave in 30 second intervals until melted. Stir well between each interval. Repeat with white chocolate chips. Place on board.

Fill in space on the board with all remaining items.
Notes
Nutrition Facts are approximate and based on splitting the board evenly.
Don't forget to wash and dry your serving tray before making your board.
Keep extra supplies nearby to refill the board as people snack from it. 
Nutrition Information
Calories:
251
kcal
Carbohydrates:
49
g
Protein:
4
g
Fat:
5
g
Saturated Fat:
2
g
Polyunsaturated Fat:
0.4
g
Monounsaturated Fat:
1
g
Trans Fat:
0.01
g
Cholesterol:
2
mg
Sodium:
286
mg
Potassium:
130
mg
Fiber:
1
g
Sugar:
26
g
Vitamin A:
25
IU
Vitamin C:
10
mg
Calcium:
34
mg
Iron:
1
mg
Love this recipe?
We want to hear from you! Please leave a review.