Charcuterie boards are so easy to make and always make for an impressive spread. Bring one of these and you will easily be the star of your next party!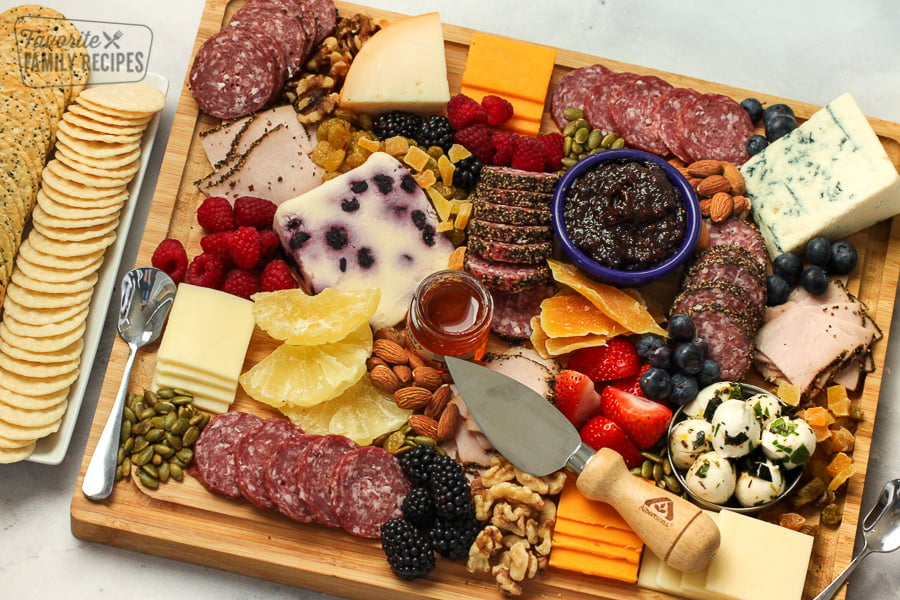 What is a Charcuterie Board?
"Charcuterie" roughly translated from French means "delicatessen". It is basically a serving of a variety of meats. The latest trend is adding cheese, fruit, crackers, and a variety of all sorts of little finger foods onto a large tray along with the meat. I love charcuterie boards because the possibilities are ENDLESS. I love trying all the different combinations of meats, cheeses, and spreads.
Charcuterie Pronunciation
I have heard the word "charcuterie" pronounced all sorts of ways, however, the correct pronunciation is "shar-koo-tuh-ree".
Get Everything You Need In One Place
I found everything I needed to make this beautiful platter at my local grocery store, Albertsons. If you are going to do a charcuterie board, do it right and get quality ingredients. Trust me, it makes a huge difference! The Primo Taglio meats and cheeses in their deli are my FAVORITE. They have so much flavor (without all the preservatives) and took my charcuterie board to the next level.
They also have bulk bins so I could just get a small amount of dried fruits and nuts which saved a ton from having to buy whole packages of each item (see more in the "tips" section below).
What Meats Go On A Charcuterie Board
A true charcuterie board is served with a variety of cold cuts and meats. You can literally use anything that you think your guests will like. On this tray, we used Primo Taglio® meats. They have a pepper turkey that is outstanding served with the brie and fig butter. YUM. We also used some hard and regular salami. Some other meats you can use are:
ham
pepperoni
prosciutto
roast beef
bacon
What Cheeses To Use
For our platter we used all Primo Taglio cheese from the deli area at Albertsons. There were so many to choose from it was so hard to decide! We got the mozzarella balls and marinated them in olive oil and fresh basil. When making a charcuterie board, remember to choose cheeses with a variety of firmness and textures.
Here are some more ideas:
Hard cheese: Parmesan, Pecorino, Manchego
Semi hard cheese: Cheddar, Gouda, Gruyere, Havarti, Swiss, Provolone, etc…
Blue Cheese: Roquefort, Danish Blue, Gorgonzola
Soft Cheese: Cream cheese, Brie, Fontina, Mozzarella, Camembert
Fresh and Dried Fruit
For our charcuterie board we used fresh strawberries, blueberries, blackberries, and raspberries. For the dried fruit we used mango, apricot, golden raisins, and pineapple. Here are some more suggestions:
grapes
figs
huckleberries
kiwi
orange slices
any dried fruit
Vegetables
We actually didn't use any vegetables on our board, mostly because they take up a lot of room. It was easier to serve the vegetables on a separate tray. However, if you have a giant board, you can add vegetables right along with everything else! Try some of these:
cucumber
carrots
celery
snap peas
tomatoes (a fruit but best served with the vegetables)
green, black, or kalamata olives (again, a fruit but goes best with the veggies)
Nuts and Seeds
For the nuts and seeds we used almonds, walnuts, and roasted pepita seeds (a variety of pumpkin seed). You can use any variety of nuts and seeds you would like. Go to the bulk section of your store and try finding some with different seasonings and glazes!
Preserves and Spreads
Try using a variety of preserves and spreads to serve along with your charcuterie board. We used fig butter and honey for our platter. Here are some other ideas:
fruit preserves
jam
olive spread
chutney
marmalade
Crackers/Bread
We used some whole grain crackers and gluten-free crackers for our charcuterie board. It is always a good idea to make sure you can have some kind of GF cracker to accommodate those with gluten allergies. You can also use sliced French baguettes or other bread pieces.
How To Arrange A Charcuterie Plate
Try arranging your plate in a way that there is a variety of colors, textures, and sizes all over the board. Use little serving cups if you need to keep things from going all over the place, that is totally fine. There really is no wrong way to make a charcuterie board!
Tips For Making A Charcuterie Board
Try to prepare your charcuterie board fresh, within an hour of serving
Use little serving spoons and cheese knives to make serving easier
Keep any extra ingredients you have close by so you can refill the board as needed
Buy seeds, nuts, and dried fruits in the bulk section of your grocery store.
More Charcuterie Boards
Since the idea of charcuterie boards have become so popular, people have taken the idea and run with it! Dessert charcuterie boards are arranged in the same smorgasbord style but with all sweets and treats instead of meats and cheeses. They are so fun and you can tailor them to any theme. Check out our Valentine's Day Dessert Charcuterie Board, our Halloween Dessert Charcuterie Board, and our Christmas Charcuterie Board.
How to Make a Charcuterie Board
How to Make a Charcuterie Board
Charcuterie boards are so easy to make and always make for an impressive spread. Bring one of these and you will easily be the star of your next party!
Ingredients
½

pound

Primo Taglio cheese

(2-3 varieites, cut into 1 1/2"squares)

4

ounces

fresh mozzarella balls

(marinated)

4

ounces

soft cheese

(2-3 varieties, see suggestions above)

4

ounces

semi-firm cheeses

(or firm, 2-3 varieties, see suggestions above)

1/2

pound

Primo Taglio cold cuts

(2-3 varieties, sliced into 1 1/2" squares or circles)

4

ounces

hard salami

1/2

cup

fruit preserves

(fig, strawberry, raspberry, etc…)

1/3

cup

honey

1

pound

fruit

(2-3 varieties of dried and fresh, see notes above)

1

pound

vegetables

(2-3 varieties, see notes above)

1

pound

nuts & seeds

(3-4 varieties, see notes above for suggestions)

1

pound

crackers
Instructions
On large wooden cutting board (I used one that is about 15×20") or plate arrange cheeses randomly across the board. Place mozzarella balls in a small dish to keep them from rolling around.

Next, cut meats into small servings and place on the board. Try to use a variety of sizes and textures randomly over the board.

Place fruit preserves and honey in little bowls or serving cups and place on the board.

Wash all fresh fruits and vegetables and cut into small serving sizes. Place fruit, dried fruit, vegetables, and nuts randomly across the board, again trying to use a variety of textures on different parts of the board.

Fill in all the empty spaces you can. If you have a lot of empty spaces, fill them with crackers or serve the crackers on the side.
Nutrition Information
Calories:
573
kcal
Carbohydrates:
45
g
Protein:
20
g
Fat:
37
g
Saturated Fat:
11
g
Cholesterol:
44
mg
Sodium:
828
mg
Potassium:
395
mg
Fiber:
5
g
Sugar:
15
g
Vitamin A:
1820
IU
Vitamin C:
4.3
mg
Calcium:
294
mg
Iron:
3.1
mg