You don't have to travel to New Orleans or a Disney park to enjoy delicious beignets. Our beignet recipe is easy to follow and the beignets taste AMAZING! 
New Orleans Beignet Recipe
This beignet recipe makes the best beignets ever! They are fluffy yet have some density to them and are topped with the perfect dusting of powdered sugar. I first had beignets while visiting Louisiana. This is my favorite dessert from the beautiful city of New Orleans. If you've never been there, you should definitely put it on your bucket list. It's a fascinating city full of rich culture, history, and food (of course!).
Prior to trying beignets, I heard they were fantastic. Like most foodies, I was a little skeptical. I've had my fair share of trying foods that have been hyped up by the masses and a lot of them have turned out to be fairly disappointing. I'm happy to report that not only did I absolutely love them, I liked them enough to come home and put together my own beignet recipe so I could recreate them anytime I wanted.
What is a Beignet?
For those that aren't familiar, beignets are a square doughnut that is covered in powdered sugar. Did you ever see Disney's Princess and the Frog? Beignets are the dessert they eat at the beginning of the movie. When we were visiting New Orleans we regularly hit up the famous Cafe Du Monde for these tasty treats!
Insider tip: if you are at Disneyland, they have the closest replica beignet recipe to the Cafe Du Monde version that I have tasted so far outside of this beignet recipe. Just another reason to head to Disney, if you need one. 
This beignet recipe is simple to make, but it is time-consuming in the sense that the recipe needs time to rest and rise. When making the beignets, be sure to prepare the dough at least 4 hours before you plan to serve them. They need at least 3 hours to rise in the fridge then 30 to 40 minutes more out of the fridge. I promise you, the wait is well worth it! Plus, this beignet recipe makes for a fantastic make-ahead meal, which is always nice.
Dipping Sauces for Beignets
In the restaurant in New Orleans Square, they serve beignets with delicious dipping sauces, which takes the experience to a whole new level. It is my absolute favorite way to eat them.
When I make this beignet recipe, I also make three amazing sauces for dipping. It's a bit of extra work but the extra flavor is totally worth it. Plus, everyone loves a good dip. Here's the easy recipe for my favorite sauce trio: Chocolate Hazelnut, Butterscotch Caramel, and Vanilla Raspberry sauces.
More Favorite Recipes from New Orleans
If I haven't made it clear yet, we are big fans of the delicious flavors in New Orleans. My time in the city has been well-spent as I always come back with loads of new recipes to recreate.
Check out more of our favorite copycat recipes from our visits to New Orleans here: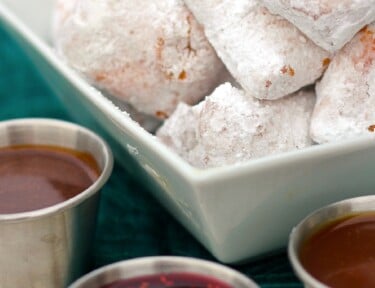 New Orleans Beignets
Our delicious New Orleans Beignets are fun to make during Mardi Gras or anytime of year. We discovered beignets on a visit to New Orleans and have also enjoyed them each time we visit the Disney parks.
Instructions
Combine the yeast, water, and sugar and let sit until frothy, about 5 minutes.

In a large bowl or mixer, combine the yeast mixture with the egg, salt, and evaporated milk. Blend in about half the flour, then add the shortening and blend in well, then add the rest of the flour. You want the dough to be soft but not sticky. Add small amounts of flour as needed. It's best when the dough just barely stops sticking to the side of the bowl or mixer.

Cover loosely and let the dough raise in the fridge at least 3 hours or overnight.

Punch down the dough and place it on a lightly floured surface. Roll the dough out into a large square. Using a knife or pizza cutter, cut the dough into 2 inch squares for mini beignets. For full size beignets make 4 inch squares. Remove squares to a cookie sheet lined with cooking spray and let raise for 30 to 40 minutes.

Pour vegetable oil into a deep fry pan over the stove on medium high to heat. When oil is hot, test a small piece of dough in the oil to make sure it's hot enough, the dough should float to the top and begin to brown within a few seconds.

Prepare by setting out a large plate topped with paper towels and a large slotted spoon near the stove, these cook quickly! Also fill your paper bag with about a cup of powdered sugar.

Carefully place several pieces of dough in the oil, when you see the edges turning golden, quickly flip them over and cook for a few seconds more. Use a slotted spoon to remove dough from the oil and place on the paper towels. Let drain for about 30 seconds.

Toss beignets into the paper bag filled with powdered sugar. Seal the top and shake to coat. Add more powdered sugar as needed as you go. Remove beignets to a plate and serve immediately, they taste best warm!
Notes
Prep time includes the time it takes the dough to raise in the refrigerator and at room temperature.
Nutrition Information
Calories:
284
kcal
Carbohydrates:
50
g
Protein:
8
g
Fat:
6
g
Saturated Fat:
2
g
Cholesterol:
25
mg
Sodium:
173
mg
Potassium:
123
mg
Fiber:
2
g
Sugar:
8
g
Vitamin A:
70
IU
Vitamin C:
0.3
mg
Calcium:
53
mg
Iron:
2.7
mg