These Peach Cinnamon Rolls are a heavenly twist on a traditional breakfast roll. Such a great way to enjoy peach season for breakfast, lunch, dinner or a snack.

Peach Cinnamon Rolls
With peach season in full-swing right, I have been trying to get creative with my peach recipes. I have been craving cinnamon rolls lately and came up with the idea of combining some of my fresh peaches with cinnamon rolls… um… yes. May I present to you ooey, gooey, creamy, fruity Peach Cinnamon Rolls. Seriously, they turned out better than I was hoping. I am telling you, this is heaven in every delicious creamy, gooey bite. You will be wishing that peach season was never-ending. These make for an awesome breakfast, afternoon treat, or even dessert. No matter how or when you serve them, they will be a huge hit!
READ NEXT: 33+ Super Easy Breakfast Ideas
Serve Them on the Side
If you are looking to round out this delicious roll as part of a full breakfast, we have several great options for you to consider. Pair up a few of these for a fabulous brunch. And let us know how it all works out.
How To Make Peach Cinnamon Rolls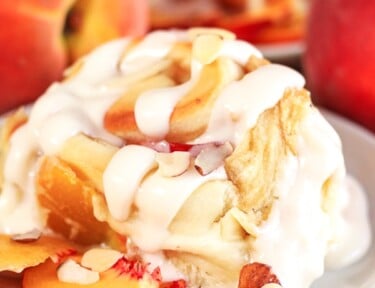 Peaches and Cream Cinnamon Rolls
These make for an awesome breakfast, afternoon treat, or even dessert. No matter how or when you serve them, they will be a huge hit!
Ingredients
For the cinnamon/peach filling:
Instructions
In small bowl, combine water, yeast and sugar. Set aside for 10 minutes.

Warm milk in microwave for 2 minutes. In a large bowl or heavy mixer combine milk, softened butter, salt and sugar. Mix together until butter is melted.

Add eggs one at a time and 3 cups flour. Mix for 2 minutes.

Add yeast mixture and 2 cups flour. Mix well. Let dough sit for 10 minutes. If using a standing mixer, now is the time to change to a dough hook.

Continue to mix while slowly adding remaining 2 ½ cups flour. Dough will start pulling away from the sides of the bowl, but is still quite sticky. Beat 3 more minutes.

Coat another large bowl with 2 tablespoons oil. Take dough out of mixing bowl and place in oiled bowl, turning over once to coat each side.

Place clean towel over bowl and let raise in a warm spot for 45 minutes.

After 45 minutes, put dough out onto floured surface. Knead by hand, adding a little flour if needed. DO NOT USE TOO MUCH FLOUR! You want dough to remain very soft!

With rolling pin, roll dough into a rectangle shape about the size of a jelly roll pan (11×15 inch) and ½ inch thick. Melt ⅓ cup butter in microwave for 30 seconds or until just melted. Spread over dough. Sprinkle ¼ cup sugar and ¾ cup brown sugar over butter.

Arrange peach slices evenly over the dough and sprinkle evenly with cinnamon and almonds (optional).

Roll up starting with the long side; pinch seam to seal. Cut into 1 inch rolls and place on greased cookie sheet. Cover and let rise another 45 minutes. Bake at 350 degrees for 16-20 minutes or until lightly browned. Cool for 10 minutes before frosting.
For the frosting:
In a medium bowl, mix cream cheese, butter, almond extract and vanilla until smooth. Slowly add powdered sugar until desired consistency is reached. Spread over warm cinnamon rolls.
Nutrition Information
Calories:
716
kcal
Carbohydrates:
120
g
Protein:
11
g
Fat:
22
g
Saturated Fat:
11
g
Cholesterol:
67
mg
Sodium:
494
mg
Potassium:
230
mg
Fiber:
3
g
Sugar:
70
g
Vitamin A:
723
IU
Vitamin C:
1
mg
Calcium:
88
mg
Iron:
4
mg