The best shrimp recipes are full of flavor, easy to make, and look amazing. And, of course, they're delicious! If you're looking for the best shrimp recipes, you came to the right place. These are our Top 10 favorites from our followers on Pinterest, Facebook, and Instagram.
Top 10 Shrimp Recipes
These recipes have been viewed, liked, shared, and commented on by millions of our followers and readers. It is apparent that YOU love shrimp as much as WE do! These wonderfully easy shrimp recipes are guaranteed to be a hit with your family and friends. Check out these fresh and flavorful dishes, then comment below to let us know which one is your favorite!
This Southern favorite originated in Louisiana in the late 1920s. Workers who were on strike against a streetcar company and they were given free fried shrimp sandwiches by a local restaurant. The restaurant employees nicknamed the strikers "poor boys" and so the name "Po Boy" caught on. Traditionally, this po boys recipe is a classic sub sandwich served on a soft baguette roll.
"Oh. My. Goodness!! This was awesome! The sauce is so so good! Quick and easy to make anytime….. it's a recipe that is outside of the usual quick dinner meals….I will definitely be making this more often…..it will become a regular dinner meal!"

Beth
Shrimp Po Boy with Creamy Cajun Sauce
A Shrimp Po Boy is the ultimate sandwich for seafood lovers! Tender shrimp drizzled with creamy, spicy sauce, topped with crunchy cabbage on a soft roll.
View This Recipe
We make Cajun Shrimp foil packets all the time for dinner in the summer! When the temps start reaching triple-digits, I will do anything I can to keep the heat out of my kitchen. The whole family loves them and there is no mess. Not only are they convenient, but they are filled with shrimp, andouille sausage, corn, potatoes, and lots of Cajun flavor!
"This is by far one of the easiest most delicious recipes I have ever made. My husband and I can't get enough of it! I use our homemade smoked ring sausage that we make every year and have found that we like it best with that. Probably because it has a heavier smoke."

Viv
Cajun Shrimp Foil Packets
You will love grilling up these Cajun Shrimp Foil Packets. The Cajun flavors give the shrimp, sausage and corn so much flavor, and there is NO MESS!
View This Recipe
Shrimp Taco Bites are the perfect appetizer because they work great for almost ANY type of gathering AND they are SO easy to make. Oh, and did I mention that they are DELICIOUS? If you are a shrimp taco lover like I am, these shrimp taco bites will quickly become one of your favorite appetizers. This is our most pinned recipe on Pinterest, so trust your fellow readers, they're delicious!
"I took these to our family's New Year's party and they were a HIT! Everyone kept saying, "I have to quite eating those, but I just can't!" They were gone in a flash. And they were so easy! This is my new go-to party food! Thank you for sharing it!!!"

Janelle
Shrimp Taco Bites with Cilantro Cream Sauce
These shrimp taco bites are the perfect appetizer for when you don't have a lot of time. These can be made in less than 15 minutes! You will love the flavor of these tasty little bites!
View This Recipe
Shrimp and pasta are a match made in heaven! Throw in a creamy, cajun sauce and you've got something absolutely divine. This is one of the most requested dinners when I have company. It's a simple recipe that takes under 30 minutes to make, but it looks and tastes like a gourmet dish.
"My favorite dinner ever! I made it for myself on Mother's Day because I wanted this instead of something from my husband's repertoire. Lol!"

Brook
Creamy Cajun Shrimp Pasta
This Creamy Cajun Shrimp Pasta was inspired by a favorite New Orleans dish. The creamy sauce with the slightly spicy, buttery shrimp is to die for!

View This Recipe
This Bang Bang Shrimp from Bonefish Grill is one of our very favorite copycat shrimp recipes. You will love the crispy shrimp paired with the slightly spicy, slightly sweet sauce. Serve it on its own, over pasta, in tacos, or over a salad. There are so many ways to enjoy this tasty shrimp!
"Thank you so much for sharing this amazing bang bang shrimp recipe! Will surely have this again! It's really easy to make and it tasted so delicious! Highly recommended!"

Alyssa
Bang Bang Shrimp
You are going to love this light and crispy Bang Bang Shrimp copycat from Bonefish grill. The sauce is incredible. We love spicing it up with a little extra Sriracha.
View This Recipe
You are going to love this Grilled Shrimp Salad! It has everything that I love in a good salad, lots of delicious flavor and still low in calories. For the dressing we use a delicious and healthy cilantro verde sauce. It is the perfect dressing that adds a little extra kick to this already savory and lightly spicy salad.
"I made this the other night for dinner and my husband was wild about it. I thought it was great too. I put a little extra feta on it. You just can't have too much feta! Thanks girls."

Susan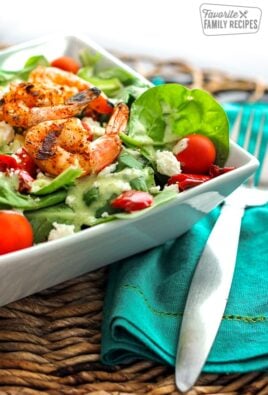 Grilled Shrimp Salad with Cilantro Verde Dressing
Grilled Shrimp Salad with Cilantro Verde Dressing is light yet filling, piled with plump shrimp and fresh, vibrant ingredients. A perfect summer lunch or supper!
View This Recipe
This spicy Jambalaya with Chicken, Sausage, and Shrimp is a great comfort food all year round, but is delightful if you're celebrating Mardi Gras! Chock full of meat, rice, lots of spices, veggies and a kick of Tabasco, this dish is like a party in your mouth!
"We thought this jambalaya was delicious! This recipe is a total keeper!"

Wilhelmina
Jambalaya with Chicken, Sausage, and Shrimp
Jambalaya with Chicken Sausage and Shrimp is a spicy, savory Cajun dish full of meat, rice and spices. This dish will make you feel like you are enjoying flavors right in New Orleans.
View This Recipe
This easy Shrimp Taco Recipe makes the best meal or snack. Tender bite-size shrimp, crunchy cabbage and spicy sauce comes together in about 10 minutes and disappears even faster! They're so easy to throw together on a busy weeknight or as an after school snack for my kids, and my husband asks for them all the time. They are a regular rotation meal at our house!
"These were so awesome!!!! Made them for dinner tonight and they were so so so GOOD! My husband loved them. And I loved that they were such a healthy meal! Thank you so much for sharing. Definitely going on our repeat meal list! Thanks again!"

Ashley
Shrimp Tacos with Slaw
Shrimp Tacos are piled high with tasty, plump shrimp, homemade slaw and tangy cilantro avocado sauce layered in warm flour tortillas. A healthy, easy summer dinner or the perfect party food!
View This Recipe
Shrimp and Grits is a classic Southern comfort food meal that our whole family loves. It is traditionally a breakfast meal, but a lot of people enjoy it for lunch or dinner. It start out with cheesy, creamy homemade grits. Then, you add a savory, spicy tomato sauce. Finally, you top the dish off with buttery, tender shrimp, Andouille sausage, and corn.
"Wow! So much FLAVOR! This is bussin! Super delicious! I love the shrimp WITH the sausage! And the spices are perfection!"

Betsy
Shrimp and Grits
Shrimp and Grits is a classic Southern dish BURSTING with flavor. You'll love the tender shrimp, spicy sauce, and cheesy, creamy grits.
View This Recipe
Shrimp Alfredo Pasta is a decadent dish that's sure to impress! Creamy and savory, rich and indulgent, yet easy enough to whip up in just minutes. If you're looking to impress someone, try this dinner! You'll get all the accolades without slaving away in the kitchen. Plus, it tastes oh so delicious.
"Such a simple and delicious recipe!"

Justine
Shrimp Alfredo Pasta
Shrimp Alfredo Pasta is a decadent dish that's sure to impress! Creamy and cheesy, rich and indulgent, yet easy enough to whip up in just minutes.
View This Recipe
Our Favorite Shrimp Appetizers
Shrimp is so versatile and delicious! Whether you're entertaining or just want to try something new, these shrimp appetizers showcase the versatility and flavor of shrimp!