We love grilling up Cajun Style Grill Foil Packets. We can't get enough of the Cajun flavors with the grilled corn and sausage and shrimp, and there is NO MESS!!
We have been making foil dinners a lot lately because it has been so HOT here in Idaho! When the temps start reaching triple-digits, I will do anything I can to keep the heat out of my kitchen. We love doing grill foil packets in the summertime because they don't heat up the house.  The whole family loves them and there is no mess.  That is the best part!
Surprisingly, many people I have talked to don't know how to make grill foil packets. There really isn't much to them.  They are so easy to do! You just throw all the food in, fold it up (see how to fold up grill foil packets below) and put it over a grill, a campfire, or even in the oven.
Not only is there virtually no mess when making them, there is no mess when eating them either! My family will eat them right out of the foil packet, crumple up the foil, and throw it away. This is the perfect meal for camping. You can prepare the packets ahead of time and throw them on the fire when you get to your campsite.  Clean up is a breeze!
If you don't have a grill or aren't wanting the outdoor experience, you can also make these in your oven at 400-degrees for the same amount of time.  Place each packet on a cookie sheet and bake as you would on the grill.  Another great thing about these foil packets is that each person can make and customize their own, which makes EVERYONE happy.  This prevents picking through and removing contents that someone else would enjoy.  We like to dip some of the contents of the packets in ranch dressing or BBQ sauce, but it is great as-is if you want to serve it plain.
If you haven't tried grill foil packets yet, now is the time. You are going to love them! Also be sure to try our Grilled Foil Ranch Potatoes.  They are a great side dish to any outdoor meal. If you are looking for something sweeter, our Grilled Banana Split Boats are the perfect foil-wrapped dessert!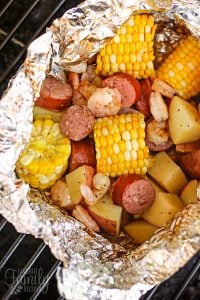 Cajun-Style Grill Foil Packets
We love grilling up Cajun Style Grill Foil Packets. We can't get enough of the Cajun flavors with the corn and sausage and shrimp, and there is NO MESS!
Cuisine:
Camping/Grilling
Ingredients (with Amazon Links)
8-12

pieces

corn on the cob,

4 full cobs cut in half or in thirds

4

red potatoes,

washed and cubed

20-30

uncooked shrimp,

peeled or not, it's up to you

1

lb.

smoked sausage,

cut into chunks

melted butter,

or olive oil, to taste

1/2

c.

chicken broth,

you may not need that much

Cajun/Creole seasoning,

we like to use Tony Chachere's brand, to taste

salt and pepper,

to taste
Instructions
Heat grill to 400-degrees. You can do this in your oven at the same temperature.


Evenly distribute corn, potatoes, shrimp, and sausage between 4 heavy-duty foil sheets (approximately 12x18 inches each).


Drizzle melted butter and about 2 tablespoons chicken broth over each foil packet.


Season evenly and generously, to taste, with Cajun seasoning, salt, and pepper.


Tightly seal foil packets by folding up the sides over the contents and tightly folding up the ends over the seam.


Grill 30-40 minutes or until potatoes are tender, flipping once half-way through


Be careful opening the packets to check for doneness, the steam inside is VERY hot!
Other Favorite Recipes from New Orleans
We are big fans of the delicious flavors in New Orleans and have made a bunch of yummy copycat recipes from our visits there.
Notes
Some people have found that their potatoes don't get cooked. Some of our readers have recommended boiling or microwaving the potatoes for a minute or two before adding to the packets. We haven't had a problem with the potatoes being under done, but this is definitely an option for those of you who are concerned about it.  Another option would be to cut the potatoes smaller so they cook faster.
Reader Suggested Add-Ins
Italian Sausage
Chicken Breast
Red Potatoes
Yellow and Red Bell Peppers
Mushrooms
Carrots
Red Onions
Celery