This white chocolate raspberry bundt cake Copycat tastes just like the popular bakery version! Creamy, flavorful, easy to make at home!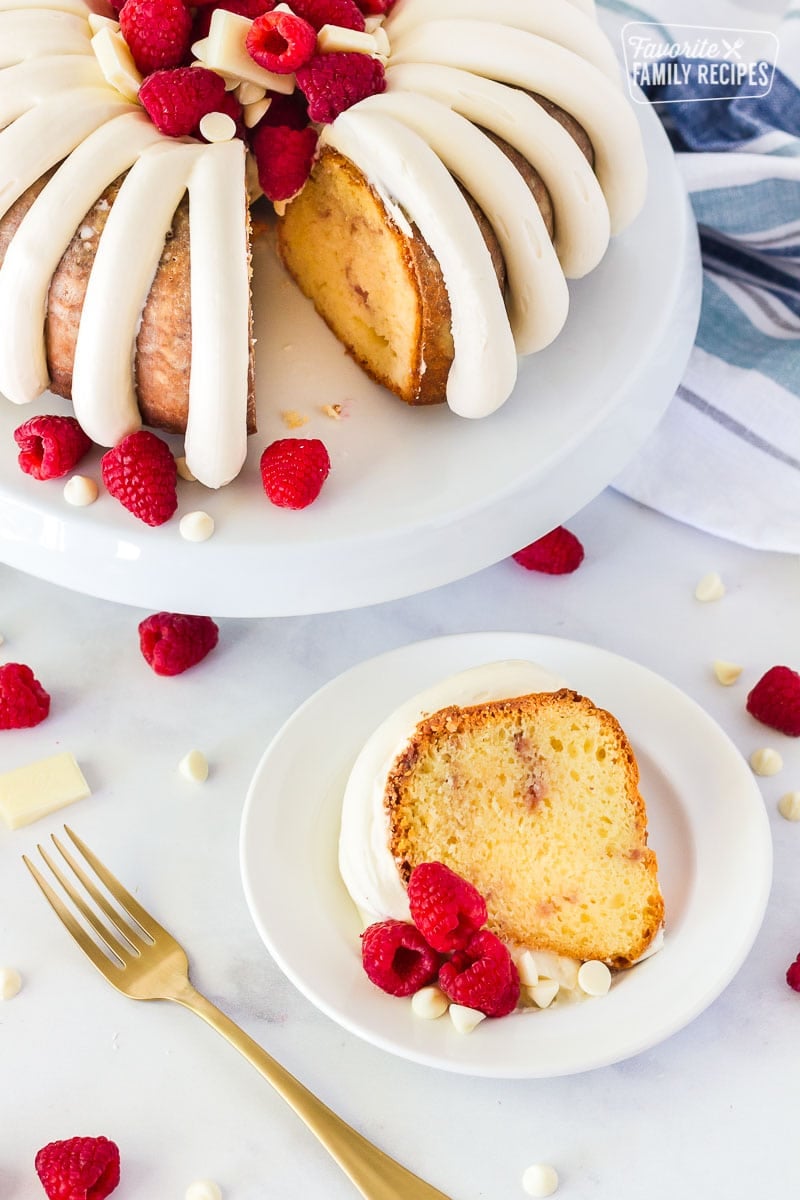 White Chocolate Raspberry Bundt Cake
Our version of Nothing Bundt Cakes White Chocolate Raspberry Bundt Cake is spot on! I don't think you can get much closer to the real thing without walking into Nothing Bundt Cakes and buying one yourself. Rich, moist cake is filled with an easy raspberry filling and topped with luscious cream cheese frosting. This is a bundt cake recipe that looks complicated, but it's actually really easy! All the flavors complement each other, and the presentation is beautiful. This gorgeous cake is a perfect centerpiece for birthdays, baby showers, bridal showers, or any other special occasions when you want to splurge on a sinfully sweet dessert.
Ingredients in White Chocolate Raspberry Bundt Cake
For the dry ingredients, save yourself some time and use a box of white cake mix. Then, you don't need to worry abut a homemade flour mixture.
To the dry cake batter, add a package of instant white chocolate pudding mix (dry)
In a large mixing bowl , add a cup of sour cream – adds so much moisture to the cake
Eggs – you'll need four large eggs to add at medium speed.
Water – if you want to make an even richer cake, you can substitute the water for buttermilk or whole milk
Vegetable oil
White chocolate chips, chopped into smaller pieces. You can even use a food processor to chop them up.
Raspberry pie filling – or see alternatives below
For the frosting: you'll need softened butter, softened cream cheese, powdered sugar, and a couple teaspoons vanilla extract. Use a paddle attachment on a stand mixer, whip the frosting until light and fluffy
For The Raspberry Filling
The raspberry filling seems to be hit-or-miss with our readers. I have personally tried seedless raspberry jam, regular raspberry jam, raspberry pie filling, and also a cup of frozen raspberries dusted with 1 Tablespoon of flour, all with success. Some readers have found that smashed fresh, drained raspberries work well, too. It seems that the fresh or frozen raspberries dusted with flour is working the best overall, rather than jam or filling. You can also add a squeeze of lemon juice into the filling for an extra tart flavor.
Tips For Baking at High Elevations (over 3,000 feet)
Baking cakes (especially bundt cakes) can be tricky depending on what elevation you are baking at. Many readers have had great success with this recipe and others have difficulty with it setting up. Here are a few tips for having success at higher elevations (as suggested by King Arthur Baking):
Oven Temperature – Increase oven temperature 25 degrees
Baking Time – Check your cake at 40 minutes for doneness, and every 5-10 minutes afterward until baked through (do the "knife test" to check)
White Chocolate – Reduce white chocolate to ½ – ¾ cup
Water – Increase water by 1 to 2 tablespoons at 3,000 feet. Increase by 1 ½ teaspoons for each additional 1,000 feet.
Flour – At 3,500 feet, add 1 more tablespoon per recipe. For each additional 1,500 feet, add one more tablespoon.
Oil – Use ½ cup softened butter instead of ½ cup oil
Suggestions for White Chocolate Raspberry Cake
For this recipe we have used this bundt pan. We have had success using these pan every time. Use a good quality bundt cake pan. If you use a different kind of pan you may need to make time/temp adjustments.
When making a bundt cake, you want to be sure to generously grease AND flour (I like using softened butter to grease the pan) or spray the cake pan with non-stick cooking spray, making sure to get every little nook and cranny.
Before the cake is completely cool, carefully run a knife between the cake and the pan. Turn the plate or platter you will be serving the cake on upside down and place it on top of the cake (still in the bundt pan). Holding the plate and bundt pan together, flip so the plate is now on the bottom and the bundt pan on top. This will hold the cake in the bundt pan. Once upside down, tap the handle of a butter knife along the bottom of the bundt pan (that is now flipped to be on top). The cake should come out very easily onto the plate.
To get the frosting like in the picture, fill a gallon size Ziplock bag, or a pastry bag, with the frosting and chill for about 30 minutes. Cut off a bottom corner at about a half inch diagonal cut, depending on how big you want the "frosting strips". Frost cake by squeezing out the frosting from the outside of the cake toward the middle.
If you can't find white chocolate pudding mix, vanilla is a good substitute.
Read through the comments for suggestions from readers. Some had great success just as the recipe was written, and other had success adjusting the recipe to their elevation and/or tastes.
More Nothing Bundt Cakes Copycat Recipes
I first discovered Nothing Bundt Cakes while living in Las Vegas, but they now have locations all over the country. The cakes are moist, rich, and beautifully decorated, but they're also quite pricey. So I decided to recreate some of my favorites at home. I can't play favorites, but the Chocolate Chocolate Chip Bundt has become one of the most requested birthday cakes in the family. Try our versions of the Lemon Bundt Cake and the Pumpkin Chocolate Chip Bundt Cake.
More Cake Recipes
If you love cake, you are in the right place! Check out some of our favorite cake recipes that make the perfect dessert for any occasion.
How to Make Chocolate Raspberry Bundt Cake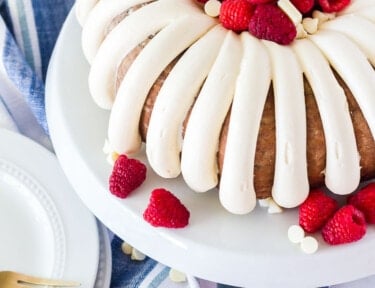 Nothing Bundt Cakes White Chocolate Raspberry Cake Copycat
This Nothing Bundt Cakes White Chocolate Raspberry Cake Copycat tastes just like the popular bakery version! Creamy, flavorful, easy to make at home!
Equipment
Bundt Cake Pan

Electric Mixer

Mixing Bowls
Instructions
Spray a non-stick formed aluminum bundt pan with cooking spray (see above) and lightly flour the edges. Preheat your oven to 350-degrees. Gather your ingredients.

Mix first six ingredients together with a beater. Fold in white chocolate chips.

Fill prepared bundt pan with half of the batter.

Spoon half of the raspberry preserves in 5-6 small, separated teaspoon-sized spoonfuls over the batter (so it looks like separate tiny clumps of filling over the top).

Using a knife swirl the filling through the cake. Pour remaining batter in evenly and spoon in remaining pie filling, repeating the "swirling" process above.

Cook in oven at 350 degrees for 45-50 mins. (do the "knife test" to determine doneness). If the knife does not come out clean, keep placing back in the oven for 3-5 min at a time until it does.

Remove from oven. Let cool for 10 mins. Remove from pan. I think it tastes most like a Nothing Bundt Cake if you put it on a serving plate, wrap it well in Saran Wrap, and let it sit overnight in the freezer before frosting and serving.

In a medium bowl, cream together the cream cheese and butter until creamy. Mix in the vanilla, then gradually stir in the powdered sugar (start with 2 cups then keep adding more until it is nice and thick).

Note: To get the frosting like in the picture. Fill a gallon size Ziplock bag with the frosting and chill for about 30 minutes. Cut off a bottom corner at about a half inch diagonal cut, depending on how big you want the "frosting strips". Frost cake by squeezing out the frosting from the outside of the cake toward the middle.

Serve and enjoy!

Note: SEE NOTES ABOVE for cooking at HIGHER ELEVATIONS
Nutrition Information
Calories:
591
kcal
Carbohydrates:
68
g
Protein:
7
g
Fat:
33
g
Saturated Fat:
16
g
Cholesterol:
110
mg
Sodium:
417
mg
Potassium:
151
mg
Fiber:
1
g
Sugar:
50
g
Vitamin A:
730
IU
Vitamin C:
3.4
mg
Calcium:
161
mg
Iron:
1.3
mg