Our copycat Cafe Rio Sweet Pork Recipe is the real deal. The pork is marinated and slow-cooked to perfection in some surprising ingredients!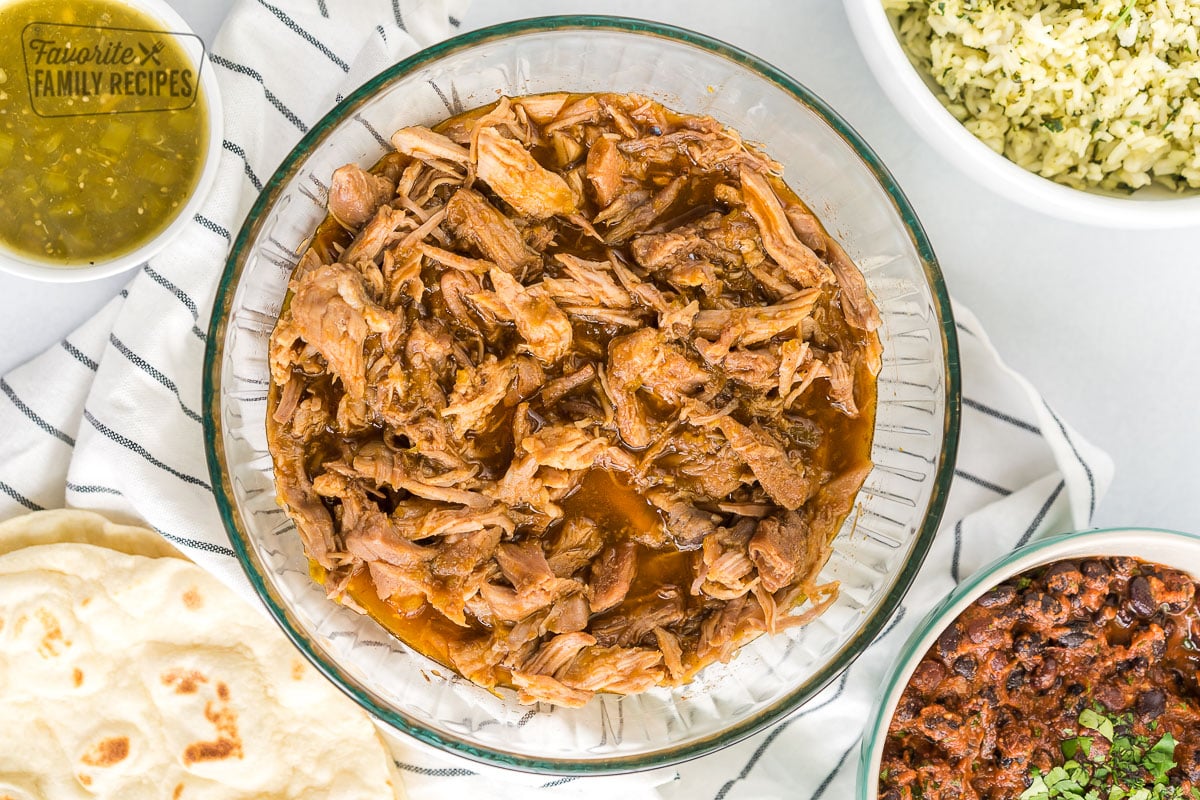 Cafe Rio Sweet Pork Recipe (Copycat)
This copycat Cafe Rio Sweet Pork Recipe is one of the most popular recipes on our website. That's because it tastes so similar to the original. The pork is tender and juicy, with the perfect amount of sweetness. We originally shared this recipe back in 2007, and it has been the most popular Cafe Rio copycat recipe on the internet! Be sure to check out all our other tasty Mexican Recipes! We have all kinds of yummy Mexican dishes to round out your meals and celebrations!
Ways to Use Sweet Pork
Sweet pork is my favorite meat at Cafe Rio. I love it! When prepared correctly, it practically melts in your mouth. With this recipe, you can now have the amazing taste of Cafe Rio Pork at home – all you need is a few simple ingredients and a crock pot. Once it's shredded and ready to go, use it as a topping or filling in any of the following ways.
Sweet Pork Salad
Burritos
Enchiladas
Tacos
Tostadas
Slow Cooker Satisfaction
I love making meals in the crock pot and this is no exception. The pork slow cooks all day and then at dinnertime, you have an amazing dish to serve to your family. It also makes the house smell SO good! I always make a ton of this sweet pork so I can use it in multiple recipes throughout the week, I also find myself snacking on it straight out of the fridge. It's that good!
The slow cooker makes this recipe so easy to make. If you are short on time, you can skip the marinating step. It does add more flavor to the meat, but it will still turn out great. The pork cooks for a long time in the slow cooker which makes the meat tender and easy to shred. Because of differences in slow cooker heat, make sure you check it a few times throughout the day to make sure the meat doesn't overcook.
Our Copycat Cafe Rio Sweet Pork Recipes
For Sweet Pork Burritos, view the full recipe HERE.
To make the Sweet Pork Salad, view the full recipe HERE.
To find ALL of our Cafe Rio / Costa Vida copycat recipes, click HERE.
5-Star Reviews
We have received many rave reviews on this sweet pork recipe. This pork is the real deal! We are thrilled that so many of you have enjoyed this recipe as much as we have.
"So I moved to Texas a little over a year ago and to my despair there isn't a Cafe Rio for 500 miles. I love the pork Barbacoa burrito and have not been able to recreate it or find some thing close to it here in Texas until this recipe thank you for posting this. Every time I eat it, it's like a warm homey feeling comes over me." – Kamie
"I had my doubts because the ingredients seem so random, but we love this recipe and have done it with and without marinade several times. A++ both ways." – Jessica
"THIS WAS ABSOLUTELY SPOT. ON. tastes amazing leftover too!!!!!" – Jared
"We love, love, love this recipe! We have made it for several years now and it surely is a treat! I love your blog and haven't ever been disappointed! I make LOTS when I make it and freeze it…tastes just as good when thawed! Also the dressings freeze well too! Thanks for your time and talent!"– Misti
More Cafe Rio Recipes from Favorite Family Recipes
How to Make Cafe Rio Sweet Pork Recipe (Copycat)
Cafe Rio Sweet Pork Copycat Recipe
This Cafe Rio Sweet Pork Copycat Recipe is the real deal. The pork is marinated and slow-cooked to perfection in some surprising ingredients!
Instructions
Put the pork in a heavy duty ziploc bag to marinate. Add about a can and a half of coke and about ¼ cup of brown sugar. Marinate for a few hours or overnight.

Drain marinade and put pork, ½ can of coke, water, and garlic salt in crock pot on high for about 3-4 hours (or until it shreds easily, but don't let it get TOO dry) or on low for 8 hours. .

Remove pork from crock pot and drain any liquid left in the pot. Shred pork

In a food processor or blender, blend ½ can Coke, chilies, enchilada sauce and remaining brown sugar (about a cup, you can add a little more or less to taste). If it looks too thick, add more Coke little by little. Put shredded pork and sauce in crockpot and cook on low for 2 hours.

Serve on your favorite burrito or salad!
Nutrition Information
Calories:
395
kcal
Carbohydrates:
40
g
Protein:
16
g
Fat:
19
g
Saturated Fat:
7
g
Cholesterol:
65
mg
Sodium:
354
mg
Potassium:
310
mg
Fiber:
1
g
Sugar:
38
g
Vitamin A:
210
IU
Vitamin C:
5
mg
Calcium:
42
mg
Iron:
1
mg