Our top "insider" tips for everything you need to know about Pirate Night on a Disney Cruise. We will tell you all the ways to make the most out of Pirate Night on your next magical Disney Cruise vacation.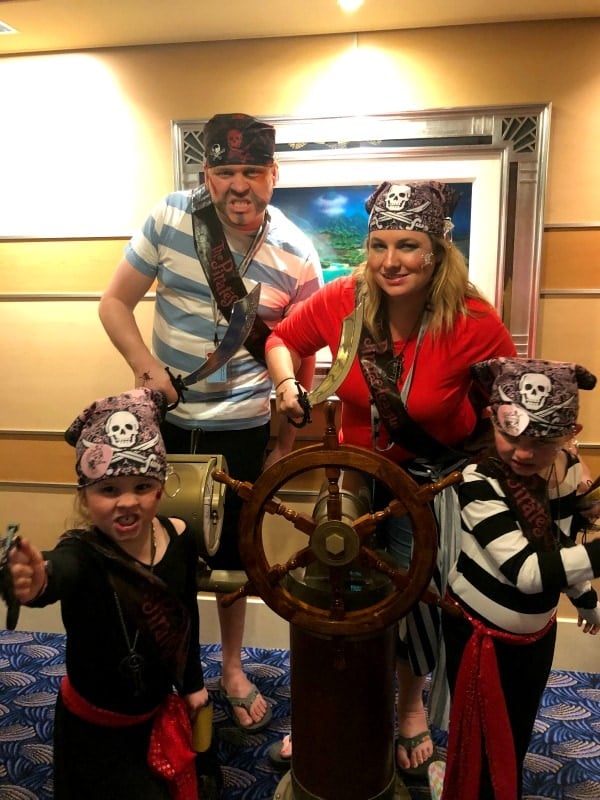 Disney Cruise Pirate Night
Pirate Night, in my opinion, is the most scally-waggin' super-awesome party on the high seas. It is something we always look forward to on our Disney cruises. I am often surprised how many people book a Disney cruise and don't even know about Pirate Night! For many, Pirate Night is THE reason they choose Disney Cruise Lines over other options. If you have never experienced Pirate Night on a Disney Cruise, allow me to hel pyou out and give you some of the best "insider" tips.
Do know what to expect before you go
Pirate Night is primarily broken up into 4 main parts (none of which should be missed).


1. Mickey's Pirates in the Caribbean
This is the first live show of the night and takes place on the pool deck . All of your favorite Disney characters (Mickey, Minnie, Donald, Daisy, and Goofy) come out in pirate costumes, interact with the audience, and lead you in some serious swashbuckling fun! Keep an eye out for Captain Hook and Smee- sometimes they are up to no good and try to hijack Mickey's show/ship 😉
2. Buccaneer Blast
This show is a little later (also on the pool deck) and has more of a "Pirates of the Caribbean" feel. You will see Captain Jack Sparrow and his pirate crew. This show is also a lot of fun with funny pirate jokes and songs. It's everything you would expect from Captain Jack Sparrow!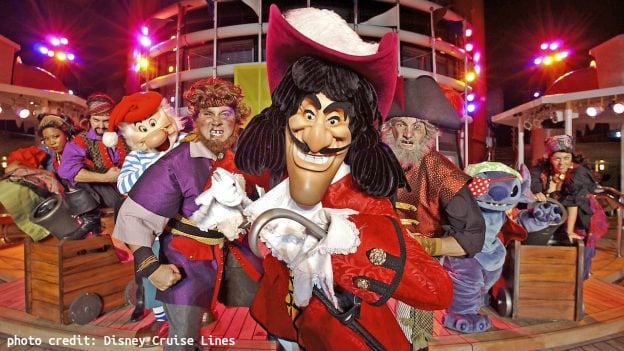 3. Fireworks
This is the only time on your cruise that fireworks will be launched from the ship. In fact, did you know that Disney Cruise Lines is the ONLY cruise line authorized to do fireworks out at sea? So don't miss it! It is such a special experience that you will never forget. This happens immediately following the Buccaneer Blast show so keep that in mind if you want to have a good view of the fireworks (more on where to get the best view of the fireworks below).

4. Club Pirate
After the fireworks the pool deck becomes a dance floor that is fun for the whole family. There is a live DJ that plays upbeat, family-friendly modern music so you can dance the night away without having to worry about questionable lyrics for the littles. This is an activity that ALL ages will enjoy (even teens and adults)!
DON'T forget to bring pirate clothes/costumes
With Pirate Night you can go all-out or you can choose to be more subtle. It's all up to you! For me, I think it's fun to go all out. We love being on the search for fun pirate shirts and costumes the weeks leading up to the cruise. It just makes pirate night that much more fun. Look for clip-on earrings, fun bandanas, glittery fabric, and beads to braid in your hair. And don't forget to pack extra black eyeliner so you can round out your perfect pirate look!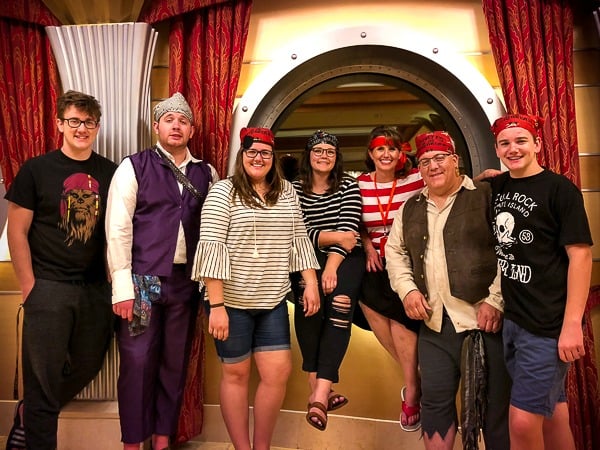 DO book The Pirates League in advance
The Pirates League books up fast. If this is something you are even just a tiny bit interested in, I would say just book it! You won't regret it. This was one of my kids' favorite things they did on the ship (and ours too). Adults and kids alike will love this experience! Before I go too much further, let me rewind and answer the question you might already be asking:
What is The Pirates League?
The Pirates League is part of the Bibbidi Bobbidi Boutique and is only available on Pirate Night days. Instead of being transformed into a beautiful princess (or prince) you are transformed into a pillaging, plundering pirate! Boys, girls, teens, and adults can all enjoy this fun experience.
Check out some of these before and after pics: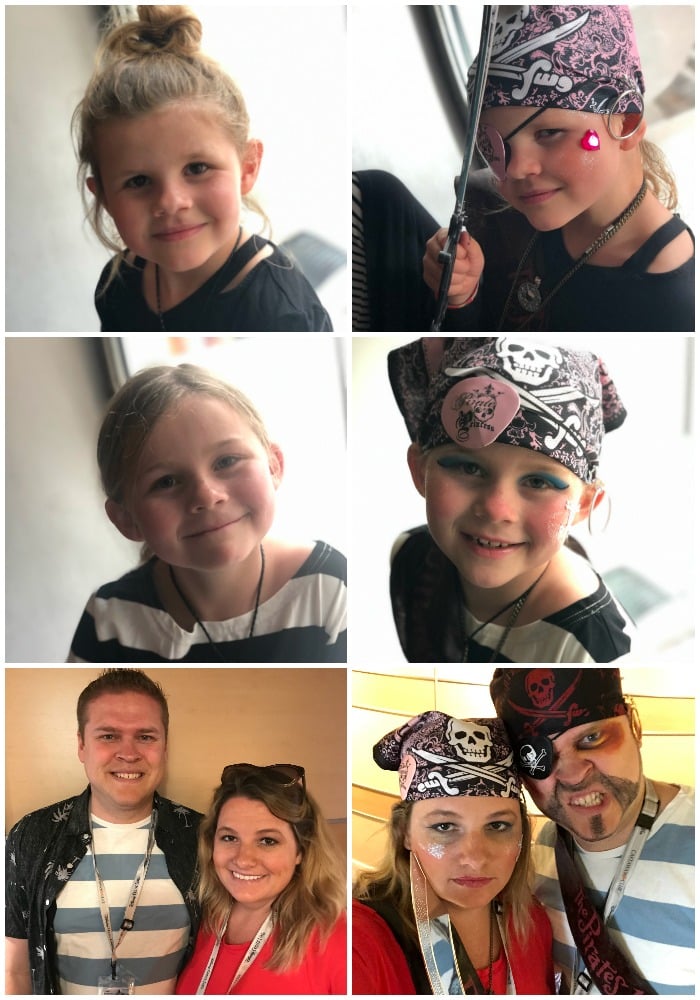 How much does The Pirates League on a Disney Cruise cost?
It really depends on if you are just wanting to get your makeup done or if you want to go all-out. Both are great options! Basically, the more expensive packages include a full-on pirate costume (sorry adults, the costume packages are only available for kids). See pricing for each package below.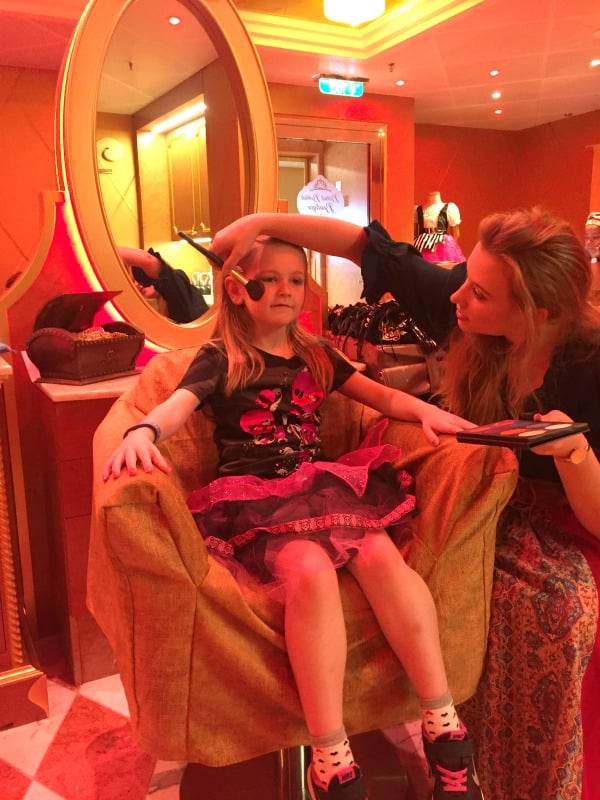 First Mate Package (Adult and Child)
Price: $44.95
Includes:
Choice of pirate facial effect
Sword and sheath
Bandana
Earring
Eye patch
Tattoo
Unique coin necklace
Empress Package (Adult and Child)
Price: $44.95
Includes:
Shimmering makeup
Face gem
Nail polish
Bandana
Earring
Eye patch
Tattoo
Unique coin necklace
Deluxe Maiden Package (Child)
Price: $99.95
Includes everything in the "empress" package PLUS your choice of full costume
The Pirates League Captain Package (Child)
Price: $99.95
Includes everything in the "first mate" package PLUS your choice of full costume

This experience was honestly so much fun for everyone in our group. The cast members who do your makeover are hilarious and never break character. It is an unforgettable experience and in my opinion it is a "must" for Pirate Night! Once again, book it as soon as it becomes available to you online for your particular cruise. This experience fills up fast so book right away!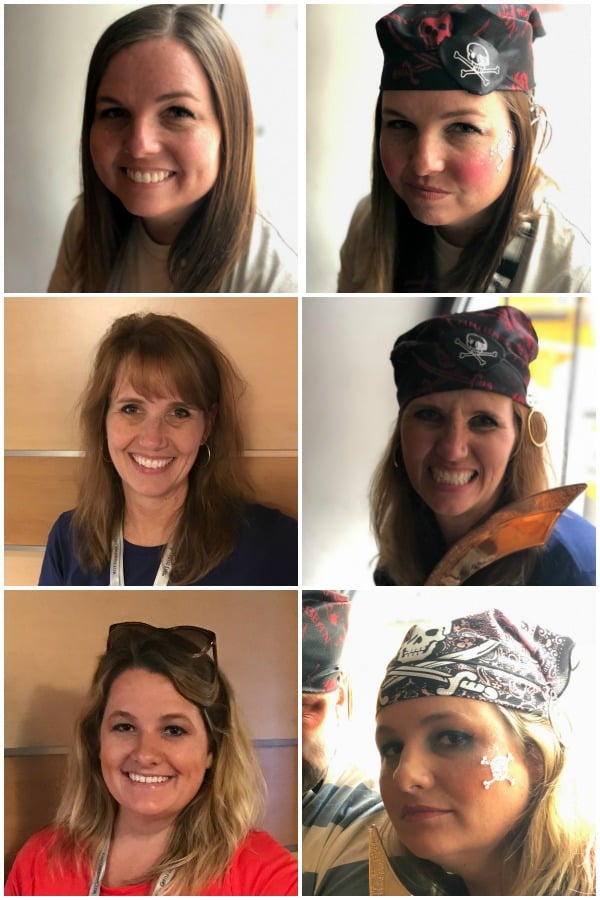 DON'T leave your kids in the kids club
Bring the kids to this one! They will love all the live shows and parties. It is a little late in the evening but hey, you are on a Disney cruise, let them stay up and enjoy it. Pirate night was pretty much the only time we didn't have to drag our kids from the kids club (they usually want to stay and play). They had been looking forward to it for weeks and couldn't wait to see what it was all about.

DO go to the Mickey Pirate character Meet and Greets
Check your daily navigator (on the app or the physical copy in your room) to find where the character meet and greets are for Pirate Night. Usually the characters are available for pictures before the party even starts so make sure you plan accordingly. You can expect to meet Pirate Mickey, Minnie, Donald, Daisy, Captain Hook, Captain Jack Sparrow and more!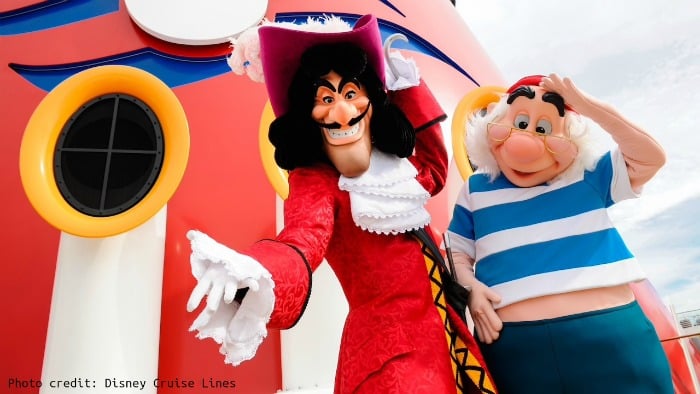 DON'T show up late
In fact, show up a little early to get a good spot for Mickey's Pirates in the Caribbean. You can get great seats just by showing up 10-15 minutes early. It's worth it to get up close so your littles can feel like they are right in the middle of the action. They will love seeing all their favorite characters up-close and personal.
DO know where to watch the fireworks
Fireworks are ALWAYS launched off the starboard side of the ship. This is the RIGHT side of the ship if you are facing toward the front of the ship. The best place to watch the fireworks is on the upper deck on the starboard side. You will have unobstructed views of the entire show. We actually watched the Buccaneer Blast show from the upper deck (starboard side) right above the stage so we had a great, close-up view of the show and then a perfect spot for viewing the fireworks immediately afterward. Win-win.
DON'T Forget to get a turkey leg
On Pirate Night, the main buffet restaurant (Cabanas) hosts a "Pirate Buffet" from 10:30-11:15 (times may vary so check your navigator for exact times). Here you will find all sorts of delicious late-night snacks and foods including turkey legs! These are slightly different from the turkey legs you may find in the Disney parks but they are just as delicious. While you are there, check out the awesome pirate-themed food sculptures and decorations.

DO let loose and have a blast
Dress up, go all out, shout, and act like a pirate. Your kids will love seeing YOU dressed up and getting into character. Dance, sing along, play and enjoy! The more you get into it, the more fun you will have, I promise!
Disclosure: Though this Disney Cruise was generously provided to us by Disney, all opinions are our own. We have shared our true and honest opinions about the Pirate Night and The Pirates League experiences we have had and we are excited to share them with you!