This Easy Blackberry Cobbler comes together in less than an hour! Tart blackberries pair beautifully with sweet and crunchy cobbler topping. A huge hit every time! can be prepared and baked in less than an hour!
Easy Blackberry Cobbler
This Easy Blackberry Cobbler is easily my favorite kind of cobbler. I love the tartness of the blackberries, the juices seeping into the sweetness of the golden, crunchy cobbler topping. Add a nice big scoop of vanilla ice cream or a dollop of whipped cream and you won't be sorry. My (very picky) two-year-old licked her bowl clean and begged for more. If you haven't had blackberry cobbler before I can almost guarantee you that it will quickly become a new favorite!
Ingredients for Easy Blackberry Cobbler
Let the gorgeous blackberries be the star of this dessert! You only need a few other pantry staples to round out the blackberry cobbler recipe:
Fresh or frozen blackberries (see notes below)
Sugar – depending on how sweet you like your dessert, you can switch up the amount of sugar you use. Try as little as three tablespoons to a third cup sugar.
Lemon zest – the zest of about half a lemon works great. You can also add a splash of lemon juice for a more tart flavor.
For the topping, in a medium bowl, whisk together:
One cup flour – all purpose flour works great, but for a more cake-like texture you can try self-rising flour.
Sugar – white, granulated sugar
One Egg
Fresh Blackberries vs. Frozen Blackberries
It really doesn't matter whether you use fresh or frozen berries. Both will taste great! If you do frozen, do NOT thaw them first or you'll have a mushy mess on your hands. You can give them a quick rinse to get the ice off of them but be sure to shake the water off as good as you can before tossing with the sugar and lemon zest.
How to Bake Blackberry Cobbler
I love cooking this cobbler in a cast iron Dutch oven outside. There's nothing quite like warm cobbler cooked over hot coals. But it also tastes delicious baked in the oven in a ceramic Dutch oven, a small casserole dish, a deep dish pie plate or an 8×8 baking dish.
Can this Cobbler be Made in the Slow Cooker or Instant Pot?
While there are some delicious dessert crockpot and instant pot recipes, I have not had success with this particular recipe these ways. I haven't been able to get a good crunchy topping doing it either of those ways. If you like a golden, crisp crust I recommend using an oven.
Substitutions for Blackberry Cobbler Topping
You can easily use a dry mix of Bisquick or cake mix if you want to try it with a little different flavor. Just use 2 cups of the cake mix or Bisquick in place of the sugar/flour mixture. You will still mix it with the egg to get the crumbly texture.
Switch up the Berries
This cobbler is so easy to add a lot of variation, depending on your tastes and what you have on hand. Try tossing in a handful of raspberries, blueberries, cherries or strawberries in with the blackberries. Any combination of berries would make a delightful cobbler!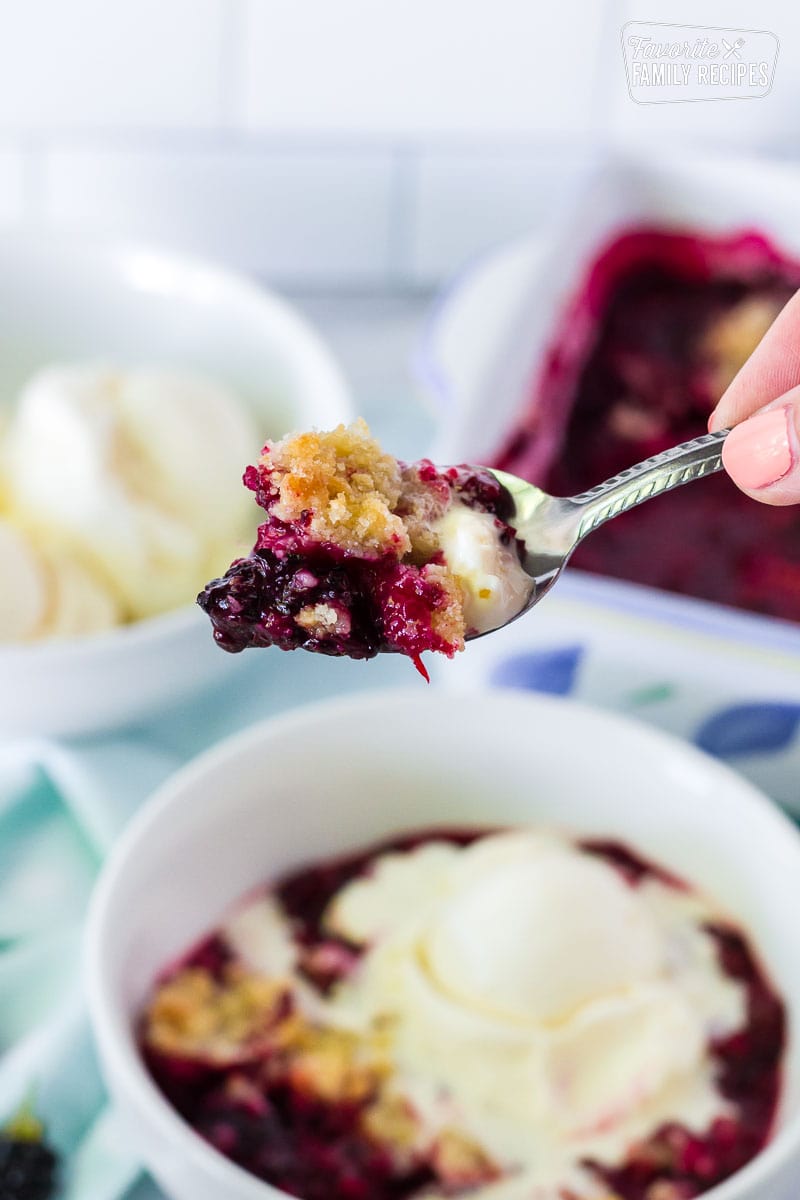 Gluten Free Blackberry Cobbler
To make gluten-free blackberry cobbler you can just substitute a good GF flour for the all-purpose flour (we have used Namaste flour from Costco with success). You can also use a gluten-free cake mix or pancake batter. Just mix the dry mix with an egg and follow the instructions below substituting the dry mix for the flour and sugar.
Does Blackberry Cobbler Need to be Refrigerated?
You can leave cobbler at room temperature, covered for up to 12 hours. Some have said they leave it out for a day or two without any problems but I don't like leaving any kind of food out on the counter that long. Personally, I like to keep leftovers in the refrigerator. If you like to eat it room temp, just remove it from the fridge and let it come to room temperature.
More Tasty Cobbler Recipes
You just can't beat a good cobbler for dessert. Don't have blackberries on hand? Try one of these!
How to Make Easy Blackberry Cobbler
Easy Blackberry Cobbler
This blackberry cobbler can be prepared and baked in less than an hour! You can use fresh or frozen blackberries. A huge hit every time!

Ingredients
4

c.

fresh blackberries

(if using frozen, see notes above)

3

Tbsp.

sugar

2

tsp.

lemon zest
Optional extras:
vanilla ice cream

fresh mint

(for garnish)
Instructions
Preheat oven to 375-degrees.

Spray a smal (8-9")l Dutch oven, casserole dish, or 8-inch baking dish with cooking spray. 

Add blackberries to the dish and sprinkle evenly with 3 Tbsp. sugar and lemon zest.

In a medium mixing bowl, add flour, sugar and egg. Stir well until mixture becomes crumbly.

Sprinkle mixture evenly over blackberries.

Lightly drizzle melted butter over the crumb topping.

Bake for 35-40 minutes or until crumb topping becomes golden brown.

For best results, allow to cool 5-10 minutes before serving.

Serve with vanilla ice cream, whipped topping and/or fresh mint (optional).
Nutrition Information
Calories:
510
kcal
Carbohydrates:
92
g
Protein:
7
g
Fat:
14
g
Saturated Fat:
8
g
Cholesterol:
59
mg
Sodium:
119
mg
Potassium:
308
mg
Fiber:
10
g
Sugar:
55
g
Vitamin A:
745
IU
Vitamin C:
35.2
mg
Calcium:
62
mg
Iron:
2.9
mg
Love this recipe?
We want to hear from you! Please leave a review.