The right Sushi Rice is the foundation for any good sushi roll. Using our recipe you will get savory, sticky, perfect sushi rice every time.
Sushi Rice
Before I made sushi for the first time, I didn't know that you had to make a special kind of rice. I used regular, long-grain rice and lets just say I was very disappointed. After doing some research and testing a few methods, I figured out how to make delicious restaurant-level sushi at home! Now I can't wait to share what I've learned so you can have savory, sticky, perfect sushi rice every time.
How is Sushi Rice Different?
The word sushi literally translates to 'sour flavor'. In Japan, people used to preserve fish by wrapping it in fermented rice. The fermented rice would be thrown away when the fish was ready to eat. Eventually, they started adding vinegar to the rice instead of fermenting it to make it last longer. The vinegar-flavored rice tasted good with the fish so people started eating them together. That was the beginning of sushi! Today's sushi rice has a sticky texture and it is flavored with sugar and vinegar. This helps to hold the shape of the roll, and the flavors complement the fillings or toppings.
What Ingredients Do I Need?
Rice – Not all rice is created equal. Look for short-grain white Japanese rice or medium-grain California rice. It should say "sushi rice" right on the bag. If you can't find either of those, Calrose works well in a pinch.
Japanese Rice Vinegar – Rice vinegar adds a rich, savory flavor that complements the fish. If you're in a pinch, substituting apple cider vinegar for rice vinegar is a tasty alternative.
Sugar
Salt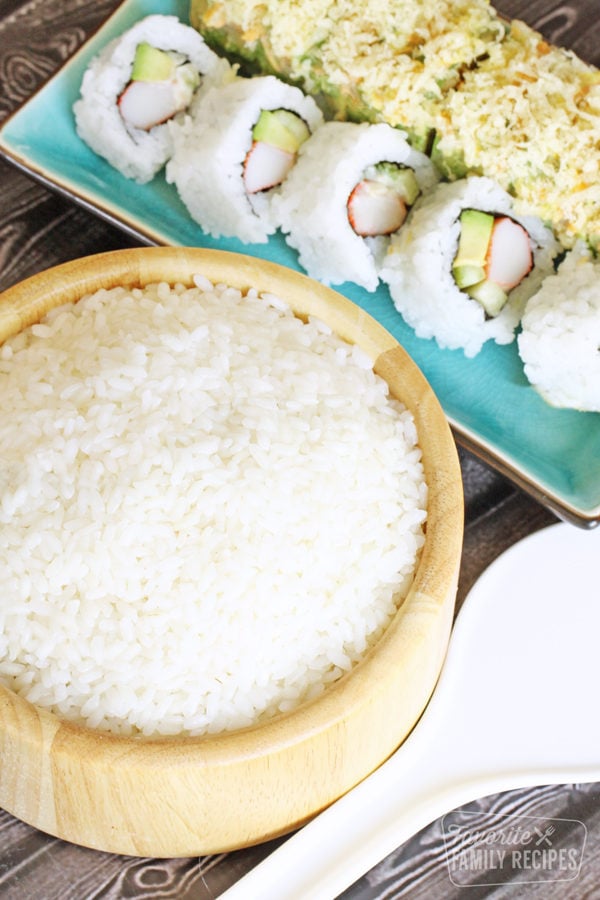 Recipe Ideas and Inspiration
Now that you have a solid foundation, what will you make? The possibilities are endless! Check out some of our favorite sushi rice recipes for ideas and inspiration!
My Favorite Sushi Tool
I've made sushi at home so many times over the years. I used to roll it the traditional way, with a bamboo mat. However, a few Christmases ago, my mom gave me a Sushezi Sushi Bazooka. I know it has a crazy name, but it is my favorite way to make sushi now! It is so fast and easy – even my kids can do it! You just load the trays with your ingredients, close the tube, and push out a perfect, tightly-rolled sushi roll! Find it on Amazon HERE.
Featured Reader Feedback
This came out great! Easiest instructions to follow! It was so fun making our own sushi at home!
I was very skeptical of the rice cooking technique, but had never had success with any other method and have nothing but time here in quarantine. It is the best rice I have ever made ever! The texture and moisture levels are perfect. I used bottled sweetened sushi vinegar for the win.
How to Make Sushi Rice
Sushi Rice is super easy to make at home! With just FOUR simple ingredients, the possibilities with this scrumptious Sushi Rice recipe are endless!
Instructions
Place the rice into a mixing bowl and cover with cool water. Swirl the rice in the water with your hand, pour off and repeat 2-3 times or until the water is clear. Rinse a few more times. After the rice is rinsed, let the rice drain in a colander or strainer for 1 hour.

After the rice has drained, put the rice in the rice cooker with the 3 cups of water, cover, and start.

If you don't have a rice cooker place rice and water in a heavy saucepan over medium-high heat; bring just to a boil, reduce heat to low and simmer, covered, for 15 minutes. Turn off heat and let rice rest, covered, for 15 additional minutes.

While rice is cooking, prepare the vinegar mixture. In a small saucepan over medium heat, combine rice vinegar, sugar, and salt. Heat mixture just until the sugar dissolves (do not let it boil). Remove from heat and let cool to room temperature.

When the rice is done cooking, gently spread out the rice over a cookie sheet. Evenly distribute the cooled vinegar mixture over the rice. Gently turn rice over from time to time with rice paddle or wooden spatula so that rice cools evenly.

To speed things up, fan the rice each time you turn it over. When rice has cooled to room temperature, it is ready to use for sushi rolls!
Notes
If you want to wait a little bit before making your sushi or while you are making the rolls, you can keep the rice at the right temperature by placing it in a large bowl and covering with a damp kitchen towel.
Nutrition
Calories:
360
kcal
|
Carbohydrates:
80
g
|
Protein:
6
g
|
Fat:
1
g
|
Saturated Fat:
1
g
|
Sodium:
401
mg
|
Potassium:
71
mg
|
Fiber:
3
g
|
Sugar:
4
g
|
Calcium:
14
mg
|
Iron:
1.5
mg