This 4th of July Cake is the perfect chilled dessert for your Independence Day celebrations. Fun, flavorful and colorful with red, white, and blue colors inside.
4th of July Cake
The flavors in this 4th of July Cake are tart and sweet and just yummy! And the red, white, and blue colors are so much fun. It makes for the perfect 4th of July dessert! Feel free to go the extra mile and add red, white, and blue sprinkles or edible stars over the top.
This cake is perfect served alongside our Grilled Steak Kabobs, our yummy Huli Huli Chicken or anything else you throw on the grill for your holiday meal.
Ingredients for this July 4th Cake
Who wants to be slaving away in the kitchen on a holiday? Not me! That's why this easy dessert is made with a box cake mix rather than a cake from scratch. Yep, I said it. And it's delicious! To make it even more rich, I add some sour cream along with eggs, oil and water when adding the white or vanilla cake mix. Bake it according to the directions below, then make sure it's done by sticking a toothpick in to see if it comes out clean.
Adding the Colors to this Poke Cake
Adding colors to this ordinary sheet cake turns a rather plain vanilla cake into a beautiful work of art! And it's much easier than it seems, I promise. Here's what to do:
First, wait until the cake is completely cooled after baking.
Then, in a medium bowl, mix together blue Jello powder with a cup of boiling water, then stir in a half cup of cold water. It needs to be still in liquid form to insert into the cake, so don't allow it to set up ahead of time. We like the blue raspberry flavor or any blue Jello you like.
Repeat that step with red Jello powder. Again, any red colored Jello will work to make a red, white and blue poke cake.
If you have medicine dispensers from children's medicine you can pour it in but the dispenser to keep the colors from bleeding into each other as you can see in the picture below.
Condiment squeeze bottles also do the trick.
Be sure to make nice holes in the spots you want the color to go. I used the handle end of a butter knife to make the holes in the cake, then I alternated the red and blue colors.
If you want to make bigger holes, you can use the handle of a wooden spoon.
What's in the Frosting?
I love this unique whipped cream topping that goes on the cake. Here's what you need:
Cream cheese – make sure it's at room temperature and use an electric mixer to whip it nice and fluffy
White sugar – yep, the regular granulated sugar. Add that to the stand mixer using the paddle attachment to mix together with the cream cheese. You can also use a hand mixer to make this topping.
Cool Whip Topping – you can make your own homemade whipped cream if you like
I love this topping because it refrigerates well and tastes light and fluffy. You could top this cake with a regular buttercream frosting or a more traditional cream cheese frosting too and both would be scrumptious!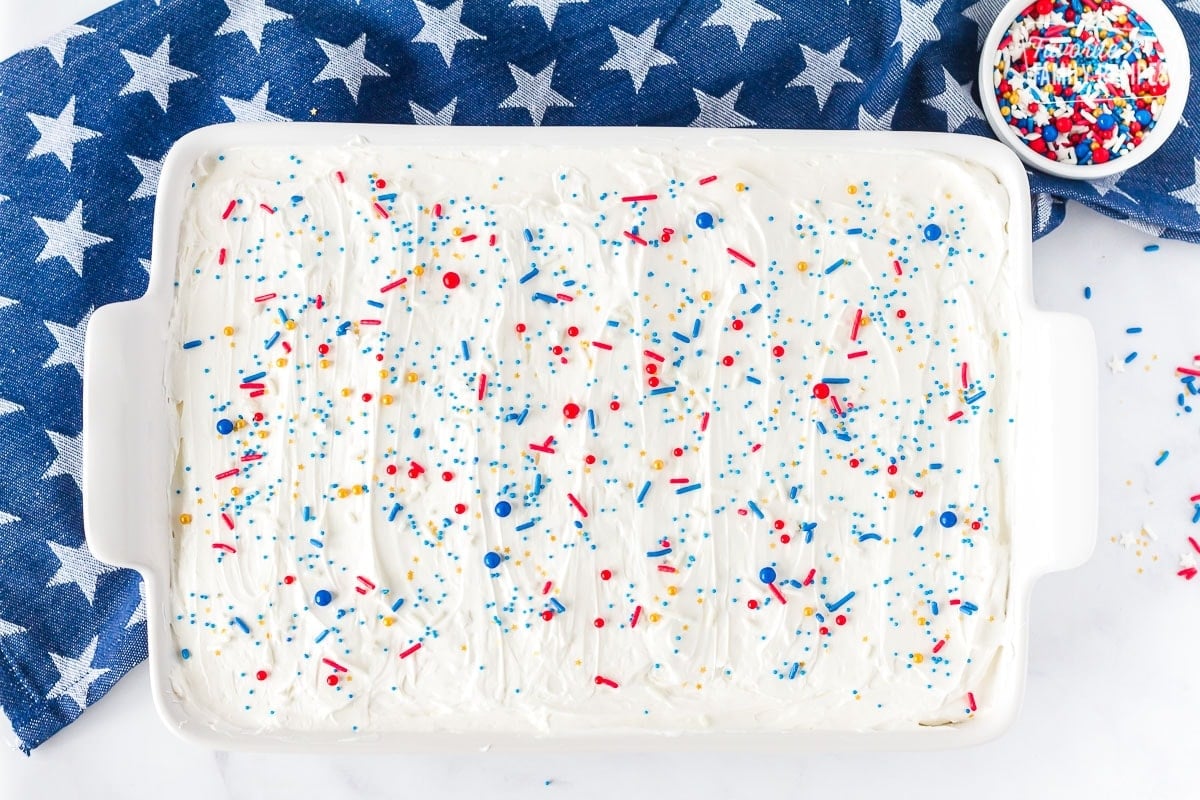 Suggestions for Decorating
There are so many ways you can decorate this delicious cake! I usually opt for some simple sprinkles on top. You could also create an American flag by covering the entire cake with the white whipped topping, then lining the cake with fresh berries (blueberries and strawberries) for the stars and stripes.
If you opt for buttercream or cream cheese frosting, use a pastry bag and a star tip to decorate stars, white stripes and red stripes.
Switch It Up For Different Holidays
You can easily switch the colors to make this work for different holidays- like grape and lime or orange jello for halloween. Cherry or Lime would work great together for Christmas. Purple and Pink or Yellow of Easter. Red and Pink for Valentine's Day. The list goes on and on and the possibilities are endless!
Be sure to make this cake well in advance of when you want to serve it, the longer it gets in the fridge, the better it will taste. I like to make it up the night before I plan to serve it so all the flavors have a chance to settle. I also like this cake to be COLD when I serve it. It makes it more refreshing for a hot day.
Make Layered Jell-O Cups with the Extra Ingredients
You only need the 3 oz. packages of Jell-O for this recipe, but I actually made up the 6 oz. packages so that I could make some cute layered Jello cups for the 4th of July as well. To make these cute cups, just make one package at a time and give the first layer enough time to set in the refrigerator before adding the second color. This is perfect for the smaller kids or the picky eaters. Sprinkle them with red, white, and blue sprinkles or pop rocks to make them look over-the-top festive!
More 4th of July Desserts
Why stop at just one yummy dessert? This next July 4th, create an entire buffet of patriotic treats and keep the party going all day and into the night.
4th of July Sugar Cookies: Festive sugar cookies with a little 4th of July surprise. These delicious cookies are topped with POP ROCKS instead of sprinkles. Kids go crazy over them!
Fresh Strawberry Cake: A fresh and fruity cake that is perfect for summer. Position the sliced fruit to look like fireworks for the 4th of July!
Angel Food Cake with Pineapple Whip: Add blueberries to this angel food cake dessert for a little lighter red, white, and blue dessert.
How to Make 4th of July Cake (Patriotic Poke Cake)
4th of July Cake (Patriotic Poke Cake)
This 4th of July Cake is the perfect chilled dessert for your Independence Day celebrations. It is so fun with the red, white, and blue colors inside.
Equipment
9×13 inch pan

Hand Mixer

Mixing Bowls

Measuring Cups
Ingredients
Instructions
Pre-heat oven to 350 degrees. Mix together the cake batter ingredients (above) then cook it according to the directions on the box in a 9×13 inch pan. (About 25-30 min)

When cake is completely cooled after baking, mix together the first jello package with 1 cup boiling water, then stir in ½ c. cold water. Jell-o mix needs to remain in liquid form for dispensing so don't refrigerate before adding to cake. Make a bunch of holes in the cake using the handle end of a butter knife.

Using a child's medicine dispenser, add about 1 to 2 tsp of the Jello into every other hole.

When finished, repeat steps with the second color of jell-o. Cover cake and refrigerate until ready to serve (at least 1 hour).

Using a hand mixer, thoroughly blend the frosting ingredients.

Once the cake is cold, spread the frosting evenly over the cake.

Optional: just before serving, top with fruit or sprinkles.
Nutrition Information
Calories:
367
kcal
Carbohydrates:
54
g
Protein:
6
g
Fat:
15
g
Saturated Fat:
10
g
Cholesterol:
57
mg
Sodium:
333
mg
Potassium:
95
mg
Fiber:
1
g
Sugar:
34
g
Vitamin A:
340
IU
Vitamin C:
0.1
mg
Calcium:
116
mg
Iron:
1.2
mg
Love this recipe?
We want to hear from you! Please leave a review.