You will never be the same after trying these Blue Cheese Smoked Brisket Burgers. Smoky blue-cheese filled heaven on a bun topped with crispy onion straws. Perfect for the days you are feeling extra carnivorous!
Blue Cheese Smoked Brisket Burgers
Our friends at Camp Chef came up last week and we smoked up a meeaaannn brisket. As if the brisket wasn't amazing enough on it's own (it was) we had to take it to the next level and add it to a blue cheese stuffed burger. Oh man, you guys. I can't even begin to tell you how good it was. First of all, we used a sirloin ground beef for the burger patties. Then we stuffed the patties with tangy blue cheese, grilled them, and melted some creamy Havarti cheese over the top. All that, as it is, would be an amazing burger but we didn't stop there. Oh, no. We added some homemade crispy onion straws and of course, a nice little helping of brisket. Smothered all that in some BBQ sauce and topped it off with a potato bun (what else? I am from Idaho after all 🙂 )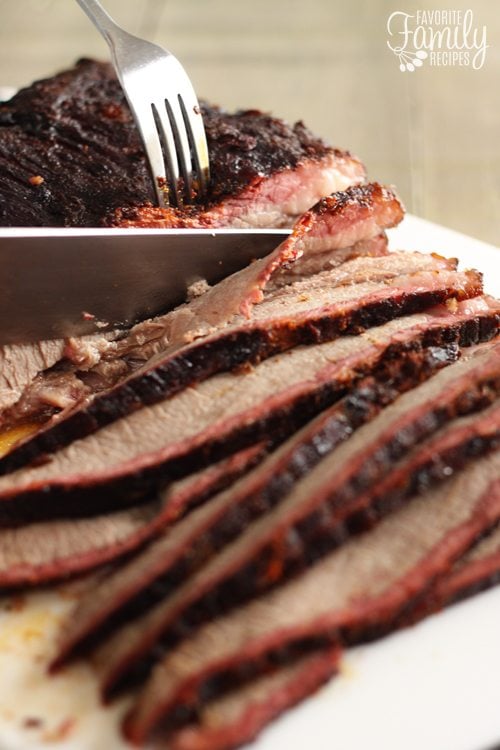 Don't Be Afraid To Try Something New
I never knew that brisket on a burger could be so delicious. In the picture of the smoked brisket burgers above we used nice, thick slices of smoked brisket but you can slice them much thinner for easier eating. If you aren't familiar with smoked brisket or if you have been wanting to learn how to smoke brisket but have been too intimidated to try, click HERE and we will help you through it all. Don't be scared.. it is actually VERY easy. Give it a try! You will be surprised how easy it is!
More BBQ Recipes
If this is giving you a hankering for even more outdoor cooking, check out this awesome barbecue recipe roundup here.
Note: when we made this brisket for Facebook LIVE with Camp Chef we had a lot of people asking why the inside of the brisket looked done but the outer part of it looks pink and "not done"… this is actually how brisket is supposed to look 🙂 The outer pink part is called the "Smoke ring" and the deeper that pink ring is, the better. We were actually able to get a pretty impressive smoke ring with this brisket and oh man, it was delicious. The smoke ring is completely cooked through and safe to eat. In fact, it is the BEST part!
How To Make Blue Cheese Smoked Brisket Burgers
Blue Cheese Smoked Brisket Burgers
You will never be the same after trying these blue cheese smoked brisket burgers. Smoky blue-cheese filled heaven on a bun topped with crispy onion straws. Perfect for the days you are feeling extra carnivorous!
Instructions
Combine beef and salt and pepper until well seasoned. Separate beef into 6-8 sections or balls.

Taking one section at a time, make each ball into two separate, super thin, beef patties.

Place about 2-3 Tbsp. of blue cheese onto the top of one of the patties and press the other patty over the top (sealing the blue cheese inside).

Continue with remaining beef patties, cover, and set aside while grill heats.

Grill burgers until desired doneness, then place a slice of Havarti over each patty. Remove from heat when just melted.

Place a few thin slices of smoked brisket on bottom half of a burger bun then layer on the burger patty and onion straws. Add BBQ sauce to taste and top with bun. Serve immediately and ENJOY!
For the onion straws:
Place sliced onion in a bowl with 1 c. buttermilk, cover and refrigerate at least 30 minutes. In a separate bowl, combine flour, breadcrumbs, and seasoning salt. Remove onion from buttermilk and mix into the flour mixture until well combined. Heat oil in a deep skillet until hot (about 350 degrees) and add onion straws in batches (about a handful size per batch). Remove from oil when dark golden brown and crispy.
Nutrition Information
Calories:
1364
kcal
Carbohydrates:
102
g
Protein:
43
g
Fat:
86
g
Saturated Fat:
28
g
Cholesterol:
131
mg
Sodium:
2390
mg
Potassium:
808
mg
Fiber:
3
g
Sugar:
42
g
Vitamin A:
737
IU
Vitamin C:
2
mg
Calcium:
523
mg
Iron:
5
mg