This Layered Cold Pasta Salad is a colorful side dish for BBQ's and potlucks. With layers of ham, eggs, salami, veggies, and cheese, it is hearty and delicious!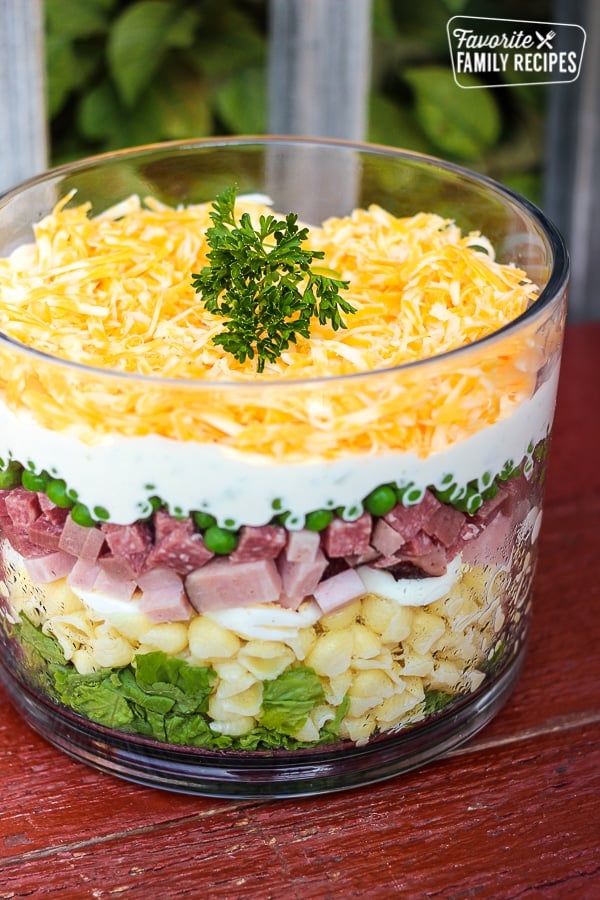 Layered Cold Pasta Salad
This Cold Pasta Salad tastes as good as it looks! It is a complementary side dish at BBQ's and potlucks, but it really is a full and hearty meal in itself. I served this the another night at dinner with some corn on the cob, and it was very filling. Everyone loved it!
Make It Ahead of Time
I am a big fan of make ahead meals. This salad can be made a day ahead or in the morning, as long as it has several hours in the refrigerator. It will actually taste better if you make it in advance rather than making in right before serving.
Tips for Making Pasta Salad
Here are some quick tips when making this easy pasta salad:
For the chopped ham and hard salami, I order thick slices at my local deli. For the one cup required I only needed 3-4 slices.
The shredded green leaf lettuce should be completely dry or it will get soggy when it is refrigerated. If you don't have time to wait for lettuce to dry, you can buy green leaf lettuce leaves in most stores in the produce section that have been pre-washed and are ready to use for sandwiches and salads. It's a little more expensive to purchase lettuce this way but, I have found that the lettuce lasts longer than when I wash it and dry it myself at home and I can use everything in the container because it's all fresh and crisp.
The frozen peas can be thawed quicker by placing them in a colander and rinsing them with cold water. Be sure they have time to drain and dry as well before adding them to the salad.
When layer the salad use a large spoon to evenly disperse the ingredients so they will layer eventually.
And for my final tip, use a glass bowl or trifle dish. You don't have to, but when you go to the work to make the beautiful layers, you need to show it off!
Additional Add-In Ideas
We typically will make this pasta salad as stated in the recipe below, but you can always add more ingredients, including:
cherry tomatoes
olives
chopped red onion
celery
pepperoni
additional green onion
More Cold Pasta Salads:
Looking for even more cold pasta salad ideas? Here are some more of our favorites:
Layered Cold Pasta Salad
This Layered Cold Pasta Salad is a colorful side dish for BBQ's and potlucks. With layers of ham, eggs, salami, veggies, and cheese, it is hearty and delicious!
Instructions
Cook shell macaroni according to package directions. Drain and rinse with cold water. Drizzle with oil, and toss to coat.

Place shredded lettuce in a 2/12 quart glass serving bowl or trifle bowl.

Top lettuce with macaroni, being careful to layer the macaroni evenly over the lettuce for a pretty layered look. Add sliced eggs for the following layer.

Sprinkle eggs and macaroni with salt and pepper. Add chopped ham, then chopped salami, and then the thawed peas.

In a small bowl, combine mayonnaise, sour cream, green onions and Dijon mustard. Spread this mixture over the peas.

Cover and refrigerate for several hours or overnight.

Just before serving, sprinkle with cheese and garnish with parsley.
Nutrition Information
Calories:
371
kcal
Carbohydrates:
8
g
Protein:
14
g
Fat:
32
g
Saturated Fat:
9
g
Cholesterol:
98
mg
Sodium:
742
mg
Potassium:
270
mg
Fiber:
3
g
Sugar:
4
g
Vitamin A:
1431
IU
Vitamin C:
20
mg
Calcium:
125
mg
Iron:
1
mg