These Mickey & Minnie Caramel Apples are adorable and perfect for a Mickey & Minnie party. Recreate this Disneyland favorite in your own kitchen!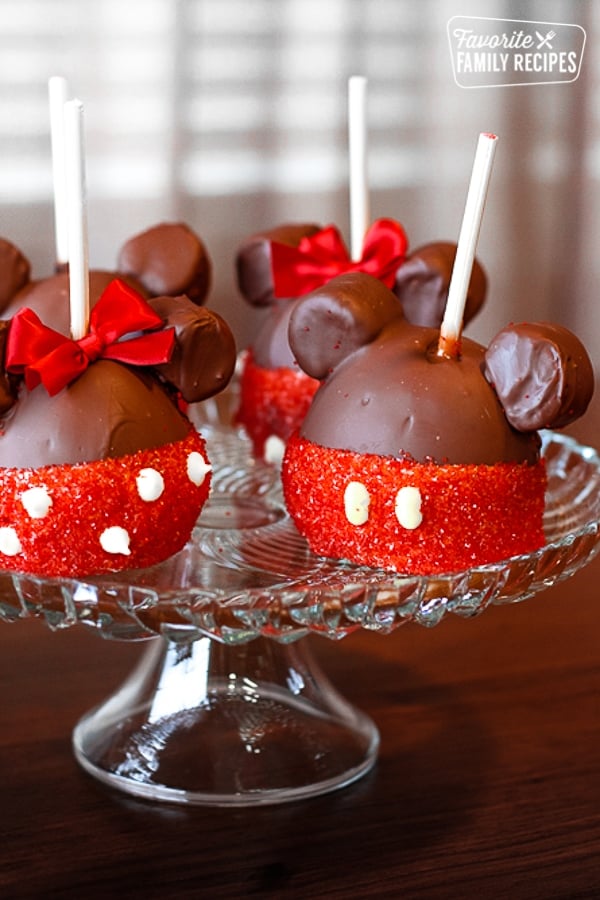 Aren't these little Mickey and Minnie Candy Apples adorable? I found them on a site called GetAwayToday.com. Yes, they are a travel site (which I will tell you all about in just a sec…) but they also have a blog where they post fun recipes and travel tips…. and GIVEAWAYS!!!
When you go to their site, use the promo code: FAVORITE for an added discount from your friends here at Favorite Family Recipes 🙂
Ok so let me tell you how I found GetAwayToday and why I will never book with any other online travel site again….
My husband had some extra time off to use up and we were trying to think of some kind of fun vacation before the end of the year… our sights were set on Disneyland. When we were in the early stages of planning our trip, I was checking out various travel sites and stumbled upon GetAwayToday.com. I checked out their site and finally called to see what kind of deals they could offer me compared to other online travel sites. They were able to find better deals and packages for me than what I was able to find on any of the other sites AND I actually got to TALK to someone… and not just any ol' person… I talked to someone who actually knew a TON about Disneyland and the surrounding area. Little did I know that the person I talked to (Kody) would become my personal travel agent through this whole process.
Planning a Disneyland trip can become extremely overwhelming before you know it. For us, we needed to plan for flights, a hotel (with a hot continental breakfast… very important), transportation to-and-from Disneyland as well as to-and-from the airport.. not to mention the Disneyland tickets themselves. I was going crazy trying to organize how we were going to do it… and then I found Kody. He did every. little. thing. for me… and he got us a great package that I know we couldn't have found through any other site.
When we got the package in the mail (which I LOVE the personal touch of an actual package) Kody included everything we needed… our itineraries, ticket information, transportation passes…everything we needed to know. PLUS, a couple free lanyards to hold our tickets once we get there, which I thought was an extra nice touch. These are all things that come standard when you book with them. I love all the little personal touches — which big travel sites just can't offer. I got a fun package on my doorstep with a picture of Mickey and Minnie on it, where other companies send an e-mailed confirmation code.
Here's what's even more awesome… Kody was able to give me personal recommendations on places to eat and shows and activities within Disneyland that would be age-appropriate for my daughter. Um.. yeah… Priceline just doesn't do that. Their ENTIRE company goes to Disneyland once a year just for that reason– so they can give good recommendations! They visit hotels in the surrounding area so they can tell you exactly what to expect– because they have physically been there (in fact, they are there at this VERY MOMENT– you can read all about their company trip HERE)! So Kody isn't the only Disney expert there– ALL of the agents are. To find your own personal agent.. just click on "Live Agent" at the top of their page!
Now on to the Mickey and Minnie Caramel Apples! There are so many things to love about fall! One of our very favorite things about this time of year is enjoying delicious treats – especially a candy caramel apple! And what's better than a caramel apple? – Mickey and Minnie Caramel Apples! These ultimate caramel apples are exclusive to the Disney Parks, unless you create some of that Disney Magic at home with your family!
Mickey and Minnie Caramel Apples
These Mickey & Minnie Caramel Apples are adorable and perfect for a Mickey & Minnie party. Recreate this Disneyland favorite in your own kitchen!
Print
Pin
Rate
INSTRUCTIONS
Melt the caramels in the microwave.

Add sticks to the top of each apple, then coat them thoroughly in the melted caramel.

Place caramel apples on wax paper to set. (Cool completely)

Use the marshmallows to create your Mouse Ears. Slice a small part of the marshmallow off to expose some of the inside sticky part. Press them onto the caramel apple. Attach them with toothpicks to secure them in place. (Just remember to take the toothpicks out before eating!)

Melt the milk chocolate chips in the microwave in a microwave safe glass dish. Cook one minute at a time – stirring in between each minute cycle. It should only take about 2 or 3 minutes. Do not over cook the chocolate.

Now you are ready to dip the apples! Dip them into the warm melted chocolate. Coat the entire apple and ears. You want a good even coating. Give the apple a couple of shakes to get the excess chocolate to drip off. Set on wax paper to cool and let cool completely.

Cut some red bows ahead of time out of red ribbon, and while the chocolate is still semi-warm, press the bows onto the top of the Minnie apples.

While the apples are cooling, gather the red sugar crystals, yellow jellybeans (for Mickey's buttons) and white chocolate chips (for Minnie's polka dots).

Melt the white chocolate chips (except the ones reserved for polka dots) the same way as the milk chocolate. Dip the apples only half way up into the warm white chocolate.

Attach the jellybeans (Mickey's buttons) onto the white chocolate (it will act as your "glue") and then completely coat the white chocolate with red sugar crystals. Follow this same process for your white chocolate chips (Minnie's polka dots) and fully coat with red sugar. Transfer to wax paper and let cool completely.
I hope you have found this helpful and that you will check them out next time you are planning not only your next Disney vacation but ANY vacation. They are fantastic and I have already been referring them to my family and friends. If you happen to get Kody as an agent, tell him "Hi" from Favorite Family Recipes! And don't forget to use the promo code: FAVORITE for an additional discount from us!