Our Mom's Zucchini Bread recipe is a no-fail, easy recipe. Moist and flavorful on the inside with a slightly crispy crust outside. Perfection!
Mom's Zucchini Bread
Our Mom's Zucchini Bread is absolutely the best zucchini bread recipe we've ever had. She made this all the time with fresh zucchini from her garden when we were growing up. As kids, it was the only thing with zucchini in it that we would eat willingly. We never tired of the summertime treat and we looked forward to each time our mom got out the loaf pans. The house would always smell warm, slightly sweet and cinnamony and I couldn't wait to get my hands on a slice. I loved the taste then and I love it now. In fact, I just planted some zucchini in my garden so I can make it later this summer!
Ingredients for Zucchini Bread
This zucchini bread batter whips up fast, with pantry staples and fresh zucchini. Here's what you need:
For the wet ingredients, start with three large eggs
Then, whisk in a cup of vegetable oil and two cups of sugar in a large bowl.
Next, add two teaspoons vanilla extract
For the dry ingredients, add baking soda, baking powder, salt, and three cups of all purpose flour. You can use regular white flour or half whole wheat flour in this recipe.
Then, the star of the show, the zucchini! Use a box grater to get the perfect grated zucchini. You can peel the zucchini or leave the peelings on. And if there's too much moisture, use a paper towel to dab some of the moisture out before folding it into the batter.
Additions/Substitutions
That's the basic recipe, but you can add in all sorts of yummy ingredients for added flavor. Here are a few ideas:
Chocolate chips – dark chocolate, milk chocolate, white chocolate would all be delicious.
Walnuts
Pecans
Any other favorite nuts
Cranberries
Raisins
Dash of nutmeg
Brown sugar sprinkled on top
Tips for the Best Zucchini Bread
Near the end of the summer, when you feel like you have zucchini coming out of your ears, put a few in a basket along with this recipe and some of the ingredients (or just give them a freshly baked loaf) and give it to your friends and neighbors.. they will love you forever.
This recipe makes two loaves so you can eat one today and freeze the other loaf for later. I will make several loaves and freeze them to save for a rainy day when I feel like a sweet treat but don't feel like making it.
If you don't have a garden overflowing with zucchini, most likely most markets have the vegetable in stock year round for pretty cheap. You can make this bread any time; it doesn't just have to be in the summer.
Use coconut oil in place of regular oil in this recipe and it is FANTASTIC!
For an even sweeter treat, top each slice with a spread of homemade cream cheese frosting. Delicious!
For a gluten free version of this zucchini bread, try our Gluten Free Zucchini Bread recipe.
What Readers are Saying About this Recipe
"Just came across this recipe & decided to give it a try. Truly the best zucchini bread recipe ever! Very moist with crusty top. I followed the recipe exactly as printed & it was incredible." – Lyn
"Made this as my first try at zucchini bread. Subbed gf flour and it was simple and delicious!" -K
We made this today and love it! Great recipe. I especially love the fact that it makes two loaves so we can save some for later. Thanks for sharing! – Deanna
READ NEXT: 33+ Super Easy Breakfast Ideas
More Delicious Sweet Bread Recipes
This recipe is my top favorite but these recipes come in really close! Try a few for yourself. They all make terrific muffins too!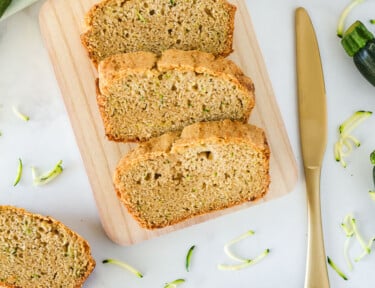 Mom's Zucchini Bread
Our Mom's Zucchini Bread recipe is a no-fail, flavorful and really easy recipe. Moist and flavorful on the inside with a slightly crispy crust outside. Perfection!
Instructions
Preheat oven to 350 degrees.

Beat eggs, sugar, and oil in a mixing bowl.

Stir in baking soda, baking powder, cinnamon, vanilla, salt, and flour.

Pour into bread pans lined with cooking spray.

Bake for 45 to 60 minutes or when toothpick inserted in middle of loaf comes out clean.
Nutrition Information
Calories:
200
kcal
Carbohydrates:
29
g
Protein:
3
g
Fat:
8
g
Saturated Fat:
2
g
Cholesterol:
20
mg
Sodium:
241
mg
Potassium:
64
mg
Fiber:
1
g
Sugar:
17
g
Vitamin A:
389
IU
Vitamin C:
2
mg
Calcium:
15
mg
Iron:
1
mg