These Baked Oats feel like eating dessert for breakfast, but with whole grains, eggs, and natural sweetness, they are healthy and filling!
Baked Oats
Ever since Baked Oats recipes started showing up all over my For You Page on TikTok, I knew I needed to try them! I am not a huge fan of traditional oatmeal, especially the texture. However, I AM a huge fan of these baked oats. The texture is so cakey and smooth! I love adding lots of toppings and experimenting with flavors. If you want a filling, delicious, healthy breakfast in under 30 minutes, this recipe is for you!
Ingredients
Oats – For this recipe, rolled oats or old-fashioned oats work best. Rolled oats are oats that have been separated from the husk, steamed, and flattened. Rolled oats work well for baked oats because they soften more and quicker than other types of oats. For example, steel cut oats are not steamed or rolled, they are just cut into thin slices. They don't work well in baking because they won't soften. Rolled oats will give you the cake-like texture you want. You can also use oat flour, if desired.
Bananas – Bananas add a thick texture and a sweetness to the baked oats. Make sure the bananas are really ripe, otherwise they won't blend well.
Eggs – Eggs are what help give the baked oats a cake-like texture. They also add a good amount of protein!
Baking Powder – Baking powder is a leavening agent that helps the oats rise when they bake.
Salt – Just a pinch of salt will add a depth of flavor!
Sweetener – You do not have to add sweeteners, but I like to. You can use dates, maple syrup, honey, agave, brown sugar, vanilla extract, or Stevia.
Optional: Milk – You can replace either one banana or one egg with ½ cup milk in this recipe. You can use dairy-free milks like almond milk, oat milk, coconut milk, cashew milk, and soy milk.
Toppings
The best part about Baked Oats is the toppings! There are so many fun toppings and combinations to try. Let us know your favorite toppings in the comments below!
Toppings
Fruit – Bananas, blueberries, strawberries, blackberries, raspberries, apples, pears
Nuts and Seeds – almonds, pecans, walnuts, pepitas, chia seeds, flax seeds, sunflower seeds
Spreads – nut butter, cookie butter, hazelnut spread, jam
Spices – cinnamon, pumpkin pie spice, vanilla extract, chai spice, cocoa powder
Sweeteners – honey, maple syrup, agave, chocolate chips, brown sugar
Combinations
Banana Bread – bananas, walnuts, cinnamon
PB&J – jam, peanut butter, peanuts, berries
Blueberry Muffin – vanilla, brown sugar, blueberries
Banana Berry – bananas, strawberries, raspberries
Reese's – peanut butter, chocolate chips
Chunky Monkey – bananas, peanut butter, chocolate chips
Pumpkin Pie – pumpkin pie spice, vanilla extract
Brownie – cocoa powder, chocolate chips
Adding More Protein to Baked Oats
Adding protein to baked oats is easy! You can add chia seeds to the batter. You can also mix a scoop of protein powder and a little milk or water to the batter. Chocolate protein powder is a great addition! You can also swirl some peanut butter or other nut butter into the batter before baking.
Recipe Tip
When it is time to add toppings, you can sprinkle them on top or mix them into the oat batter.
FAQ
How do I store leftovers?
Wrap any leftovers tightly with plastic wrap and keep in the fridge. Reheat in the microwave.
Are Baked Oats vegan?
Baked oats can be made vegan by replacing the eggs with flax egg or with non-dairy milk.
Are Baked Oats gluten-free?
As long as you use certified gluten-free oats then yes!
READ NEXT: 33+ Super Easy Breakfast Ideas
More Breakfast Recipes
How to Make Baked Oats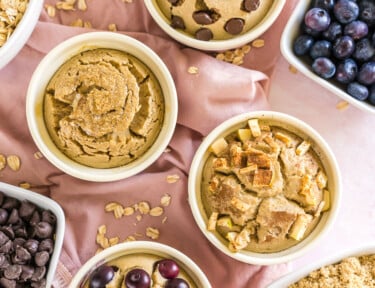 Baked Oats
These Baked Oats feel like eating dessert for breakfast, but with whole grains, eggs, and natural sweetness, they are healthy and filling!
Instructions
Preheat oven to 350. Place all ingredients (except toppings) in blender.

Blend until smooth, about 1 minute.

Spray ramekins (or other oven-safe dish) with cooking spray. Pour into ramekins. Add toppings if desired.

Bake for 20-25 minutes, or until a toothpick inserted in the middle comes out mostly clean with just a few crumbs.
Notes
Nutrition information does not include toppings. 
Nutrition Information
Calories:
350
kcal
Carbohydrates:
62
g
Protein:
12
g
Fat:
7
g
Saturated Fat:
2
g
Polyunsaturated Fat:
2
g
Monounsaturated Fat:
2
g
Trans Fat:
0.01
g
Cholesterol:
164
mg
Sodium:
69
mg
Potassium:
854
mg
Fiber:
7
g
Sugar:
21
g
Vitamin A:
313
IU
Vitamin C:
10
mg
Calcium:
149
mg
Iron:
3
mg