These Apple Fries with Caramel Cream Dip are the perfect warm dessert for a crisp Autumn evening. It made our house smell like apple pie.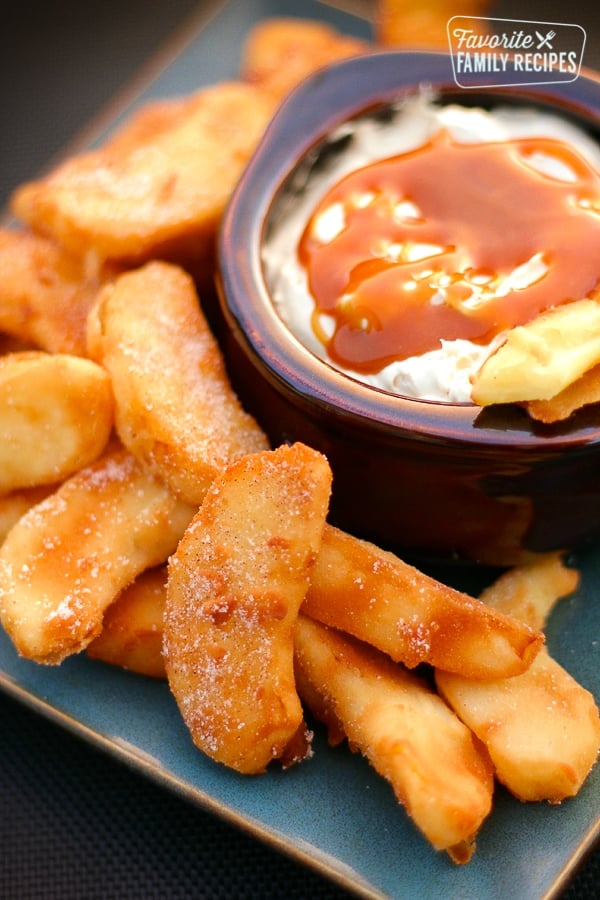 Why make Apple Fries?
Apple Fries with Caramel Cream Dip are like eating your own little apple pie with every bite. My husband and I dreamed these up while driving home from a family hike and couldn't wait to get home to try them out. We both love apples but have a weird allergy where we can't eat them raw, it makes or throats itchy and tight  I know, it's super weird and started when we were living in California, we can't figure it out. As long as they are cooked, we are fine. But we have missed being able to eat raw apples dipped in caramel, so we came up with this delicious creation. The apples slices are lightly battered and fried in a shallow pan, then sprinkled with cinnamon and sugar. The caramel dip is creamy and caramel infused, and oh so yummy. The two together are a killer combination and a must try for apple season!
Which type of apple should I use?
You can use any kind of apple for this recipe but we prefer tart and crisp apples, like granny smiths or pink ladies. Never make it with a really sweet and soft apple like a red delicious, it will not taste as good and get too mushy. Braeburn and Galas work great for this recipe too.
Caramel Cream Dip
For the Caramel Cream Dip you can simplify it by using store bought caramel sauce. But if you want to make it extra good, try it with our homemade Caramel Butterscotch Sauce! It is my favorite, we use it on all kinds of desserts. It is especially good for this dip. If you do go with store bought, I like the Mrs. Richardson's Butterscotch Caramel.
More Apple Recipes:
If you have an abundance of apples this year or are just looking to try some new apple recipes, we have TONS to share with you!
If you want to see ALL of our apple recipes, click HERE.
How to make Apple Fries with Caramel Cream Dip
These Apple Fries with Caramel Cream Dip are the perfect warm dessert for a crisp Autumn evening. It made our house smell like apple pie.

Ingredients
For the Dip:
8

oz

cream cheese

8

oz

Cool Whip

or 1 cup whipping cream with 1/2 cup sugar- whipped until stiff

1

cup

caramel sauce

store bought or homemade (see above)
Instructions
In a fry pan, or deep fryer heat vegetable oil for frying.

Mix together the buttermilk and sugar in a medium size bowl. Peel and slice apples and add them to the buttermilk mixture as you go to prevent browning.

In a shallow dish, put a layer of wonder flour. Pull the apples out of the buttermilk mix, one at a time and lightly coat all sides in the flour.

When oil is nice and hot, gently place coated apples into the oil so they are not touching, when the bottom side begins to turn golden, flip over and brown the second side. Quickly remove to a tray lined with paper towels to soak up excess grease and cool. Sprinkle immediately with cinnamon and sugar while they are hot.
For the dip:
Mix together the the cream cheese and cool whip until completely blended then stir in the caramel sauce. Place into a bowl for dipping and drizzle a little extra caramel sauce over the top.
Nutrition
Calories:
444
kcal
|
Carbohydrates:
86
g
|
Protein:
5
g
|
Fat:
12
g
|
Saturated Fat:
7
g
|
Cholesterol:
37
mg
|
Sodium:
220
mg
|
Potassium:
323
mg
|
Fiber:
6
g
|
Sugar:
46
g
|
Vitamin A:
580
IU
|
Vitamin C:
9.4
mg
|
Calcium:
94
mg
|
Iron:
1
mg