Instant Pot Beef Pot Pie is so easy with tender chunks of beef, crisp vegetables in a rich beef sauce. Top with flaky puff pastry and you have a decadent dinner in no time!
Instant Pot Beef Pot Pie
Growing up, pot pies were absolutely one of my favorite meals. I loved getting my own cute little dinner pie all to myself. It just made me feel special. Once I got older I realized how time-intensive homemade pot pies are and I started looking for shortcuts. Making pot pies with a puff pastry crust is a game changer. That right there makes it 20 times easier. Then making the filling in the Instant Pot adds an entirely new level of simplicity. You can do it all in one pot in less than an hour! And actually have tender beef! So if you are a pot pie lover but not a "spend-6-hours-on-dinner" lover, this recipe is for you.
Suggestions and Tips for Instant Pot Beef Pot Pies
Traditional beef pot pie recipes usually consist of onion, celery, and carrots. I added peas and potatoes to this recipe and you could toss in green beans, corn, whatever you like!
This recipe is perfect for for individual pot pies but you can absolutely make it into one big pot pie. Put all the ingredients in a deep pie dish and place an entire puff pastry over the top. If you do this, you may want to increase your baking time by 5 minutes or so. The advantage of having one big pot pie is that will be easier to prepare. I like making individual pot pies because, in my opinion, it's just more fun to have your own little pot pie!
Because beef pot pie has everything you need for a well-rounded meal there really is no need for a side. The pot pie itself has protein, vegetables, and a good amount of carbs. It's a great all-in-one dish! If you feel you must include a side, you can never go wrong with a simple green salad.
You can thicken the pot pie sauce either by using cornstarch or mixing a roux with butter and flour. Just make sure to remove the broth from the pressure cooker and place in a glass measuring cup.That way you can create the roux in the Instant Pot and add the broth to thin.
Try our delicious Easy Turkey Pot Pie or this super easy and yummy Chicken Pot Pie Crumble recipes if you love a good pot pie!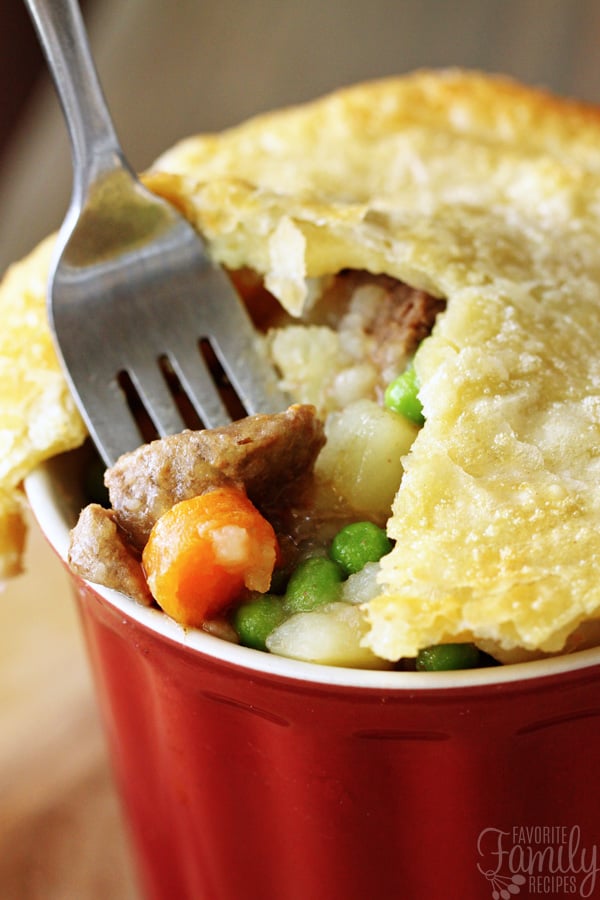 How to Freeze Instant Pot Beef Pot Pies
There are actually several different ways you can freeze pot pies. You can prep now, freeze and assemble later. Prepare the filling completely then freeze in freezer-safe bags. When you're ready, just thaw and assemble and bake as directed in the recipe card below. Or you can prepare the pot pies, bake, then freeze. When doing it this way, just be sure the pot pie is completely cooled before freezing. When ready to freeze, wrap tightly in plastic wrap and also place in a freezer-safe bag. When ready to re-heat just heat the oven to 375 degrees and bake for 30-35 minutes. I like this way because it is just easier to pull one out at a time for a quick meal for one. Both ways work great, so just go with what works best for you!
Read Next: 27 BEST Instant Pot Recipes
More Instant Pot Recipes
Love dinners in the Instant Pot? Try a few of our very favorites:
How to make Instant Pot Beef Pot Pie
Instant Pot Beef Pot Pie
Instant Pot Beef Pot Pie is so easy with tender chunks of beef, crisp vegetables in a rich beef sauce. Top with flaky puff pastry and you have a decadent dinner in no time!
Equipment
Instant Pot Pressure Cooker
Instructions
Preheat oven to 400-degrees and remove puff pastry sheets from freezer to thaw.

On Instant Pot, press "Saute" button and add butter.

When butter has melted, add onion, celery, garlic, and beef sirloin cubes. Saute until beef becomes browned.

Add beef broth, bay leaves, and thyme and place lid on Instant Pot and set tab to "sealing".

Press "manual" and set time to "30" on high pressure.

When time is up, do a quick release. Add potatoes, carrots, and peas and place lid back on Instant Pot.

Press "manual" and set time to 3 minutes on high pressure.

Do a quick release once more and remove meat and vegetables with a slotted spoon and place in a large bowl. Remove bay leaves and discard.

Press "saute" and add more beef broth (about 2 cups, depending on how much broth remains )in the Instant Pot) to make 4 c. beef broth total.

Combine cornstarch and milk to make a slurry. Slowly add to the Instant Pot whisking constantly until you reach a gravy-like consistency.

Allow to simmer about 3-5 minutes, adding more milk or beef broth to thin if needed. Season with salt and pepper.

Turn off Instant pot. Carefully pour gravy over the beef and vegetables and stir to combine. Set aside and allow to cool while preparing the next steps.

Prepare 6 oven-proof baking dishes/ramekins (about 12 oz. size works great) by spraying each with cooking spray. Unfold pastry sheets and cut squares to fit over each baking dish.

Divide pot pie filling equally between each baking dish and place a pastry square over each one.

Whisk together egg whites and water until foamy. Using a pastry brush, brush egg whites over each pastry square.

Bake until pastry is puffy and golden brown (about 20-25 minutes).
Notes
Instant Pot Note: We use a 6-quart Instant Pot brand pressure cooker that we bought in 2016. Different or newer versions may be more sensitive to the "BURN" notice. If you are concerned about the burn notice, please refer to the Instant Pot webpage about Overheat Protection, found HERE.
Nutrition Information
Calories:
841
kcal
Carbohydrates:
63
g
Protein:
46
g
Fat:
45
g
Saturated Fat:
15
g
Cholesterol:
105
mg
Sodium:
1014
mg
Potassium:
1187
mg
Fiber:
6
g
Sugar:
5
g
Vitamin A:
4080
IU
Vitamin C:
22
mg
Calcium:
119
mg
Iron:
8.1
mg