Brazilian Cheese Bread (Pao de Queijo) is SO easy to make and is the perfect addition to any meal. You will love the chewy bread and cheesy center.
Featured with this recipe
This Pao De Queijo recipe, or Brazilian Cheese Bread, is the stuff dreams are made of! I originally discovered it at a restaurant called Tucanos Brazilian Grill. Every time I go to Tucanos, I seriously have to try to limit myself to only a few of these little cheese rolls or I will completely go to town on them. I found a great recipe on the back of a bag of Bob's Red Mill tapioca flour and gave it a try. I switched up the cheese to sharp cheddar to enhance the flavor, and they are so good! If you haven't had these rolls before, now is the time! Oh, and did I mention they are GLUTEN FREE?! So this one is for all of my gluten-free friends out there!
What is Pao de Queijo?
Pao de Queijo (pronounced "pow duh kay-ju"), literally translates to "cheese bread" in Portuguese. These small, round, baked cheese rolls are a popular snack and breakfast food in Brazil. And even though it's called "bread", the dough doesn't use yeast (hence, gluten-free!) and the consistency is sort of in between a cake batter and cookie dough and is extremely stretchy. These cheese rolls are actually really cool to make, and even more fun to eat! If you want to create a delicious Brazilian feast, serve these yummy rolls alongside a helping of our Brazilian Rice and Beans with Sausage. You won't believe how quickly this meal comes together, yet it looks like you spent hours creating this masterpiece!
Ingredients in Brazilian Cheese Bread
The ingredients used to make this Pao de Queijo recipe are very simple. Here's what you need:
Oil – Vegetable oil works best for this recipe.
Tapioca Flour (or Tapioca Starch) – You can also use cassava flour (pretty much the same thing). This is the main binding agent for the pão de queijo.
Milk
Salt
Eggs
Cheese – any kind of shredded cheese will work. Parmesan and cheddar cheese are the two that are most commonly used, but you could add mozzarella, colby jack, just about anything you like.
Two Easy Methods to Make Brazilian Cheese Bread
1. The Authentic Way – The first way is the more "authentic" way to make them. There is a little more technique and skill involved. This is the way as described in the recipe below.
2. The Blender Method – This is the best way to make Brazilian cheese bread if you are in a hurry or simply want to make things easier on yourself. I honestly can't tell much a difference between the two methods. I am all about ease and usually find myself putting it all in a blender more often than not. Here's what you do: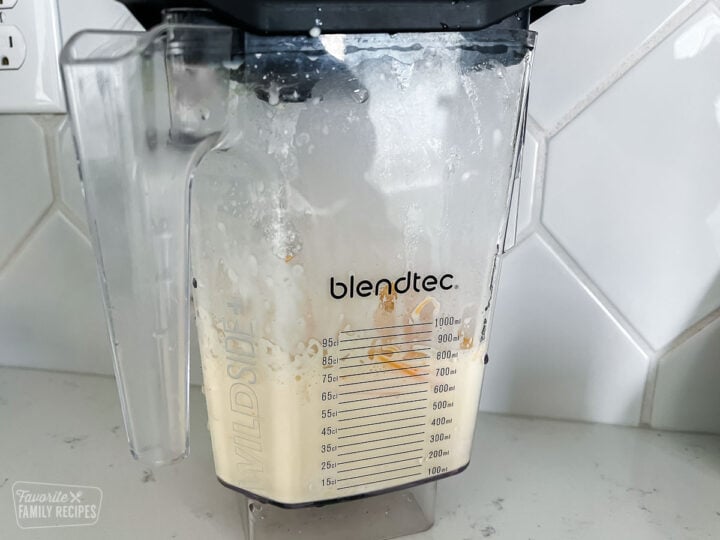 Preheat oven to 400-degrees
Put all the ingredients except the cheese in a blender.
Blend until smooth (about 20 seconds) then scrape the sides of the blender.
Add cheese and pulse 3-4 times to incorporate.
Spray a mini muffin pan with cooking spray and fill each cup with the cheese mixture until almost full.
Place in the oven and bake 15-20 minutes or until the outside of the rolls are golden brown and puffed up. Do not over bake! The texture on the outside is more dry and "bread" like and the inside is more soft and chewy.
Tips for Making Brazilian Cheese Bread
When it comes to making Brazilian cheese bread, here are some helpful tips to ensure delicious results:
Quality Ingredients: Use high-quality ingredients, especially cheese and tapioca flour. Freshly grated cheese will enhance the flavor and texture of your cheese bread.
Cheese Selection: Experiment with different types of cheese to find your preferred taste. While queijo Minas (Minas cheese) is traditional, it isn't easily found in the States. Other cheeses like cheddar, parmesan (parmigiano reggiano), mozzarella, or a mix of cheeses work well and it's what we use in this recipe. Grate the cheese finely to ensure even distribution throughout the dough.
Tapioca Flour: Tapioca flour is a key ingredient in Brazilian cheese bread. Be sure to use tapioca flour or starch specifically, as other flours won't yield the same results. Two main types of tapioca flour are used in Pao de Queijo: sour tapioca flour (polvilho azedo), which provides a tangy flavor and chewy texture, and sweet tapioca flour (polvilho doce), which has a neutral taste. Both types are gluten-free and contribute to the unique characteristics of Brazilian cheese bread.
Proper Mixing: When combining the ingredients, mix the dough thoroughly to ensure all the ingredients are well incorporated. You can use a blender or mixer to get the right consistency.
Consistent Dough Balls: Use a cookie scoop to get consistent balls. If using the blender method, you can use a mini muffin tin to get them all the same size.
Use Parchment Paper: This prevents sticking and makes for easier cleanup.
Baking Time: Keep a close eye on the cheese bread while baking, as the baking time can vary depending on the size of the bread. Generally, it takes around 20-25 minutes, or until the bread develops a golden color and puffs up.
Enjoy Fresh: Brazilian cheese bread is best enjoyed fresh from the oven when it's still warm and at its peak texture.
Freezing Options: If you have leftovers, you can freeze the unbaked cheese bread dough balls and bake them straight from the freezer whenever you crave a fresh batch (like the popular Brazilian Bites). Simply adjust the baking time accordingly.
What to Serve with Pao de Queijo
Brazilian cheese bread, or Pao de Queijo, pairs wonderfully with a variety of dishes. Our favorite dish to serve it with is our Brazilian Beans and Rice recipe. You can also serve it as an accompaniment to grilled meats, such as steak or chicken, for a savory combination of flavors. It also complements soups and stews. For a delicious breakfast or brunch, enjoy Pao de Queijo with scrambled eggs, bacon, or fresh fruits. Additionally, it can be served alongside salads or even included on a charcuterie board. The versatility of Brazilian cheese bread makes it the perfect side dish to any meal!
Frequently Asked Questions
Why is my pao de queijo gummy inside?
Don't worry if the inside is a bit gooey. Because the rolls are made with tapioca flour it has a natural gooey quality even when they're cooked. They will taste delicious!
What can I use instead of tapioca flour?
Cornstarch makes a great replacement for tapioca flour if you can't find it and you can't tell the difference!
How do I store cheese bread?
The best way to store this Brazilian cheese bread is tightly covered with as much air squeezed out as possible. It can be kept at room temperature overnight, in the fridge for three days, or in the freezer for up to two months.

READ MORE: 35+Quick and Easy to Follow Dinner Ideas
More Roll Recipes
In our family, a dinner is truly not complete without a side of bread or rolls. Here are a few of our tried and true recipes for you to add to your dinner table!
How to Make Brazilian Cheese Bread (Pao de Queijo)
Brazilian Cheese Bread (Pao de Queijo)
Brazilian Cheese Bread (Pan de Queijo) is SO easy to make and is the perfect addition to any meal. You will love the chewy bread and cheesy center.
Ingredients
1

cup

whole milk

1/2

cup

vegetable oil

1

teaspoon

salt

2

cups

tapioca flour

(I used Bob's Red Mill — I found mine in the gluten-free section of the grocery store)

2

eggs

3/4

cup

Parmesan cheese

get a small block of Parmesan and shred it yourself… it makes a BIG difference

3/4

cup

sharp or medium cheddar cheese

shredded (shred yourself, just like the Parmesan)
Instructions
Preheat oven to 350 degrees.

Combine the milk, oil, and salt in the saucepan, and whisking occasionally, bring it to a gentle boil over medium heat. Remove from heat as soon as you see big bubbles coming through the milk.

Add all of the tapioca flour to the saucepan and stir until you see no more dry tapioca flour. The dough will be grainy and gelatinous at this point.

Transfer the dough to the bowl of a standing mixer fitted with a paddle attachment. (Alternatively, you can do the next few steps by hand. Be prepared for a work-out.) Beat the dough for a few minutes at medium speed until it smooths out and has cooled enough that you can hold your finger against the dough for several seconds.

Whisk the eggs together in a small bowl. With the mixer on medium, beat the eggs into the dough in two additions. Wait until the first addition has been fully incorporated into the dough before adding the second. Scrape down the sides of the bowl as needed.

With the mixer on medium, beat in the cheese until fully incorporated. The resulting dough will be very sticky, stretchy, and soft with a consistency between cake batter and cookie dough.

Using an ice cream scoop, a tablespoon measure, or a dinner spoon, scoop rounded portions of the dough into mounds on the parchment-lined baking sheet.

Space the mounds an inch or two apart. Dip your scoop in water or spray with cooking spray to prevent sticking.

Transfer the sheet with the puffs to the oven and bake for 25-28 minutes, until the puffs have puffed, the outsides are dry, and they are JUST starting to color. Do not over bake! Cool briefly and eat.
Notes
Do not over bake! The texture on the outside is more dry and "bread" like and the inside is more soft and chewy.
Don't worry if the inside is a bit gooey. Because the rolls are made with tapioca flour it has a natural gooey quality even when they're cooked. They will taste delicious!
Nutrition Information
Calories:
96
kcal
Carbohydrates:
9
g
Protein:
2
g
Fat:
6
g
Saturated Fat:
5
g
Cholesterol:
17
mg
Sodium:
157
mg
Potassium:
23
mg
Sugar:
1
g
Vitamin A:
60
IU
Calcium:
51
mg
Iron:
0.2
mg
Love this recipe?
We want to hear from you! Please leave a review.