Brazilian Cheese Bread (Pao de Queijo) is SO easy to make and is the perfect addition to any meal. You will love the chewy bread and cheesy center.
Brazilian Cheese Bread
This Brazilian Cheese Bread is the stuff dreams of made of! I originally discovered it at a restaurant called Tucanos Brazilian Grill. Every time I go to Tucanos I seriously have to try to limit myself to only a few of these little cheese rolls or I will completely go to town on them. I found a great recipe on the back of a bag of Bob's Red Mill tapioca flour and gave it a try. I switched up the cheese to sharp cheddar to enhance the flavor, and they are so good! If you haven't had these rolls before, now it the time! Oh.. and did I mention they are GLUTEN FREE?! So this one is for all of my gluten-free friends out there!
What is Pao de Queijo?
Literally translated to "cheese bread" in Portuguese, these small, round, baked cheese rolls are a popular snack and breakfast food in Brazil. And even though it's called "bread", the dough doesn't use yeast (hence, gluten-free!) and the consistency is sort of in between a cake batter and cookie dough and is extremely stretchy. These cheese rolls are actually really cool to make, and even more fun to eat! If you want to create a delicious Brazilian feast, serve these yummy rolls alongside a helping of our Brazilian Rice and Beans with Sausage. You won't believe how quickly this meal comes together, yet it looks like you spent hours creating this masterpiece!
What's In Brazilian Cheese Bread?
The ingredients used to make Brazilian cheese bread are very simple. Here's what you need:
Oil
Tapioca Flour (or Tapioca Starch) – You can also use cassava flour (pretty much the same thing). This is the main binding agent for the pão de queijo.
Milk
Salt
Eggs
Cheese – any kind of shredded cheese will work. Parmesan and cheddar cheese are the two that are most commonly used.
Two Easy Ways to Make Brazilian Cheese Bread:
1. The Authentic Way – The first way is the more "authentic" way to make them. There is a little more technique and skill involved. This is the way as described in the recipe below.
2. The Blender Method – This is the best way to make Brazilian cheese bread if you are in a hurry or simply want to make things easier on yourself. I honestly can't tell much a difference between the two methods. I am all about ease and usually find myself putting it all in a blender more often than not. Here's what you do: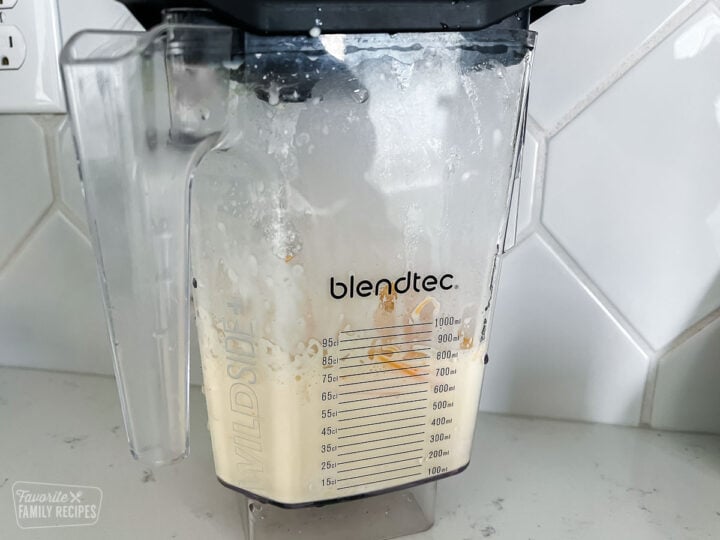 Preheat oven to 400-degrees
Put all the ingredients except the cheese in a blender.
Blend until smooth (about 20 seconds)
Add cheese and pulse 3-4 times to incorporate.
Spray a mini muffin tin (link) with cooking spray and fill each cup with the cheese mixture until almost full.
Place in the oven and bake 15-20 minutes or until the outside of the rolls are golden brown and puffed up. Do not over bake! The texture on the outside is more dry and "bread" like and the inside is more soft and chewy.
More Roll Recipes
In our family, a dinner is truly not complete without a side of bread or rolls. Here are a few of our tried and true recipes for you to add to your dinner table!
How to Make Brazilian Cheese Bread (Pao de Queijo)
Brazilian Cheese Bread (Pao de Queijo)
Brazilian Cheese Bread (Pan de Queijo) is SO easy to make and is the perfect addition to any meal. You will love the chewy bread and cheesy center.
Instructions
Preheat oven to 350 degrees.

Combine the milk, oil, and salt in the saucepan, and whisking occasionally, bring it to a gentle boil over medium heat. Remove from heat as soon as you see big bubbles coming through the milk.

Add all of the tapioca flour to the saucepan and stir until you see no more dry tapioca flour. The dough will be grainy and gelatinous at this point.

Transfer the dough to the bowl of a standing mixer fitted with a paddle attachment. (Alternatively, you can do the next few steps by hand. Be prepared for a work-out.) Beat the dough for a few minutes at medium speed until it smooths out and has cooled enough that you can hold your finger against the dough for several seconds.

Whisk the eggs together in a small bowl. With the mixer on medium, beat the eggs into the dough in two additions. Wait until the first addition has been fully incorporated into the dough before adding the second. Scrape down the sides of the bowl as needed.

With the mixer on medium, beat in the cheese until fully incorporated. The resulting dough will be very sticky, stretchy, and soft with a consistency between cake batter and cookie dough.

Using an ice cream scoop, a tablespoon measure, or a dinner spoon, scoop rounded portions of the dough into mounds on the parchment-lined baking sheet.

Space the mounds an inch or two apart. Dip your scoop in water or spray with cooking spray to prevent sticking.

Transfer the sheet with the puffs to the oven and bake for 25-28 minutes, until the puffs have puffed, the outsides are dry, and they are JUST starting to color. Do not over bake! Cool briefly and eat.
Nutrition Information
Calories:
96
kcal
Carbohydrates:
9
g
Protein:
2
g
Fat:
6
g
Saturated Fat:
5
g
Cholesterol:
17
mg
Sodium:
157
mg
Potassium:
23
mg
Sugar:
1
g
Vitamin A:
60
IU
Calcium:
51
mg
Iron:
0.2
mg