Parmesan Crusted Chicken is elevated to the next level with a creamy basil sauce. Looks fancy but is ridiculously easy to make. Impress your guests with this delicious meal!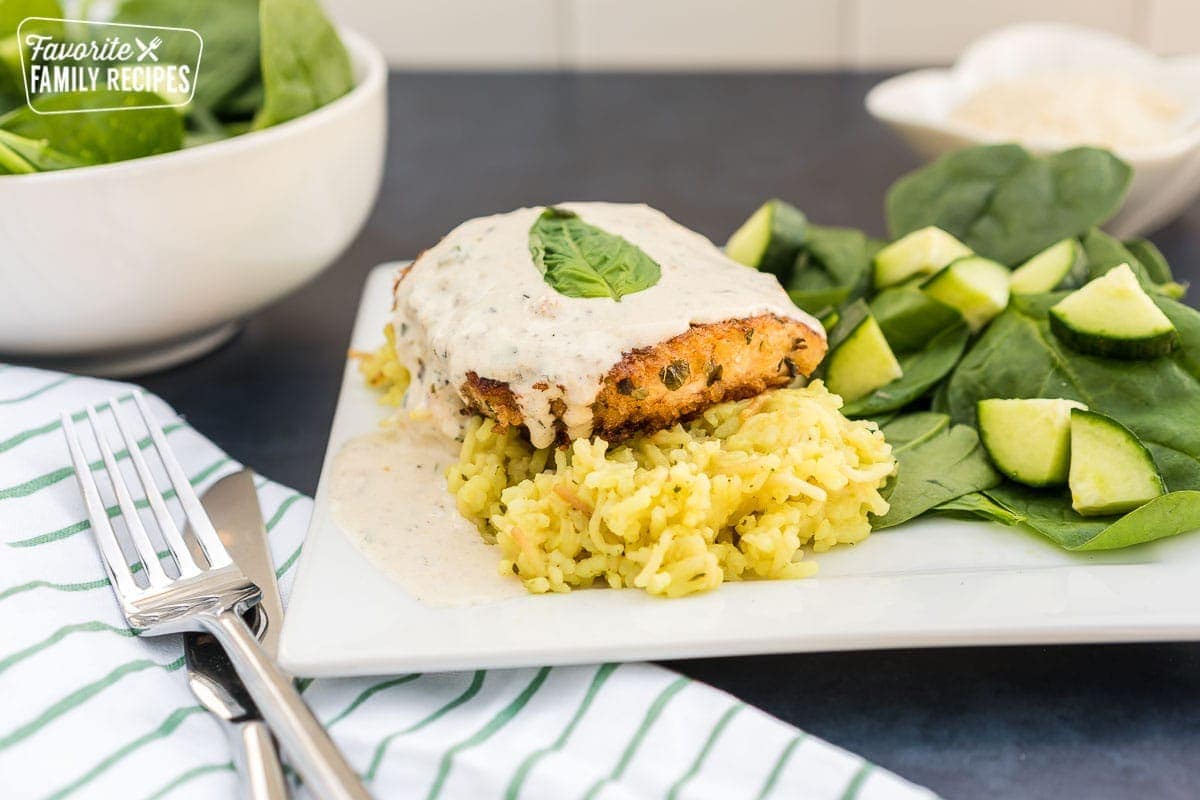 Parmesan Crusted Chicken in Basil Cream Sauce
Parmesan Crusted Chicken takes on a whole new flavor when topped with this creamy basil sauce. Whenever we invite company over for dinner for the first time, this recipe is right at the top of the "impress our guests" list! Tender boneless skinless chicken breasts are pan crusted with Italian bread crumbs, browned to perfection. The basil cream sauce includes tons of freshly grated Parmesan cheese. Serve with pasta or rice and a green salad or broccoli, and you have a dinner your guests will be talking about for a long time!
Method
This Parmesan Crusted Chicken recipe sounds fancy, and TASTES fancy, but it truly is easy to make. Follow these simple steps and you'll be enjoying a 5-star meal in no time!
First, prepare your chicken. Cut the chicken breasts in half and pound them out to be about ½ inch thick.
Next, put the milk in one bowl, and the breadcrumbs and parmesan cheese in another bowl. It works best if both bowls are shallow and wide.
Then, dip each chicken breast in milk and coat with breadcrumbs and cheese mixture. Place them on a plate or baking sheet until ready to cook. This step creates the "Parmesan Crusted" part of your chicken.
At this point I usually set my oven to warm the chicken while I make the sauce.
Next, heat the butter in a pan over medium heat. When it is melted and bubbly, add the chicken. Don't crowd the pan. You may have to do multiple batches to get all the chicken cooked. Cook the chicken on both sides until golden brown and the internal temperature of the chicken reaches at least 165 degrees.
After all of the chicken is cooked and warming in the oven, start your sauce. Pour the chicken broth into the hot pan and scrape all the cooked bits off the bottom of the pan. Then add cream, basil, salt, and pepper.
Once the cream is hot, add grated Parmesan cheese. Then stir until the cheese is melted.
Finally, simmer the sauce until it reaches your desired consistency. I like my sauce a little thicker so I cook it longer.
Enjoy your Parmesan Chicken over rice, pasta, or mashed potatoes.
Tips for the Perfect Parmesan Crusted Chicken
Thinner chicken breasts work best for this recipe. I always pound my chicken to about a quarter to a half inch thick. This ensures even cooking throughout without burning the outside crust.
You can also fry up your Parmesan Crusted Chicken in a little extra virgin olive oil.
After removing the chicken from the pan when you de-glaze your pan, make sure to scrape up all the bits cooked onto the pan. You want all those bits of browned crust for your sauce. YUM!
You can use fresh or dried basil in the sauce, either will work.
If you can, try to use freshly grated Parmesan cheese in the sauce. It melts beautifully and gives the sauce a nutty, salty flavor that pairs perfectly with the chicken.
FAQ
How do you reheat Parmesan Crusted Chicken?
If (and that's a big IF) we have leftovers of this recipe, I like to air fry the leftovers or bake them in the oven. If you put the chicken in the microwave it will turn out soggy. If air frying, spray the air fryer basket and the tops of the chicken breasts with a little bit of cooking spray. Make sure to store (in an airtight container in the fridge) and reheat the chicken and sauce separately. This will also help keep that crispy golden crust.
How do you get breadcrumbs to stick to chicken?
The two tricks to getting breading to stick to chicken are: 1) getting rid of excess moisture on the chicken, and 2) controlling the heat of your pan. Before dipping chicken in the milk and bread crumbs, make sure to pat off any excess moisture on the chicken. The dryer the chicken is to start with, the better the crust will stick. Next, add the breaded chicken to a HOT pan. This will help the bread crumbs stay on and it will ensure a crispy outside. Additionally, DO NOT move the chicken around the pan. Keep it in one spot until you are ready to flip.
What to Serve with Parmesan Crusted Chicken
A simple green salad and bread is delightful with this recipe, but try a few of our favorite side dishes for a show-stopping meal.
More Recipes to Impress Your Dinner Guests
You can never go wrong with a good chicken dinner. From a busy weeknight to a weekend get together with friends or family, try our tried true Ten Best Chicken Recipes of 2019 or our BEST Chicken Breast Recipes for ANY Night of the Week! After you've tried this Parmesan Crusted Chicken recipe, here are a few more meals that are guaranteed to impress your guests:
How to Make Parmesan Crusted Chicken in Basil Cream Sauce
Parmesan Crusted Chicken in Basil Cream Sauce
Parmesan Crusted Chicken is elevated to the next level with a creamy basil sauce. Looks fancy but is ridiculously easy to make. Impress your guests with this delicious meal!
Instructions
Place milk in one bowl and bread crumbs and ¼ cup parmesan cheese in a separate shallow bowl. 

Dip chicken in milk, then coat with crumbs.

In a skillet over medium heat, melt butter. When butter is completely melted and hot, add the chicken. Cook chicken in butter until browned on both sides and the internal temperature reaches at least 165 degrees. Remove chicken from skillet and keep in a 9×13 pan in the oven on warm.

Add chicken broth to skillet and stir to loosen up browned bits from pan. Stir in cream, basil, and salt and pepper and bring to a boil. Turn heat to low and whisk in remaining parmesan cheese. 

When the sauce has thickened to your desired consistency, pour sauce over the chicken and serve.
Nutrition Information
Calories:
397
kcal
Carbohydrates:
15
g
Protein:
35
g
Fat:
21
g
Saturated Fat:
12
g
Polyunsaturated Fat:
1
g
Monounsaturated Fat:
6
g
Trans Fat:
1
g
Cholesterol:
125
mg
Sodium:
766
mg
Potassium:
624
mg
Fiber:
1
g
Sugar:
3
g
Vitamin A:
649
IU
Vitamin C:
4
mg
Calcium:
313
mg
Iron:
2
mg