Tired of the same ol' chicken breast recipes in your current dinner rotation? Try adding a little pizzaz to your plate with these recipe favorites from our readers.
Easy Chicken Breast Recipes
It's definitely easy to get into a rut when it comes to chicken breast recipes. Everyone has their one or two chicken recipes that they like and they just stick with those. If you are seeking some inspiration for some new and exciting chicken breast recipes to try, you are in the right place! These are our top 10 chicken breast recipes here on Favorite Family Recipes. You are going to love them!
Citrus Avocado Chicken
This Citrus Avocado Chicken has been a favorite of ours for years. You will love the savory chicken breast combined with the sweet, citrusy topping. The flavors are out of this world!
Alice Springs Chicken
You will love our Alice Springs Chicken! The honey mustard marinade is so good. You are going to love all the cheese, bacon, mushroom, and honey mustard flavors infused together and your family will love it too. You simply can't go wrong with this tasty chicken breast recipe.
Chicken Madeira
This is our copycat version of Cheesecake Factory's Chicken Madeira. This easy dinner recipe has everything you need. Chicken breast, asparagus, cheese, mushrooms, not to mention the incredible sauce that tops it all!
Parmesan Crusted Chicken in Basil Cream Sauce
This Parmesan Crusted Chicken in Basil Cream Sauce has got to be one of my favorite chicken breast recipes of all time. The chicken is ALWAYS so tender and juicy and the cream sauce is to die for! Everyone who has tried it raves about it. It looks fancy but it is actually SUPER easy to make. Give it a try this week!
Paprika and Parmesan Chicken
This baked Paprika and Parmesan Chicken is so tender and flavorful it doesn't need any kind of sauce. It is so crispy and juicy, you will almost think it is fried chicken! We served this chicken at our wedding and it was a huge hit with all the guests. After the wedding I kept getting emails for the recipe. It is THAT good!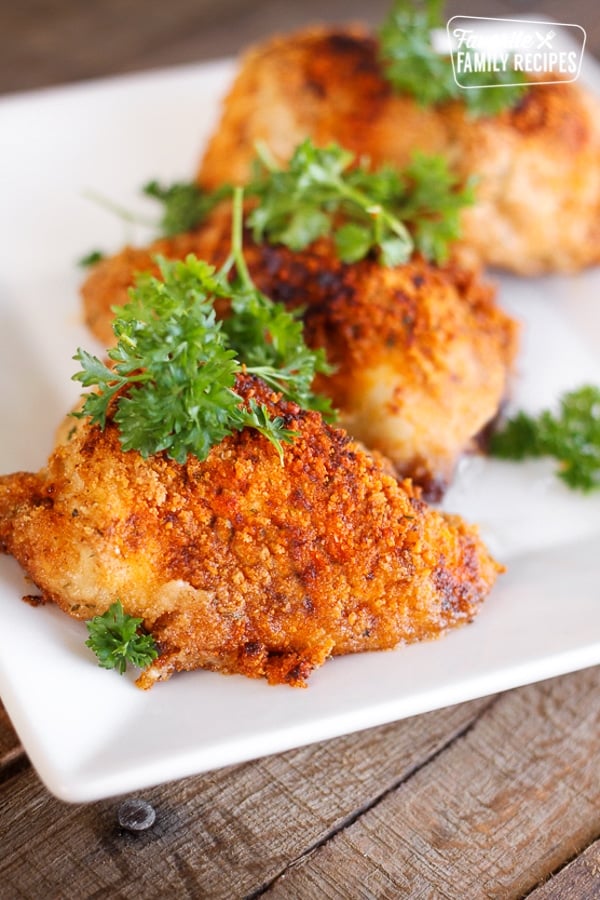 Coconut Curry Grilled Chicken
This Coconut Curry Grilled Chicken is a combination of two of my favorite meal types, grilling and Indian food. The marinade is out of this world! The longer you marinade it, the better it will be. You are going to fall in love this this flavorful chicken recipe!
Grilled Malibu Chicken
This Grilled Malibu Chicken breast recipe is a much healthier version of the original (recipe HERE) that our family loves! Instead of being breaded and fried, this chicken is marinated in a tasty honey mustard vinaigrette, then grilled to perfection and topped with slices of fresh deli ham and provolone cheese. And we even have a delicious honey mustard yogurt dip to go along with it.
Big Kahuna Chicken Teriyaki Sandwiches
These Big Kahuna Chicken Teriyaki Sandwiches are better than most chicken breast sandwiches because they are loaded with sliced ham, grilled pineapple, and Pepper Jack cheese. You will get a big, juicy taste of the islands with every bite!
Easy Apricot Chicken
You can make this easy, flavorful Easy Apricot Chicken Recipe in the oven, slow cooker, pressure cooker, or even on the grill. This is also a great chicken breast recipe for cooking for a crowd. With only 5 easy ingredients, you just can't go wrong with this recipe!
Cheesy Grilled Mexican Chicken and Rice
Cheesy Grilled Mexican Chicken and Rice is a Mexican fiesta in every bite! Spicy flavors and bold color make this a feast fit for any night of the week. Add a little flair to your dinner menu this week and try it out!
Looking for even MORE easy chicken recipes?
Did you know we have over 100 chicken recipes here on Favorite Family Recipes? It's true! Check out this post for our Top 10 chicken recipes of all time. This is a list chosen by YOU, our readers. They are the highest rated and most commented chicken recipes on our site. Check em' out!