Creamed Peas and Potatoes are a versatile and classic side dish. This creamy comfort food features crisp, sweet peas and tender potatoes in a delicious white sauce.
Featured with this recipe
Creamed Peas and Potatoes was always a favorite side dish growing up. Our mom would add fresh peas from our garden along with tender chunks of beautiful red potatoes. It's a terrific dish to serve with baked chicken, turkey, roasted pork, meat loaf or steak. We have even served this for Easter dinner. On multiple occasions. It's easy to make, very inexpensive, and always a crowd pleaser!
Ingredients in Creamed Peas and Potatoes
It only takes a few simple pantry ingredients to create this delicious, creamy side dish. This is what you need:
Red potatoes or baby red potatoes (also called new potatoes)
Peas
Butter
Flour
Milk
Salt and black pepper
The Creamy Sauce for Peas and Potatoes
To make the sauce for creamed peas and potatoes, start with a roux made from melted butter and flour. Gradually whisk in the milk (or cream) until you reach the perfect creamy consistency. Season the sauce with salt and pepper for a well-balanced flavor profile. You can also add a pinch of nutmeg or fresh or dried herbs like thyme or parsley. For a cheesy twist, stir in grated Parmesan, cheddar, or Gruyere cheese at the end until melted and smooth.
How To Make Creamed Peas (Only)
If you want to skip the potatoes and make this dish with only peas, it's easy to do (and delicious). Simply take the potatoes out of the recipe and double or triple the peas. Season as you normally would with salt and pepper. Easy peas-y!
Tips and Suggestions For This Recipe
Uniform Slicing: Slice the potatoes into even pieces to ensure they cook evenly and maintain a consistent creamy texture.
Cooking Technique: Boil the potatoes in salted water until they are fork-tender but not overly mushy. Overcooking can lead to a less desirable texture.
Add Cream or Milk: Use whole milk, half and half or cream to create a rich and creamy base for the dish.
Seasoning: Season the dish with salt, pepper, and any other preferred herbs and spices. Garlic powder, thyme, rosemary, or parsley are excellent choices.
Creamy Sauce Enhancements: Consider adding grated cheese, such as cheddar or Parmesan, to the sauce for an extra layer of creaminess and flavor. You can even add some Gruyere or a few tablespoons of cream cheese.
Pea Selection: Fresh, garden peas are divine in this recipe but you can easily use frozen peas too. They're crisp, vibrant and so yummy!
Blanch Fresh Peas: If you're using fresh peas, be sure to blanch them first. To blanch the peas, boil them for 90 seconds in rapidly boiling water. Immediately add the peas to the recipe, or cool them for later use by placing them in an ice bath until cooled.
Gentle Mixing: Stir the peas into the creamy potatoes gently to avoid mashing the potatoes and maintain their smooth texture.
Pearl Onion Addition: I have made this recipe several times with pearl onions for a little added flavor. Sometimes my kids don't love the onions, but because they are big and easy to see, they just brush the onions to the side. To add onion, you can just get a small bag of frozen pearl onions and boil them for 5 minutes (or according to package instructions). Add the cooked onions when you add the potatoes in the recipe.
Make it a Meal: To make this side dish more of a main dish, add diced ham or cooked bacon bits.
Potluck Prep: This recipe is easy to adjust for crowds if you need a side dish for a pot luck. It also makes yummy leftovers!
Heath Benefits of Peas and Potatoes
Peas and potatoes actually have tremendous health benefits! Peas are a good source of vitamin K, manganese, fiber, vitamins B1, B6, B2, and vitamin C. There are many good reasons your mother told you to eat your peas! Peas are low in calories, low in fat, high in fiber, and high in protein. And potatoes! They have more potassium than a banana. Because potatoes are high in fiber, the help lower cholesterol and decrease the risk of heart disease. Potatoes are also high in vitamin C and vitamin B6. You can feel great about preparing this healthy dish for your family!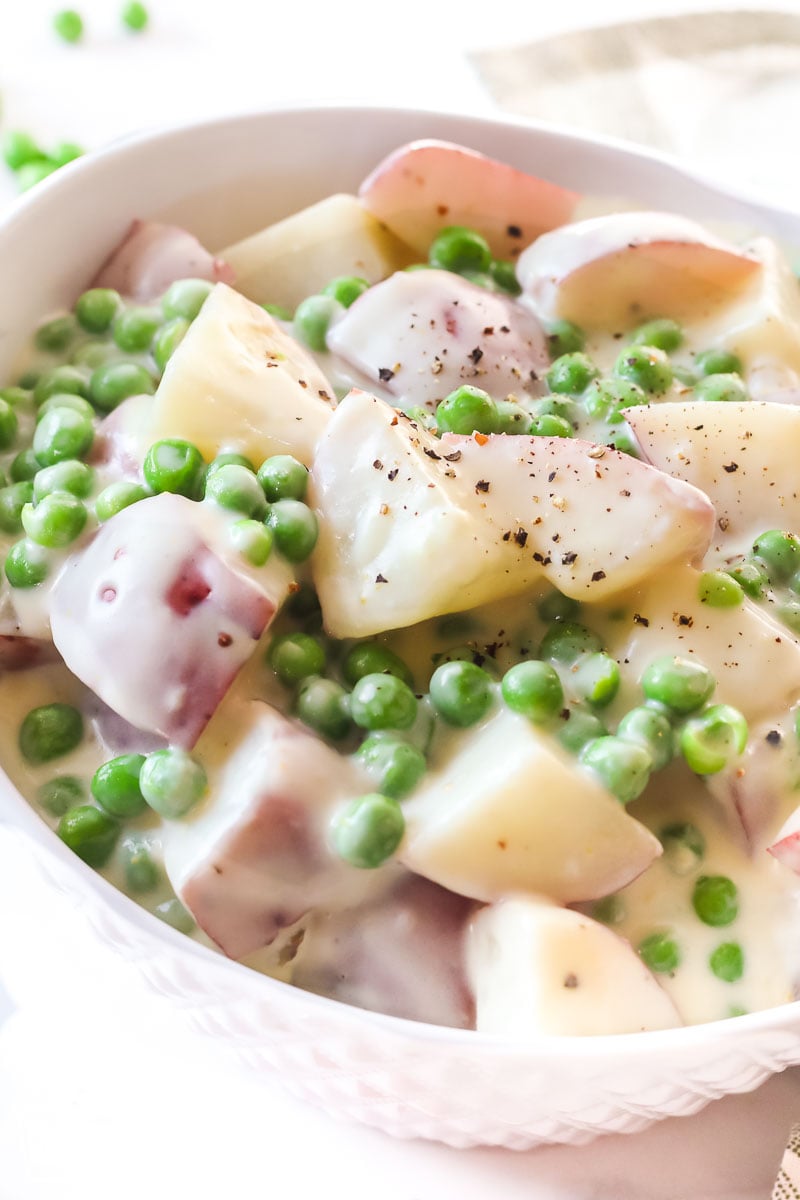 Great For Kids And Babies
Creamed peas and potatoes are a perfect dish for kids of all ages. It's so easy to mash up if you have a child who prefers mashed potatoes. It can also easily be pureed to make terrific baby food (just remove the potato skins).
Frequently Asked Questions about Creamed Peas
Are creamed peas good for you?
Peas are high in protein and fiber making them a healthy side dish choice.
Can I use cream instead of milk?
Absolutely! It will be a lot thicker so you can cut down the flour by at least half if you do this. You can also JUST use heavy cream if you would rather, it will just be a little thinner and not a "gravy" consistency.
What kind of potato is best for creamed peas and potatoes?
We like to use red potatoes but you can use new potatoes, gem potatoes, baby potatoes, or any waxy potato such as Yukon Gold. I would not recommend Russet potatoes for this recipe. Russets don't boil well and get mushy easier.
How can I make this recipe gluten-free?
To make a GF-version of this recipe, you can add butter and milk to the pan first and heat to a simmer. Make a slurry with cornstarch and water (about 2-3 Tablespoons of each) and whisk into the milk mixture a little at a time until thickened.
Can I make this ahead of time?
This recipe is best served fresh. Leftovers can be stored in an airtight container in the refrigerator for up to 5 days. To re-heat, add a little extra milk and heat over medium-low heat in a skillet until heated through.
Read More:60+ Potato Recipes
More Potato Side Dishes
I tend to get in a rut of turning to baked potatoes or mashed potatoes as a side dish. Potatoes are so versatile and go well with many vegetables. Here are a few of our favorites:
How to Make Creamed Peas and Potatoes
Creamed Peas and Potatoes
Creamed Peas and Potatoes are a versatile side dish with vibrant crisp peas and tender potatoes. Creamy comfort food at its finest!
Instructions
In a large pot, boil potatoes in salted water until fork tender, approximately 10-15 minutes depending on the size of your potato cubes. You don't want them overdone or they will get mushy. Drain and set aside.

In a medium-sized saucepan, melt butter over medium heat.

Slowly add flour, stirring, until mixture becomes doughy (you may not need all the flour).

Slowly add milk, whisking constantly until mixture becomes smooth and creamy. You want it to be a gravy consistency. Add more milk if it seems too thick. Add salt and pepper, to taste.

Add peas and bring to a slight simmer.

Carefully stir potatoes into creamy mixture until potatoes are covered.

Pour creamed peas and potatoes into a serving dish to serve.
Notes
How to Blanch Fresh Peas
If using fresh peas, follow these steps to blanch the peas before using them in this recipe:
Prepare a pot of boiling water.
Shell the fresh peas while waiting for water to boil.
Add peas to boiling water and boil for 90 seconds.
Remove peas from boiling water and add them to the cream sauce in this recipe (step 5). If preparing the peas ahead, cool the peas by plunging them in a bowl of ice water. Drain and keep refrigerated until ready to use. After peas are drained and dried, they can also be frozen for later use.
Nutrition Information
Calories:
394
kcal
Carbohydrates:
65
g
Protein:
11
g
Fat:
11
g
Saturated Fat:
7
g
Cholesterol:
29
mg
Sodium:
161
mg
Potassium:
1623
mg
Fiber:
7
g
Sugar:
9
g
Vitamin A:
660
IU
Vitamin C:
42
mg
Calcium:
112
mg
Iron:
3.2
mg
Love this recipe?
We want to hear from you! Please leave a review.